Free-to-play hero shooter Paladins finally leaves beta next week
Celebratory freebies coming for all early access players.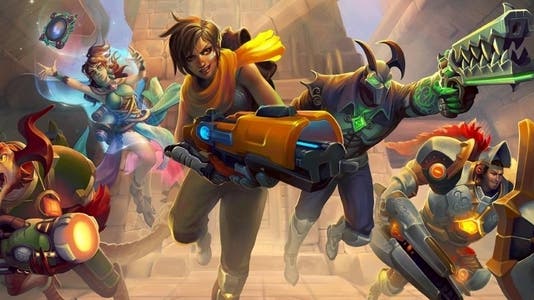 Hi-Rez Studios has announced that its free-to-play hero shooter will, after a year and a half in early access development, leave beta and launch on PC, PlayStation 4 and Xbox One next Tuesday, May 8th.
Despite arriving in the wake of Overwatch - and having weathered accusations of copying thanks to its broadly similar art style (with the occasional opportunity for reverse-shade arising) - Paladins has done alright for itself. Since its beta launch in September 2016, its mix of blasting and deck-building has attracted over 25 million players on PC, PS4, and Xbox One.
To mark the game's departure from early access, Hi-Rez will be giving 200 free premium currency Crystals to everyone that played in the beta. To claim them, players simply need to log into their accounts between May 8th and May 31st. A special Beta Avatar will also be included.
Furthermore, in the run-up to full release, all characters (or Champions, in Paladins parlance) will be unlocked until May 7th - and newcomers that choose to take advantage will also be eligible for the celebratory freebies, provided they log in before launch day.
As for the future, Hi-Rez notes that although Paladins is "a million times more polished than it was at the start of Early Access, we do not consider [it] a truly "finished" product. We know there's still work to be done. We are going to keep polishing, keep refining, keep fixing bugs, and keep putting out awesome new content on a regular patch cycle."
As far as the developer is concerned, leaving beta simply means that "we are planning no more major system changes".
Notably, Hi-Rez Studios announced in January that Paladins would be joining the ever-growing Battle Royale throng. Initially revealed as a new mode for the core game, Paladins: Battlegrounds has since gained a new name - Paladins: Realm Royale - and been spun off as a standalone client, which is currently in closed alpha.