Four new NES and SNES games heading to Nintendo Switch Online next week
Pop'n TwinBee! Smash Tennis! More!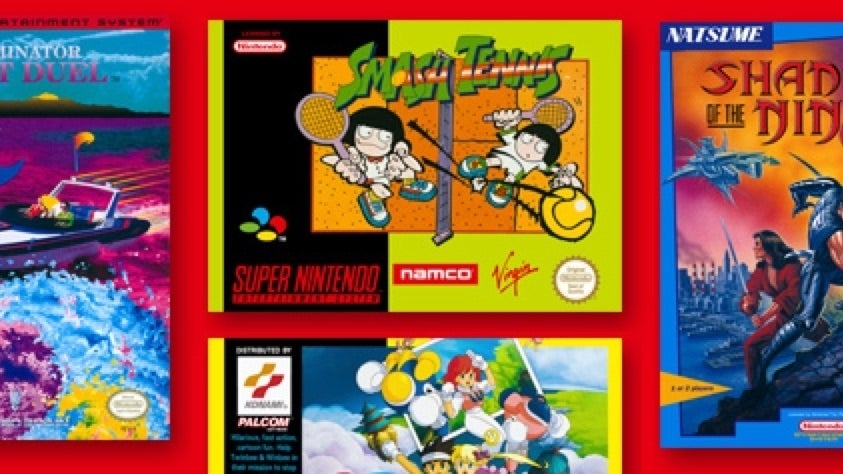 It's been a little over three months since Nintendo last added a fresh batch of NES and SNES titles to its Switch Online retro games catalogue, but its sporadic updates will finally resume next Wednesday, 19th February, with the arrival of four new games.
There are two new additions on the NES front, the first being the rather self-explanatory Eliminator Boat Duel, which originally launched in Europe back in 1993. It's a predominantly top-down powerboat racing affair, pitting challengers against a variety of successive AI opponent across 24 courses in single-player mode, or against a fellow human if you prefer.
NES game number two, meanwhile, is developer Natsume's side-scrolling action-platformer Shadow of the Ninja, which originally came to Europe in 1991. Here, two ninjas (its playable solo or with a friend) time-travel their way to the New York City of the future in a bid to assassinate a megalomaniac ruler and destroy his empire.
As for SNES games, Switch Online subscribers firstly get access to Konami's acclaimed 1993 vertically scrolling shooter Pop'n TwinBee. Here, one or two players can careen above the delightfully pastel-hued landscape, raining adorable mayhem on the likes of perpetually grinning clouds, distracted pineapples, and other, slightly more nefarious, opponents.
Finally, there's Namco's Smash Tennis (known as Super Family Tennis in Japan), an enjoyable 16-bit stab at capturing the thrill of energetically whacking things with a racket. There are eight different court types to sample, ranging from sun-bleached beaches to rocky cliff-edges, 20 playable characters, and multiplayer for up to four challengers.
Nintendo Switch Online subscribers will be able to play all four titles from Wednesday, 19th February in Europe and North America. This, incidentally, will mark the first time the two SNES games have been officially available in the US. Japan, meanwhile, gets a slightly different line-up, incorporating Pop'n TwinBee and Breath of Fire II on SNES, as well as Sunsoft's side-scrolling platformer Atlantis no Nazo and SNK's action-adventure God Slayer on NES.