Fortnite now has air-strikes-in-a-can
As part of its latest content update.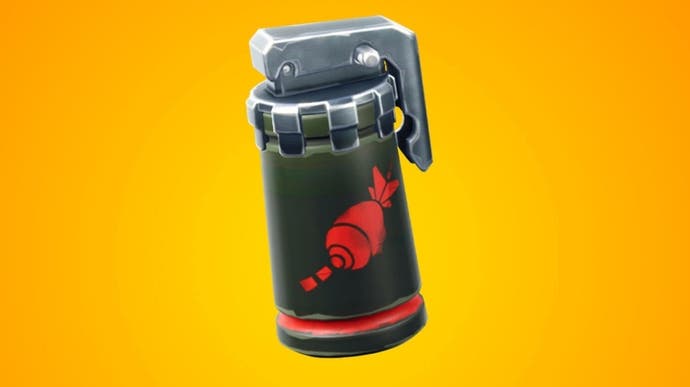 Fortnite, which you may have heard of, is at it again, this time adding a sort of air-strike-in-a-can as part of its latest content update.
The new item, known simply (and rather unglamorously) as Air Strike, is a throwable canister that emits a plume of coloured smoke, summoning a downward plop (or "flurry", as Epic more elegantly puts it) of missiles from above. Mayhem and death ensue, as demonstrated in the accompanying cinematic below.
If it's facts you want with your preposterous Battle Royale action, however, then Epic has those too. It says that, after a short delay, missiles spawn around 120 metres above a canister's final resting place. 20 missiles will rain down in total, aiming for a random point within 9 metres of the canister, and will do 75 points of damage to players and 200 points of damage to structures caught in the 3.5 metre blast radius.
These delightfully devastating additions can be found from Floor Loot, Chests, Supply Drops, Vending Machines, and Llamas. They drop in stacks of 1, with a max stack of 2.
Elsewhere, content update V9.30 (as it's officially known) adds four new galleries to Creative Mode - Car Gallery B, Snow & Mud Floor Gallery, Grass & Sand Floor Gallery, and Lava Floor Gallery, if you're curious - while Save the World receives the De-Atomizer 9000 weapon via the Weekly Store and a range of other additions and tweaks.
There's more in the latest Fortnite patch notes.