Former Fable dev sets out to make true Elite, Tie Fighter successor
Unnamed iPhone, iPad game shoots for the stars.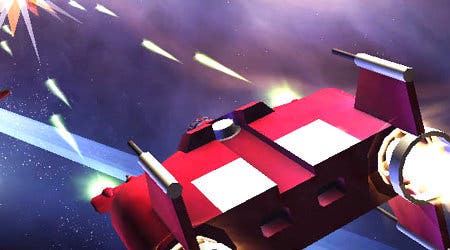 The space combat and trading genre seems dead - but one developer insists there are still some gamers out there who long for a return to the stars.
James Duncan, who worked on Fable 2 and Fable 3 before quitting Microsoft-owned developer Lionhead to start up his own developer, is making an iPhone and iPad game he hopes will revive the space combat and trading genre and will appeal to fans of illustrious classics such as Elite, Tie Fighter, Red Baron and Secret Weapons of the Luftwaffe.
"The very tenet of the game is to take the essence of those games," Duncan told Eurogamer. "This isn't a boast, either. I passionately love those games. No one for me has brought out a game like that since those games. Nothing has touched them. Tie Fighter is just a stone cold classic.
"For whatever reason this genre got left behind. These genres fell away because more money got pumped into games and with more money people don't want to take chances. Big companies just want to go where the money is. They just want to do FPS and third-person games."
Elite, made by Frontier chief David Braben, launched in 1984 and wowed gamers with its 3D space combat and sophisticated, strategic gameplay.
The game spawned a number of sequels and is credited with popularising space flight simulations, but the genre it helped establish has waned in recent years.
Indeed Elite 4, while officially still in development at the Kinectimals maker, seems a long way off. "Come on. It's never going to happen. It's just not," Duncan said.
"We want to bring that genre back now and do it justice and show that people are interested in it. I really passionately believe people are interested in playing that kind of game again and connecting with it. We want to fulfil people's dreams of playing those titles again."
Duncan is one third of RedBreast Studios. He is joined by technical director Sean Scaplehorn (Terracon, Metal Gear Solid Mobile, Final Fantasy: Derge of Cerberus) and concept artist Dennis Gustafsson (Troddlers, Die Hard Trilogy, Terracon, Richard Burns Rally).
Details on RedBreast's game are scarce - only one screenshot has been released (below). But we do know it has retro leanings. "This isn't a grey and drab world," Duncan explained. "This is a bit more of a colourful world. It's attractive on the eye and clean and simple. It's a nice aesthetic that will mark it out from the rest of the stuff that's around now."
And we do know what it is not: Frontier: Elite 2. "I deliberately left out Frontier from that list because that's completely not what our game's about," Duncan said. "I'm not a fan of Frontier. I know some people are. Our game is not a simulation of space. It's not a physics-based marvel at being able to navigate from one planet to another correctly.
"It's our take on Tie Fighter, Elite, Red Baron, Secret Weapons of the Luftwaffe, where dogfighting was an integral part of the experience. The strategy you used to dogfight, the actual hand-eye coordination aspect of it, that is it. The trading is another strategic aspect. The marrying of the two, they got lost in the end, with various other things."
The game, currently without a name due to trademark work, is planned for release early next year. But Duncan insisted "we won't release it until we can fulfil the remarks we're saying about it". "We want people who have loved Elite, Tie Fighter, to be able to pick this game up and go, wow, this is what I remember. This is f***ing awesome."