Pro Evolution Soccer 4
Unsurprisingly, we played rather a lot of Pro Evolution Soccer 4 at Game Stars last week. Here's a look at what's changed, what's changing soon, and how it handles on PS2 and Xbox. Oh, and Konami just confirmed it'll be fully playable on Xbox Live.
Order yours now from Simply Games.
It was utterly inevitable, wasn't it? Ever since Euro 2004, when Wayne Rooney proved to be far more interesting than anybody else playing for England, you just knew he wouldn't be wearing an Everton shirt for much longer - or again, in fact. So when the big money offer came in from Manchester United, it was hardly a surprise to anybody. What was surprising was that it took so bloody long for everybody involved to own up to what was going on.
In making the jump to Xbox Live, the Pro Evolution Soccer series proves once again that it's good at mimicking real life football drama - in this case, backroom shenanigans. As soon as Konami announced the Xbox version, there was this sense that Live support was inevitable, and that PS2 Online - which Konami has no proven experience developing for - would likely miss out. And Konami did its utmost not to comment one way or the other.
Window Of Opportunity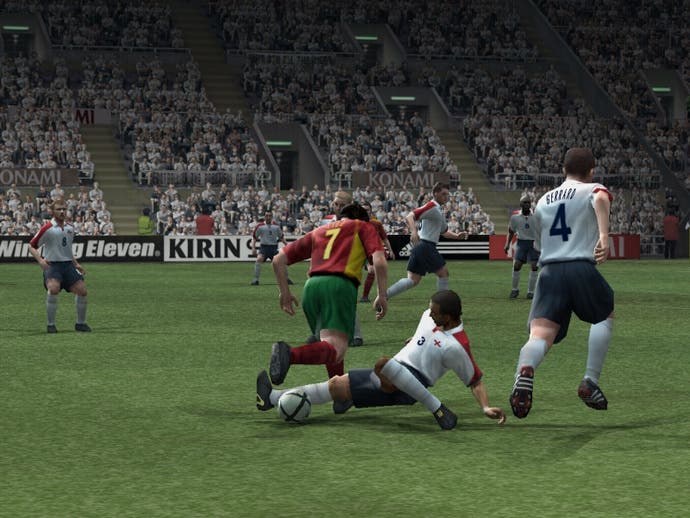 However, this Tuesday afternoon, Konami of Europe has officially confirmed reports that Pro Evolution Soccer 4 will be playable over Xbox Live, after senior sources at the publisher and elsewhere indicated to this site last week that it was definitely the case. According to Konami, the full game will feature real-time matches, a ratings system and support for mini-leagues. You can find more details here. As far as we know, the PS2 and PC versions will not be playable online.
The mass of PES4 units at Game Stars also gave us a chance to see how the Xbox version handles under the influence of the Controller S, and to work out just what has changed since Konami's Tokyo development team released Winning Eleven 8 - the last iteration of the PES codebase - in Japan at the beginning of August to record sales and critical acclaim. Including plenty from us.
On the surface, the answer to the second question is "not a lot". We understand that the PS2 version of PES4 was submitted to Sony in early August just a couple of weeks - or perhaps less - after Winning Eleven 8 shipped in Japan, and a Konami spokesperson on the show floor was happy to confirm that the publisher has already done an initial submission, and probably has another fortnight or so to finalise the teams and player line-ups in the game.
Peel-Off Transfer
As it was, PES4 on the show floor had a certain amount of the more obvious summer transfers in place. As you may remember, PES3's debut at ECTS last year saw very few changes besides the introduction of David Beckham in a Madrid jersey - that summer's big transfer - but the Game Stars build had Michael Owen on Madrid's books, Edgar Davids away from Barcelona, Alan Smith in a Man United shirt and Djibril Cisse plying his trade for Liverpool amongst others.
Some players were still in the wrong place. Danny Murphy and Diouff were still on Liverpool's books, for example (and please excuse all the reds-related chatter; your correspondent makes no secret of his allegiance), but we were assured everyone would be in the right place in time for kick off. As for when that will be, Konami has now announced that the Xbox and PC versions are due out in November, with the PS2 version coming out first in mid-October. But we understand that while FIFA Football 2005 (on display to much less fanfare elsewhere at GS Live) will take to the grass on October 15th, Konami may be out on the pitch on PS2 even earlier than that, although release dates are obviously difficult things to pin down - even with just a month to go.
Obviously with such a high profile title, these periphery issues get a lot of press, but we did more than stand around gossiping about PES at Game Stars; we also had a fair old go on it as well. Spending most of our time with the PS2 version at first (for reasons which will be obvious to anybody who happened along on Wednesday morning), we noticed a couple of things that stuck with us - there wasn't as much evidence of slowdown as there had been in WE8, but the speed of movement seemed to have taken a hit instead. Of course it's difficult to compare a noise-encased trade show version with your memory of the game back home, but we definitely felt things were moving at a slower pace.
Chip On Its Shoulder (plus A, obviously)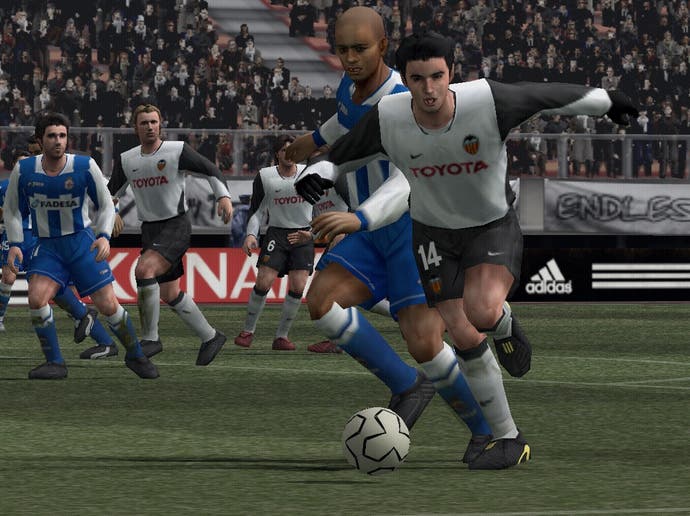 The power bar also seemed to take marginally longer to fill up, which was advantageous for those of us who enjoy the precise art of lobbing goalkeepers as they advance, but made snap shots on the edge of the area - so gratifying (and occasionally potent) in Winning Eleven 7 International and to some extent in Winning Eleven 8 - a bit trickier to pull off. Otherwise though, the game reflected the Japanese WE8 we'd been practicing on the previous evening. Players use the outside of the foot a lot more, passing is much more fluid with better knock-ons, and there are lots of nice little presentational distractions like the way the ref trots runs over and taps players on the arm when they flare up, and the way strikers wheel away celebrating before moaning when they see the offside flag. For a full rundown on WE8, check out our previous impressions.
The Xbox version, however, was something that needed closer inspection. Graphically, we felt it was arguably a little inferior to the PS2 version. The smoothed over sprites almost felt a bit unreal without the PS2's jaggedness to obscure over their inconsistencies, and in general the look was smoother rather than sharper. There was no evidence of slowdown though, and we have a feeling it'll look better blown up on our telly at home in any event. It is a shame that Konami didn't take the opportunity to really up the detail level, but then having not done so with the PC version of PES3 last year we can't say we were totally surprised.
Playing it though was extremely pleasing. Although the controls took a little getting used to (with only two shoulder buttons, some functions are now on the Black and White buttons, and the Xbox analogue stick feels different when you're so used to playing the game with a particular pad), in general it felt exactly right, and side effects of the conversion shouldn't prove much of a barrier for those PS2 owners planning to migrate to Xbox on account of the Live support.
Exacting
On the whole then a satisfactory, if not particularly revelatory, display. The PS2 version looks like it will be on a par with Winning Eleven 8, if not better, which - just for the sake of clarification - means that it's a massive improvement over Pro Evolution Soccer 3, and the Xbox version works in exactly the way it should do. And hey, if you can't get used to playing it on the Xbox pad, there's always the option of buying a PS2-to-Xbox pad converter. It won't cost you an arm and a leg, and it's certainly a darn sight cheaper than £27 million and a broken foot. Or indeed an evening with a PVC granny, if you believe the papers. We'll have more on PES4 in the very near future.
Pro Evolution Soccer 4 is due out on PS2 in mid-October. The Xbox and PC versions are due out in November. PC version not present at Game Stars Live.