Eye-tracking hardware Tobii EyeX will launch in "mid-2014"
Dev kits ship in March, cost €75 / $95 this month.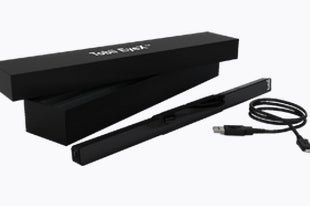 A couple of years back we wrote about an arcade game that could be controlled simply by looking at it. Now, the developer of that curio, Tobii Technologies, along with SteelSeries is releasing eye-tracking hardware that will allow you to implement your eye-movements into other games.
Dubbed the Tobiii EyeX, the hardware has been demoed playing such games as Amnesia: The Dark Descent, Skyrim, and Starcraft, as shown in the video below. So far it's used for shortcuts to peer around, but Tobii suggested that developers can adapt AI to respond to your gaze as well. There's even head-tracking, so you could potentially greet people with nods. Maybe you'll even be able to pick someone up from across the bar by giving them the look, eh?
The Tobii EyeX is due rather soon, with a "mid-2014" release date for consumers, while developers can pre-order the dev kits that will ship in March. The dev kits will usually go for $195, but until 31st January they can be reserved for €75 / $95 using the coupon code CES2014.