Eurogamer.net Podcast #93: Back to Karkand Special
Champ, Brammers and Porkface get stuck into Battlefield 3's DLC.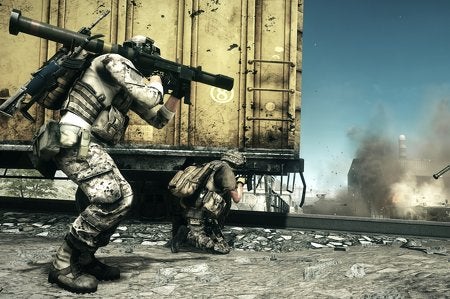 Hello everyone! Welcome to episode 93 of the Eurogamer.net Podcast! This week we're focusing on Battlefield 3's spangly new downloadable content, Back to Karkand.
Tom Champion is in the host's seat and is joined by myself and Martin "Porkface" Robinson. The three of us go through our experiences with the new maps - Wake Island, Gulf of Oman, Strike at Karkand and Sharqi Peninsula - and the new weapons and game mode.
Have we discovered the fabled swimming pool? The dinosaurs and Easter Eggs? And what of "the party tank", a Eurogamer Battlefield tradition? For all this and more, check out the latest episode.
This isn't our last podcast of the year either. Check back later this week and you'll be able to hear from the news team as Robert Purchese returns to the host's chair for a recap of the year gone by. You won't want to miss it, because Bertie is nuts.
Background reading:
The Eurogamer.net Podcast is available at 5pm each Tuesday or whenever there's something worth talking about.