EGX Full-Ride Fund is raising money to enable low-income and marginalised game developers get to EGX 2023
"The games industry must be open to all."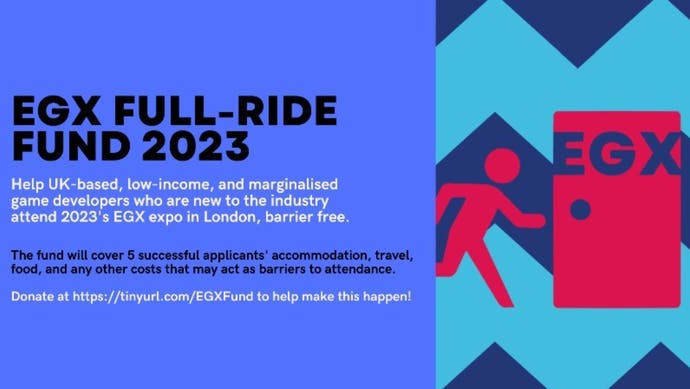 EGX Full-Ride Fund is offering bursaries to enable UK-based, low-income and marginalised game developers to attend EGX 2023.
The campaign - which has no official connection with EGX or its organisers and was set up by "working class lad and formerly low-income member of the games industry", Dan Ahern - hopes to "fully fund" five game developers to travel from anywhere in the UK to attend EGX, as well as cover accommodation and subsistence costs, too.
It has already exceeded its original £4900 target.
"People from these groups are often unable to attend expensive industry events, let alone the rising costs of transport and accommodation," Ahern explains. "Games industry events can be hugely beneficial for career growth, and until the industry collectively works together to make them more affordable, the onus is on those of us who are in a position of financial and social privilege to do what we can to bridge that gap.
The scheme was inspired by Into Games' recent UK Games Events Bursary Scheme which similarly raised funds to provide tickets for care leavers and people with a low income.
Ahern is also "currently reaching out to studios and companies" to see if they're willing or able to make a financial contribution to the bursary scheme.
For more information or to donate to the fund, head on over to the EGX Full-Ride Fund 2023's JustGiving page.
"I want to use my privilege to help those who may not be as lucky as I am, to give them the best possible chance to succeed in this industry without financial or logistical barriers stopping them from doing so," Ahern adds. "The games industry must be open to all."