DSiWare Roundup
Warioware, Art Style, Paper Plane.
The latest iteration of Nintendo's popular handheld arrives with a bunch of downloadable software designed to show off its capabilities. Here's a look at some of the first titles to be offered via the DSiWare service, from the latest instalment in the Warioware series to the much simpler and self-explanatory Paper Plane. Read on to find out which ones are worth snapping up.
Warioware Snapped
This is lightweight compared to what it could have been - it's more like a tech demo than a full game. However, Warioware Snapped does show off what the DSi was designed to do. The familiar Warioware mini-games are played by flailing about in front of your DSi as the camera tracks your movements. (It's strongly reminiscent of the Wii experience, in fact.) Once you've lined up your hands and face to be "recognised" by the camera, you proceed to wave, blow, shake, and wobble your way through a series of action-based puzzles.
Initially I found the game excruciating because of its contextual demands. I was sitting in a car with the DSi and was unable to hold it still. Warioware requires the DSi to be motionless on a table in front of you, so it's not ideal for the casual messing around on the move that the DS encourages.
Worse, the facial recognition system struggles if you're not starkly contrasted against whatever's around you. Anything less than a very brightly lit room renders the game unplayable, which makes things tricky when you're trying to show off the game to a sceptical girlfriend in a gloomy cottage. But if you can get past these hurdles it becomes moderately entertaining.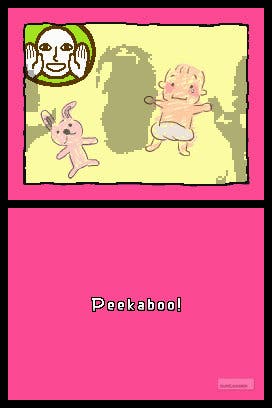 As you play a silhouette of your head and hands is displayed behind the puzzle graphic, providing orientation for your reactions to the "BLOW!" "WAVE!" "POUR" "PEEKABOO!" commands that appear on the tiny screen. After you finish one of the four puzzle sequences your actions are replayed on the menu screen - perhaps telling a story, or perhaps just making you look like a slapstick chump from a silent movie. It's a beautiful little reward, demonstrating that the Warioware designers have lost none of their inventive humour or sense of silliness.
Given the limitations of how and when the game will work, along with the lack of content, it's hard to bang the rubber stamp of approval on Warioware Snapped - but it's fun for as long as it lasts.
5/10
Art Style: Aquite
The tasteful, minimalist aquatic theme of Art Style: Aquite appears designed to offset what is actually a rather tedious sorting game. The setup is this: a column of coloured blocks runs down the centre of both screens. You control similarly coloured blocks which can be pushed into this pipe. Match up three or more blocks the same colour and they will disappear, while another block is pushed out of the other side. This block becomes your next target for colour matching.
What aggrieves me is how little sense it makes even to a Tetris-trained brain such as my own. Perhaps it's down to everything being a similar colour, but the pace of matching is so slow it's almost unbearable.
It's possible to unlock various videos of sealife as you progress, but this isn't an enormous reward for a puzzler that feels contrived rather than inspired. It's interesting to see what happens when a block matching game doesn't make the grade, and instead delivers a sober, even lifeless experience. But that doesn't make it worth paying for.
3/10