Dreamfall Chapters Book Two release date
UPDATE: Brand new trailer released.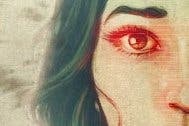 UPDATE 24TH FEB: The promised trailer for Dreamfall Chapters Book Two: Rebels has been released. It's embedded below.
ORIGINAL STORY 19TH FEB: Dreamfall Chapters Book Two: Rebels will be released 10th March on Steam, GOG and the Humble Store for PC (Windows and Linux) and Mac.
Rebels picks up where Book One: Reborn left off, with characters Kian Alvane and Zoe Castillo investigating a multiple-worlds-ending conspiracy. The second instalment brings a new city to explore: Marcuria, capital of the Northlands, home to the Azadi occupying forces and to the resistance.
An accompanying trailer for Book Two is expected in a few days.
Book One: Reborn got off to a wobbly - although still promising - start. But it was only a start. With Book Two - the second of five planned Books - this crowd-funded episodic series may begin to find its stride.
The entire Dreamfall Chapters series costs £24. It doesn't look like you can buy episodes separately.