Double Fine launches Amnesia Fortnight 2014 with Pendleton Ward
Vote for your favourite ideas. Buy Humble Bundle prototypes, games.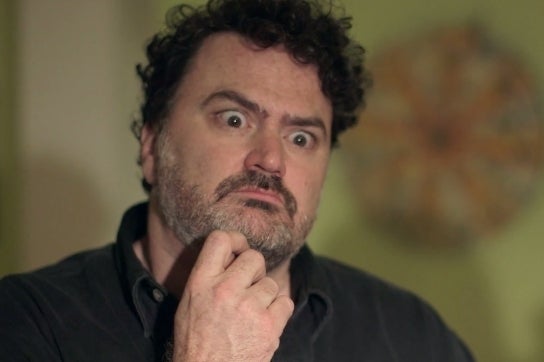 It's that time again, folks! Psychonauts and Broken Age developer Double Fine is embarking on its third Amnesia Fortnight, the process in which the studio takes a two week hiatus from whatever else it's working on to develop prototypes for four bonkers new game ideas.
This time out the studio has recruited Adventure Time creator Pendleton Ward to lead one of the four projects, though it's still to be decided exactly which game idea he'll oversee.
This - along with the other three prototypes - will be chosen by you, dear readers, so long as you pledge towards the Amnesia Fortnight 2014 Humble Bundle.
Donating $1 allows you to vote on the three prototypes led by Double Fine staff and play said prototypes when they're complete. Pledging more than the average - currently $5.36 - lets you vote on which project Ward works on, then eventually play that as well. And backers who give more than $35 will receive a two-disc Amnesia Fortnight 2014 set with the upcoming prototypes and a blu-ray of the documentary about the two week game jam made by Double Fine's regular film crew 2 Player Productions.
To hear the various pitches, skip to the five minute mark in the trailer below (though the opening is really amusing and worth watching). Some of the ideas include: Timagotchi, "a pet simulator in which you nurture an adorable game developer and help them bring their ideas to life"; Astro Helmet, which is described as "Star Fox meets Shadow of the Colossus in space... with pizza"; and Bad Golf 2, a sequel to a game that never existed, but Double Fine's Patrick Hackett valiantly pitched during last year's Amnesia Fortnight. You've got to admire his moxie.
On the Pendleton Ward side of things, his four ideas are games entitled: Little Pink Best Buds, Damnit Jerry, No More McDonalds, and Cupid, You Fat Little Scamp.
Full pitch videos for many of these projects can be found on Double Fine's YouTube page. It appears that more are being added as we speak.
You have one week to purchase and vote on which pitches get made, but finalists will be announced on 10th February, so it would be best to vote before then.
Games from Amnesia Fortnight 2013 that are currently in development include Spacebase DF-9 and Hack 'n' Slash, while previously released games from this experimental endeavor include Costume Quest, Stacking, Iron Brigade, and Once Upon a Monster.
To commemorate the announcement of Amnesia Fortnight 2014, Double Fine has launched its own Humble Bundle, which is live for a week. It contains Psychonauts, Costume Quest and Stacking, but pay more than $6 and receive Brutal Legend, and pay over $16.74 to also receive the Early Access build of Spacebase DF-9 on Steam.