Dingodile is a playable character in Crash Bandicoot 4: It's About Time
Long tail.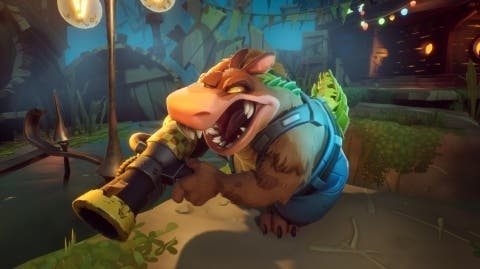 Dingodile is a playable character in Crash Bandicoot 4: It's About Time, Activision has announced.
The half dingo, half crocodile joins Crash and Coco as a new playable character in the upcoming Toys for Bob platformer. It's the first time he's playable in Crash. Here's the official blurb:
"After Crash Bandicoot: Warped, Dingodile hung up his old flamethrower-rocket launcher combo and retired from a life of villainy. But now he's back with unfinished business, falling through space and time into another dimension where his adventure to return home begins."
Toys for Bob showed off new gameplay during Sony's State of Play video. It revealed a new mode called N. Verted, a cool-looking mirror mode that changes the art style of levels.
The N. Verted mode is the work of fellow Activision-owned studio Beenox. Mirrored levels get new perspectives, sound effects, music and in some cases, extra transformations. You earn Bumpa-berries instead of Wumpa fruit, too.
Meanwhile, there are loads of skins to unlock, but Toys for Bob insisted there are no microtransactions in the game. Activision has done a deal with Sony for timed exclusivity on some skins. Here's the detail:
"Arriving first on PlayStation are two additional sets of skins for Crash and Coco awarded automatically after players complete the second level of the game and access the Dimensional Map. These skins, dubbed 'Marsupus Erectus' and 'Serious Upgrade,' will be available on other platforms no earlier than 31st December, 2021."
Crash Bandicoot 4: It's About Time is the first brand new Crash game in over a decade, and is the direct sequel to Crash Bandicoot: Warped. It's out for PlayStation 4 and Xbox One on 2nd October 2020. Still no word on other platforms.