Dimension Drive returns to Kickstarter after troll ruined previous effort
Already off to strong start.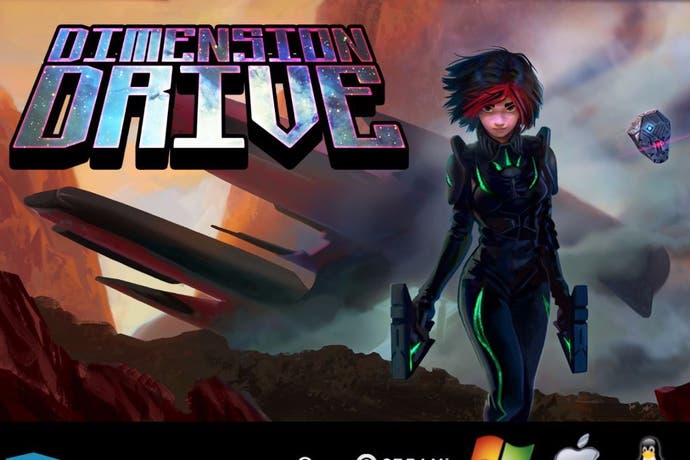 The indie developer behind Dimension Drive has re-launched the game's Kickstarter.
Last week the people behind Dutch developer 2Awesome Studio were left devastated after a troll ruined the Dimension Drive Kickstarter right at the death.
2Awesome Studio were celebrating after they received a €7000 pledge to the Kickstarter for comic book-styled shoot-'em-up Dimension Drive just hours before its was due to end. The pledge pushed the Kicktarter just shy of its €30,000 target, causing the studio to tweet its thanks to their mysterious saviour, known only as "Jonathan".
But jubilation quickly turned to devastation when Kickstarter told the developers the €7000 pledge was fraudulent, the money had been pulled and Dimension Drive went from dramatic Kickstarter success to dramatic Kickstarter failure in the blink of an eye. The whole episode was captured live on Twitch.
Developer David Jimenez, who works as an engineer at the European Space Agency, told Eurogamer that while Kickstarter sympathised with the studio's plight, it was unable to offer an extension of the campaign. But the crowdfunding company suggested a Kickstarter relaunch, which went live last night. Jimenez pledged to "work one more time to try to make it".
The events of last week have, as expected, fuelled interest in Dimension Drive, and the new campaign is off to a strong start, with a number of developers chipping in. Vlambeer's Rami Ismail had promised $1K after the first Kickstarter failed, and he made good on his word.
I promised I'd eat ramen noodles for a month and spend my salary on the Kickstarter if it came back, so $1K it is. https://t.co/OytDJHAo24

— Rami Ismail (رامي) (@tha_rami) May 18, 2015
At the time of publication €11,828 has been pledged by 374 backers. The campaign calls for €30,000.