Best USB sound cards for gaming 2023
Our favourite external sound cards, featuring Epos and Creative.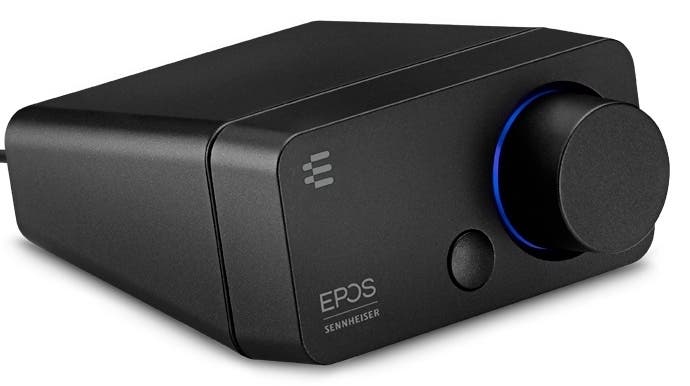 It may not be the first part of your setup that you think of upgrading, but getting one of the best USB sound cards for gaming can actually make a world of difference when it comes to audio quality. On a basic level, what they do is add features that aim to provide you with a more immersive gaming experience, as well as giving you more ports and improving sound quality. They are a bit of a niche product, but can be paired with an excellent gaming headset in order to provide you with an all-conquering setup.
With these recommendations, we've included ones at varying price points, with our best choices for under £100/$100, £200/$200 and under £300/$300. Beyond that, you'll also find some handy FAQs and a glossary of key terms so you can get up to speed on all things sound cards. The table of contents just below can give you quick access to all this, so without further ado, here are our top picks for the best USB sound cards we've tested.
---
Best USB sound card for gaming under £100/$100: Epos Sennheiser GSX 300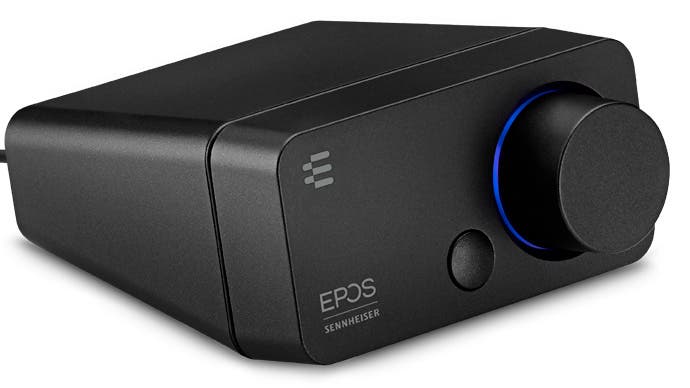 Specs: 91x81x41mm, 160 grams, 2x 3.5mm
Pros: Good sound stage, compact design, convenient controls.
Cons: Can't drive high-impedance headphones, no speaker output, potentially buggy software.
Epos, the company formerly known as Sennheiser's gaming division, has turned out something of a treat on its first attempt. The GSX 300 sound card is compact and relatively inexpensive at £63/$78, but it produces a great expanded sound stage and offers an immersive simulation of 7.1 surround sound on stereo headsets. High resolution sound is supported, up to 24-bit 96kHz, and the GSX 300 can drive headphones up to 75 ohms. That meant my 50-ohm Sennheiser HD 598 SE worked fine, but the 300-ohm HD 600 is off the table.
The small physical design means that there's no room for additional ports - you just have Micro USB and two 3.5mm inputs for your headphones and mic - but it does mean that the GSX 300 is something you can easily put in your bag to use with a laptop on the go. A single to dual 3.5mm adapter is required if your headset uses a single TRRS jack instead of separate TRS connections for headphones and mic, but this isn't a big issue as these adapters normally come standard with any headset that require them (not that they're expensive anyway).
There's a volume dial on the front, which offers tactile steps, as well as a second button that can be set to switch between sound modes or different EQ profiles. The software works well, with convenient EQ settings and comprehensive mic controls, but it did sometimes stop working and require a restart. This should have been fixed in a recent software update, and hasn't occurred since in my testing.
If you want a compact USB sound card at a reasonable price, the GSX 300 is worth considering.
---
Best USB sound card for gaming under £200/$200: Creative Sound Blaster X4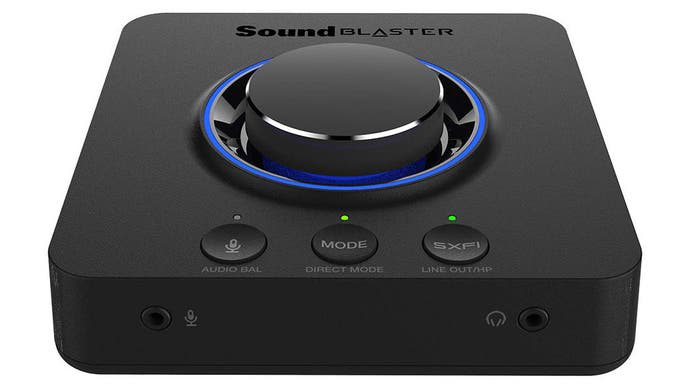 Specs: 129x129x41mm, 330 grams, 7x 3.5mm + optical
Pros: Great audio processing, both 7.1 speaker and headphone outputs, good software.
Cons: Speaker/headphone swap is annoying, takes up a lot of desk space.
The £130/$140 Sound Blaster X4 offers a step-up in audio quality, with a higher-grade sound processor that includes support for 24-bit 192kHz hi-res audio. It can also drive more powerful headphones than the GSX 300 we looked at earlier, with impedances up to 600 ohms supported.
The larger frame also allows a marked increase in ports, making it more suitable for use with a desktop PC than the compact GSX 300. The X3 includes separate 3.5mm headphone and mic ports on the front, with five further 3.5mm ports on the rear for connecting up a full 7.1 speaker system plus a line-in device. An S/PDIF optical output is also provided.
The larger size of the X3 means that the volume dial can be mounted on top, making it easier to spin with one finger, and there are three additional buttons for toggling sound processing, changing modes and muting your microphone. Annoyingly, changing between the headphone and speaker outputs requires a carefully timed long press of one of these buttons, making the most commonly used feature a chore to actually perform.
The software side of things is well handled, with the SmartComms app providing a convenient way to adjust microphone settings, set custom EQs or try out the (many) included modes, including some optimised for certain games and Super X-Fi, which is based on photographs of your particular ear shape. I tend to prefer a neutral setup with no processing for competitive games, but these modes are well worth testing yourself.
Note that the Sound Blaster X4 is near-identical to the earlier X3, with a 16-bit output instead of a technically superior (but little-used) 32-bit output. The software is also slightly different, with the SmartComms app adding two-way noise cancellation and a few other features beyond those included in the previous Sound Blaster Control Panel software. However, both units perform well, with only minor differences in audio quality, so get the X4 unless the X3 is noticeably cheaper.
For more information, check out our full Sound Blaster X3 review.
---
Best USB sound card for gaming under £300/$300: Creative Sound Blaster AE-9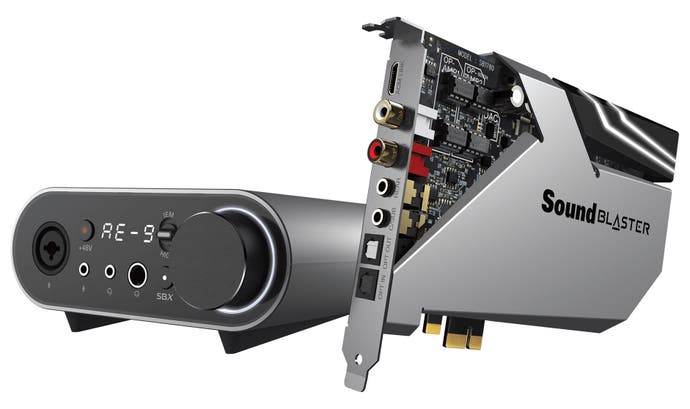 Specs: 150x128x65mm, 480g, 2x optical + 4x 3.5mm + 4x RCA + 1x 6.35mm
Pros: Unparalleled audio quality, works as audio interface, great controls.
Cons: requires PCIe installation and 6-pin power, no DTS:X or DolbyAtmos support.
The most expensive external sound card we currently recommend is the £300/$332 Sound Blaster AE-9. This model actually sports both internal and external elements, but it still does largely the same job - replacing your desktop computer's integrated audio with a replacement that sports additional, electrically isolated ports, better sound processing and extra features.
This hybrid approach does mean you'll need to have a free PCIe slot and a spare 6-pin power input to install the AE-9, which may take some smaller PC builds out of the running. This also means that the AE-9 is a complete non-starter for laptop use, and even moving it from desktop to desktop is something of an undertaking.
What you lose in portability though, you gain back in power. That includes a flagship-grade DAC, the ESS Sabre 9038, which is capable of 32-bit 384-kHz hi-res audio playback and sports both fine gold capacitors and swappable op-amps that let you tune your sound signature in hardware rather than software. The audio quality coming off this thing is unmatched in the PC space, bright and detailed, and I'm a big fan... even if proper audiophiles can no doubt identify cheaper amps that perform even better.
Another benefit to the hybrid design is that you have two places to plug stuff in, so you have a crazy amount of inputs and outputs. As well as separate ¼ inch and ⅛ inch headphone and mic ports, you also get XLR inputs with 48V phantom power. That means you don't need a separate audio interface; ideal if you're using one of our recommended XLR mics for streaming. There are also four line-out ports and optical in/out. In terms of processing, as well as the built-in Acoustic Engine, you can opt for Dolby Digital Live and DTS Connect Encoding - unfortunately, there's no Dolby Atmos or DTS:X support. The Sound Blaster Command app is also available, just like on the X3, providing a convenient place for tuning and tweaking.
The AE-9 is the sound card that made me believe in sound cards again on a conceptual level, and if that's not enough of a recommendation I don't know what is.
For more information, check out our full Sound Blaster AE-9 review.
---
Glossary
Sampling frequency: also known as the sample rate, this is the number of samples taken per second. The higher the sampling rate, the more information is maintained from the original recording.
Bit depth: the number of bits of information used to record each sample in a lossless recording. CD audio is 16-bit, while high-res audio is 24-bit. Higher bitrates allow for improved signal-to-noise and dynamic range.
Impedance: a figure, generally between 8 and 600 ohms, that effectively measures how much power is required to deliver a comfortable listening volume. Low impedance headphones (50 ohms or less) are generally designed for mobile use with portable devices, while high impedance headphones are designed for home/studio use.
DAC: a device that translates digital audio (eg from your computer) into an analogue signal (eg one that your headphones can reproduce); literally a Digital to Analogue Converter.
Headphone amp: a device that raises a low-voltage audio signal (eg from a device like a computer or phone) so that it is strong enough to drive headphones.
---
FAQ
What is a USB sound card?
A USB sound card adds audio input and output ports to your computer via USB, while also taking over sound processing duties from your computer's integrated sound card.
Do I need a USB sound card?
No, you don't need a USB sound card - but they can offer improved sound quality, add new features and they're better isolated from electrical interference than the sound cards that are built into laptops or the motherboards of desktop PCs. If you have a nice headset and care about this stuff, then it's a worthwhile upgrade.
When does a USB sound card make sense?
USB sound cards make sense when your integrated sound isn't up to snuff, whether that's in terms of its port selection, its features or its overall sound quality. Cheaper laptops and desktop motherboards often suffer from poor sound, so USB sound cards can offer a significant improvement. Of course, you'll need a nice headset to take full advantage of a nice sound card!
What specs should I care about?
There are a few figures on the spec sheet you might need to care about: supported bit depth and sampling frequency (important for high-res audio) and recommended impedance (important for amplifying high-end headphones).
If you regularly listen to hi-res audio, make sure that your sound card of choice supports the highest bit depth you normally use - so CDs are 16-bit 44.1kHz, but Tidal's hi-res audio streams are available in 24-bit 96kHz. That means you'll need a USB sound card also capable of 24-bit 96kHz sound if you're a Tidal subscriber.
If you have a high impedance set of headphones, which are most commonly quite expensive and intended for studio use, then you'll need a USB sound card that can actually drive them. For example, the consumer-grade Sennheiser HD 598 has a nominal impedance of 50 ohms, while the more professional Sennheiser HD 600 has a nominal impedance of 300 ohms, requiring a significantly stronger amplifier to drive at reasonable volumes.
Got a question we didn't cover?
Let us know in the comments below, or reach out on Twitter - @wsjudd. We'll see you next time!