Best 65% keyboards 2022 for gaming, typing and programming
The smallest mechanical keyboard size with arrow keys.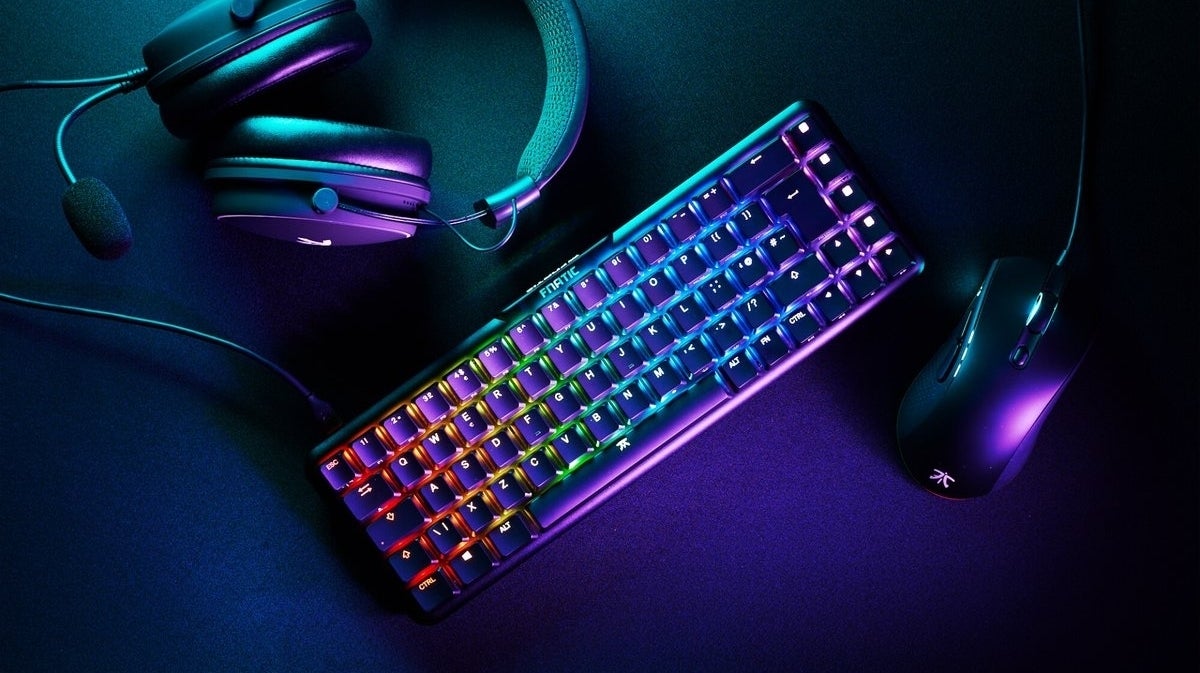 For me, 65 percent size keyboards are perfect. They straddle the line between compact and functional, with the arrow and navigational keys I rely on daily but without the cruft I don't, like the numpad or Function row. They're ideal for working on the go, often perfectly matched to the size of laptop keyboards, and provide tons of mousing space. Best of all, this form factor has seen an explosion of popularity, with even the biggest gaming brands exploring this brave new world once inhabited solely by mechanical keyboard enthusiasts.
Here are six of our favourite 65 percent size mechanical keyboards, based on hundreds of hours of building, testing, tweaking, gaming and typing over the past decade.
Simply choose a keyboard you like the sound of from the list below, or scroll on for our full recommendations - plus a quick FAQ section at the end! As always, if you have any questions or comments, then do let me know via the comments or the Twitter link at the end of the article, as I'm always keen to make these guides as useful as possible.
Best 65 percent keyboards for gaming, typing and programming
---
1. Fnatic Streak65
An all-out gaming board that performs beautifully

The Fnatic Streak 65 is our favourite 65 percent keyboard, offering all of the functionality you need for competitive games in a small, convenient form factor. The keyboard uses Fnatic's own silent, linear and low profile 'speed' mechanical switches, allowing extremely rapid key presses and making double-taps easier in shooters and action games. As well as not taking up much desk space, a 22mm height and 420g weight means that this keyboard will fit in a bag or even the front pocket of a hoodie easily. The compact dimensions and aluminium frame contribute to a very sturdy feel too.
Beyond the form factor, Fnatic have done well to nail the details here as well. The stabilisers on larger keys are pre-lubed for silent and easy operation, the USB-C port is offset to the left to ensure the cable doesn't interfere with your mouse and the legends on each keycap are inscribed with a legible, grown-up font. The switch housings are even transparent and two extra LEDs are embedded beneath the space bar to ensure that the customisable RGB lighting is evenly distributed throughout the board. I particularly liked the inclusion of a 'competition mode', which sets to the lighting to dim orange and locks the Windows key.
Altogether, this new tiny Streak is certainly among the best gaming keyboards on the market.
Buy:
---
2. Asus ROG Falchion
A wealth of connectivity options and some fresh ideas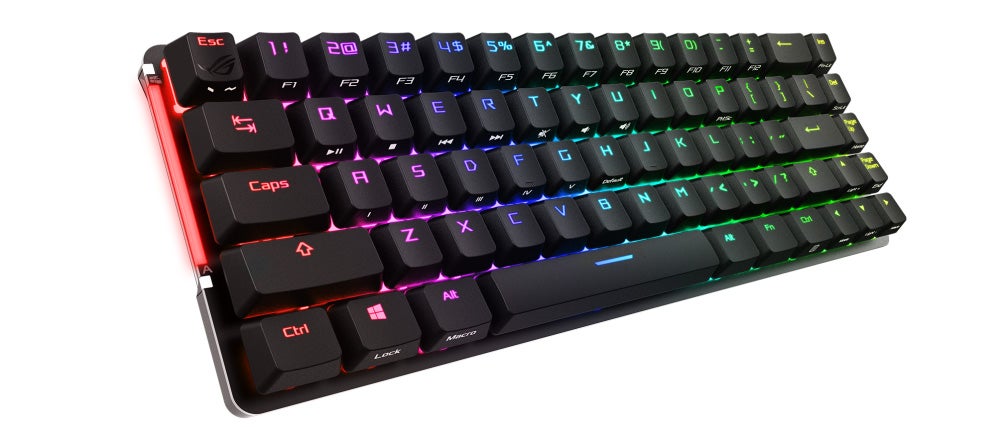 The ASUS ROG Falchion is one of the most expensive boards on this list at around £150/$150, but it looks, feels and acts the part with some unique features we haven't seen anywhere else.
There's a touch-sensitive strip on the left side of the board that you can stroke to adjust the volume, activate macros or other functions. The keyboard also comes in two pieces, with a plastic chassis sitting inside a removable metal-lined case, so you can opt for durability and key feel of the fully-assembled unit or a lighter, more portable keyboard. The Falchion can also be used wired, via USB, or wireless via a low latency 2.4GHz connection.
When you combine this deep feature list with what is in all other respects an excellent keyboard - strong build quality, good key feel from its Cherry MX Red switches, clear legends in its double-shot PBT keycaps, bright RGB backlighting and easy reprogramming - you get one of the most impressive keyboards we've ever tested.
Buy:
---
3. Razer BlackWidow V3 Mini HyperSpeed Phantom Edition
Razer's signature style plus low-latency wireless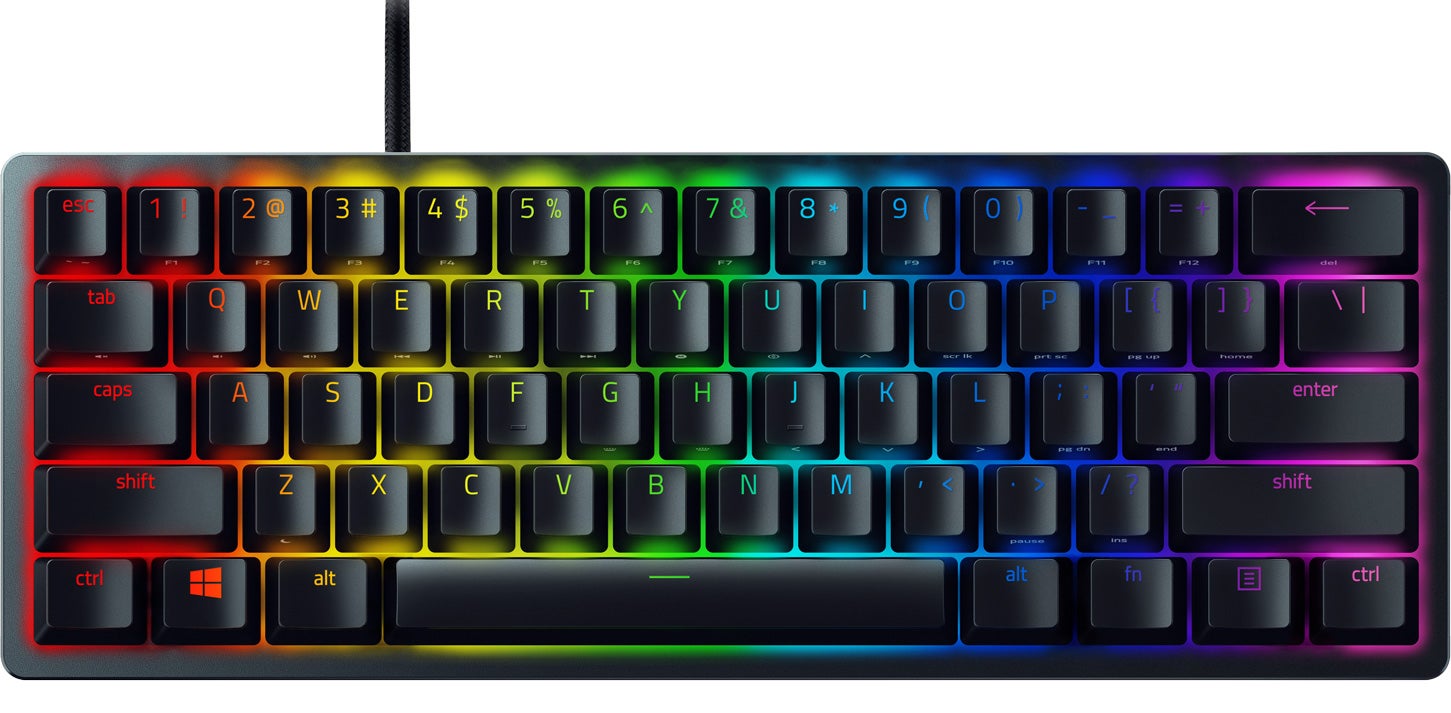 The £180/$180 BlackWidow V3 Mini offers Razer's HyperSpeed wireless in a 65 percent form factor, allowing the keyboard to connect over a low-latency 2.4GHz connection in addition to Bluetooth and wired USB-C. One nice touch here though is that you can connect a keyboard and mouse to the same USB dongle, but this tech only works with very recent Razer releases.
There are two Razer-made switches available: quiet linear (yellow) and clicky (green). The yellows are great for gaming and still good for typing, thanks to their quiet report and moderate travel. Razer's double-shot ABS keycaps feel great, with a bit of texture and cleanly inscribed legends. The aluminium frame also provides a feeling of rigidity; there's no deck flex evident in this keyboard whatsoever.
The V3 Mini Hyperspeed's incredibly long name becomes even longer with the Phantom Edition, which is actually pretty neat. With the backlighting disabled, the keyboard looks to have blank keycaps, but the legends appear when the RGB is turned on. This doesn't have any practical purpose, but it's just cool to look at.
Battery life is good, at 200 hours unlit, but this drops to only 17 hours with constant lighting at its maximum brightness, and recharging takes five hours. However, you can get around 50 hours with a more moderate lighting setting, so getting a week of use between charges seems quite possible.
All things considered, the BlackWidow V3 Mini HyperSpeed is a great compact keyboard; the only thing holding it back right now is its premium price - at £100 this will be an excellent pickup. For now though, if you're already in Razer's extensive ecosystem, this is their best compact keyboard yet.
Buy:
---
4. Epomaker TH66
A handsome and quiet 65 percent keyboard - with rotary encoder

The $90 Epomaker TH66 is an incredibly feature-rich and well-built keyboard given its entry-level price tag. The keyboard sports a rotary encoder (ie a metal volume wheel) in the upper right corner, a rarity for keyboards of this size, as well as full RGB backlighting, a range of Gateron switches, PBT keycaps, a 2200mAh battery and a choice of USB-C wired, Bluetooth or 2.4GHz wireless connectivity. It's a beautiful board right out of the box, and of course you're free to make it your own too, with hot swappable switches and a relatively standard layout that aids keycap swaps.
Inside, there are some interesting things going on too. This is one of the quietest keyboards I've used, thanks to a unique gasket structure, two layers of foam dampening and lubed stabilisers. Combined with my review board's soft clicky switches, and you've got a recipe for a crisp, satisfying report - without the rattle or ping of more typically constructed mechanical keyboards.
The software side of things is a bit more barebones, but it's easy enough to rebind keys, adjust the lighting, record macros and update the keyboard's firmware. The user manual is also worth reading, as you don't get any secondary functions listed on the default keycaps - so knowing how to press insert, delete or print screen is a matter of memorisation, although key combos like Fn + 1 being F1 are more obvious.
Altogether, it's impressive how much quality Epomaker has packed into a keyboard of this price point. If you like the layout and the features appeal, you won't be disappointed.
Buy:
---
5. Durgod Fusion
A retro-inspired board with bags of charm

The Durgod Fusion is a compact keyboard with both wired (USB-C) and wireless functionality, accessible via a chunky switch in the upper right. A built-in battery provides up to 40 days of use, thanks to the lack of LEDs on the keyboard, and you have the choice of standard Bluetooth 5 or lower-latency 2.4GHz wireless via a USB dongle hidden under the Durgod logo.
The keycaps are made from durable double-shot PBT, while the switches beneath come in seven different flavours of Cherry MX from clicky Blues and tactile Browns to quiet Silent Reds. The typing experience is generally excellent and the build quality is impressive too, especially given the reasonable price. While other 65 percent keyboards are smaller, this is still compact enough to fit easily into a backpack.
Altogether, it's a nice board that blends modern features with retro sensibilities.
Buy:
---
6. Royal Kludge RK68
A clean and simple 65 percent board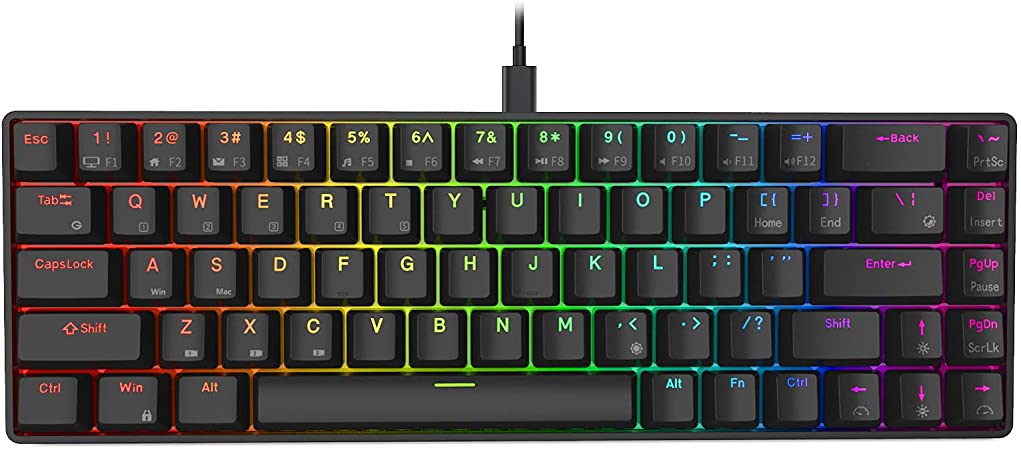 The RK68's selling point is simple: a quality compact mechanical keyboard at half of the price of the big brands. It costs around fifty currency units at the time of writing, yet feels great to type on with clicky, tactile or linear Gateron switches and full per-key RGB.
There's no software here to synchronise the lighting with other peripherals - such is the sacrifice you make by going for a smaller brand - but controls on the keyboard itself allow you to adjust the lighting easily enough. There are also no options for adjusting the angle of the board. I use my keyboards flat as this is meant to be ergonomically superior, but if you require more tilt than the ~5° provided by the keycaps and board itself you may need to look elsewhere.
The RK68 proves that you really don't have to spend a lot to get a great compact keyboard. While some may prefer a more full-featured board with advanced software, the RK68 nails the essentials - key feel, build quality and looks - at a very attractive price.
Buy:
---
Frequently asked questions
What do labels like 65 percent actually mean?
These categories correspond to the number of physical keys on the keyboard - we know that a full-size keyboard tends to have 104 or 105 keys, so a 60 percent keyboard will have a few more than 60 keys, a 65 percent keyboard a few more than 65 and so on.
Full-size: the most common layout that includes the alphanumerics and modifier keys, the function row, navigation and arrow keys and the numpad.
TKL (tenkeyless): a full-size keyboard with all clusters and the same spacing, just with the numpad removed.
75 percent: about as many keys as a TKL, but each cluster is grouped together tightly to achieve a smaller footprint.
65 percent: a keyboard with no function row, navigation keys or numpad, just alphanumerics, modifiers and arrow keys.
60 percent: a keyboard with just alphanumerics and modifiers.
40 percent: no number row, but with extra modifiers and a smaller space bar to keep things (somewhat) usable.
However, layouts here are much less standardised than on larger form factors and these are only broad labels anyway, so you may find the number of keys varies between boards, sometimes significantly.
This also means that finding replacement keycaps for smaller keyboards can be tricky - TKL is fine and 60 percent is generally doable, but less common sizes like 65 percent and 75 percent may require you to mix and match keycaps from different sets or just accept the keycaps that the board came with.
What are the downsides of 65 percent keyboards?
On keyboards with fewer than the usual number of keys, some less-used functions are moved from dedicated keys to shared keys, requiring a modifier like Fn (Function) to be used for the desired keypress to be received by the computer. For example, while Print Screen is is a dedicated key on a full-size keyboard, you might need to press Fn + P to activate the same function on a 65 percent board.
At the end of the day, it's all down to your individual tolerances and preferences, so don't be afraid to experiment with different form factors until you discover the right one for you. Similarly, if you're lucky enough to be able to afford it, you could consider eventually having two keyboards - for example, a full-size board for programming and a 65 percent for gaming - so that the downsides of one form factor aren't something you have to live with all day.
Why are mechanical keyboards so expensive?
Most mechanical keyboards from major gaming brands end up around the £100 mark. It's a price point that users seem willing to pay for a better typing experience, and means that manufacturers can recoup the cost of both developing advanced features and including dozens of (surprisingly expensive!) mechanical switches. Happily, you can find some keyboards for half that price, but you will need to forgo a big brand name and the features that often go with it.
Regardless of how much you spend, you should at least be making an investment rather than a temporary purchase - any mechanical keyboard treated with respect should last for decades
Why didn't you recommend my favourite keyboard?
Good question! It may be that we haven't tested it yet, or perhaps we just preferred a different keyboard - and to make this article at least somewhat concise, we're trying to be selective with our picks. Of course, mechanical keyboards are largely a matter of taste, and there are dozens of attributes that might appeal to someone and put someone else off entirely. These are our particular preferences, so do read other recommendations to get a broader view!
We'll continue to update this article with new recommendations as we test them, so why not suggest some keyboards for us to consider in the comments below? You can also reach me on Twitter @wsjudd if you'd like to talk about mechanical keyboards. See you on the next one!