Corsair Xeneon Flex 45-inch OLED gaming monitor review
Is there such a thing as too much monitor?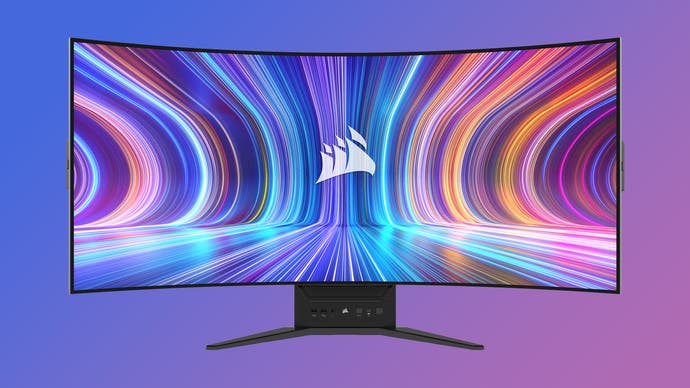 Corsair's 45-inch Xeneon Flex OLED monitor is too big, too expensive and not at all practical - but it's also provided some of the best gaming experiences I've ever had. Here's my review after spending over a month with this £1799/$1599 behemoth of a gaming monitor.
First, the basics. The Xeneon Flex is built around an ultra-wide (21:9) LG OLED panel, with a 3440x1440 resolution, 240Hz refresh rate and one huge party trick: you can bend it from flat to curved and back using handles that sprout from either side of the monitor. This means you can watch movies or look at spreadsheets from a safe viewing distance without worrying about the curvature, then pull both sides towards you for incredibly immersive gaming.
Unfortunately for the Flex, it's kind of inflexible - it's far from an ideal choice for stuff you would generally want to do with a monitor, like watching movies, playing console games or getting work done. The low resolution means you can't watch videos in 4K without downscaling, while text in Windows appears grainy and distorted thanks to the low pixel density and non-standard WRGB subpixel arrangement. You'll also battle with the auto brightness limiter, which noticeably ramps down the brightness if you dare to open a half-size Word document. The 21:9 aspect ratio isn't ideal either, with the extra size going unused in all three scenarios outlined above, but at least the OLED panel ensures that the unlit portions of the screen look as black as the bezels rather than a distracting grey.
That's all OK though - because this is a full-throated PC gaming monitor, where it is better than any other display I've ever tested by a significant margin.
The titanic size and curved screen provides a hugely immersive experience, whether you're stalking the fetid chambers of a cave in Diablo 4 or piloting the Williams FW44 to an unlikely championship victory in F1 22. The extremely high 240Hz refresh rate and near-instant (0.03ms GtG) pixel response times are incredible for tracking moving targets in Counter-Strike 2 and spotting the apex of corners in Need for Speed Unbound, while the gorgeous colours, deep blacks and surprisingly bright highlights (1000 nits) provide a suitably impactful HDR experience - especially when played in a darkened room.
It's hard to overstate how it good it feels to use this monitor - it's like seeing an IMAX movie for the first time after growing up watching a tiny screen in a podunk New Mexico town, a level of shock and awe that coalesces into a conscious effort to capture as much of the experience as possible in case you don't get to see it ever again.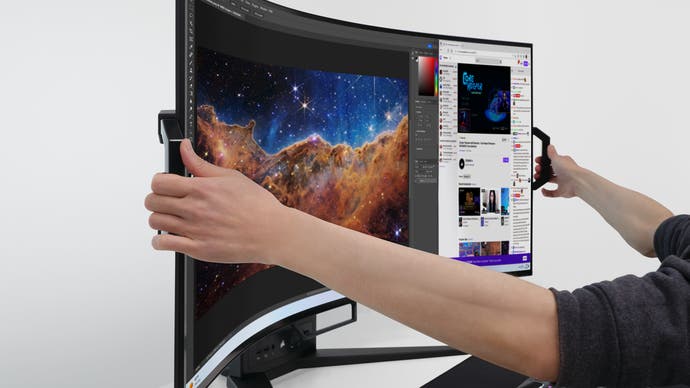 And while that incredible gaming experience delivered by the LG OLED panel is the focus, Corsair have also made some solid design choices elsewhere to support it. The stand is surprisingly stable, for one, with a wide but flat design that can accommodate a keyboard on top of it. The stand's thick central column also incorporates front-facing USB ports, a headphone jack, input selection and power buttons and a joystick that makes changing settings in the OSD or connecting peripherals straightforward. The other ports - power, 2x HDMI 2.1, DisplayPort 1.4, USB-C w/ PD - are in a column on the back of the monitor, so it's easy to plug or unplug video sources.
The side handles that you use to change the display from flat to curved can be tucked behind the monitor, and there are audible clicks to let you know the screen has reached its flat or curved state. There are even extra handles built into the top and bottom to make tilting the monitor up and down - and getting it out of the box - much less of a nervewracking experience than you'd expect given the description "£2099 RRP 45-inch OLED monitor".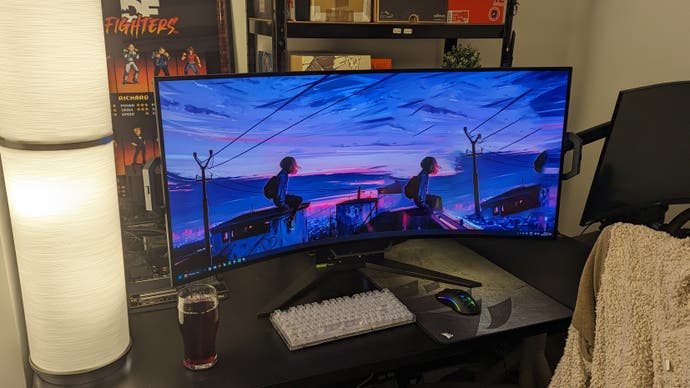 The Xeneon Flex is a special monitor, then. Unlike most high-end gaming monitors we've recommended in the past, it is a bit crap at a lot of different things - shockingly bad, even, based on the price. It's an awkward fit for film fans, it doesn't really make sense for content creation or general productivity, and getting it for console gaming would be a terrible waste. And yet, for PC gaming it is so good. It is the kind of product that makes you want to buy a big ol' desk to put it on, spend too much money on a gaming headset and then just cancel all your social plans and play videogames for a week or two.
I'm lucky enough to play with a lot of fun tech stuff, thanks to my work here - I even had to start an irregular column about all the weird things I didn't have space to cover elsewhere - but the Xeneon Flex is the coolest thing I've played with in years, and well worth your time if you're in the tiny Venn diagram of PC gamers with the time, space and £1799/$1599 budget to justify it.