AMD Radeon RX 6600 XT review: solid 1080p performance, but falls away fast at higher resolutions
Closer in performance to RTX 3060 than RTX 3060 Ti.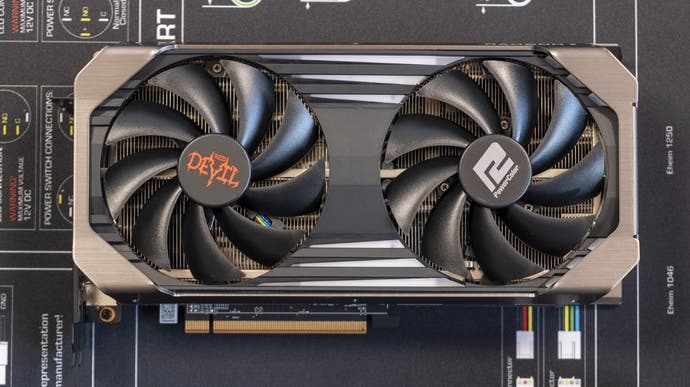 For nearly six months, Nvidia's $329/£299 RTX 3060 has stood alone as the only next-gen graphics card targeting 1080p gaming - the most popular monitor resolution and one that accounts for 67 percent of displays, if the Steam hardware survey is to be believed. Now, AMD has a next-gen 1080p card of its own in the form of the RX 6600 XT, a $379/£329 option that costs $100/£90 less than the previous most affordable RDNA 2 graphics card, the RX 6700 XT.
With a $50/£30 price premium over the RTX 3060, Team Red will be looking to offer demonstrably better performance in most titles, while narrowing the gap in games that use hardware-accelerated ray tracing - a weakness for AMD this generation. The $399/£369 RTX 3060 Ti is also dangerously close to AMD's new GPU, so we'll have to see how these two graphics cards compare as well.
Of course, whether the RX 6600 XT will actually make it to market at $379/£329 remains an open question. AMD's own reference cards tend to sell out in a matter of seconds, and custom cards often come at much higher prices. AMD isn't making a reference model RX 6600 XT - we're testing a PowerColor Red Devil card that's $429 - so it will be fascinating to see if regular people that aren't plugged into stock availability Discord servers and Twitter accounts will be able to actually buy one on launch day at MSRP. Regardless of the ground truth, for now we'll assume that the card will be available at $379 - as we need some basis by which to make comparisons!
Looking at the specs, the RX 6600 XT could be quite a contender. It has 32 compute units, compared to 40 on the RX 6700 XT, with similar boost clocks as well. The memory subsystem has been tweaked downwards slightly, to 8GB of GDDR6 augmented with a 32MB Infinity Cache and operating on a 128-bit interface. The Infinity Cache is quite a bit smaller than on other Big Navi cards - the RX 6700 XT has a 96MB cache and the higher cards all come with 128MB - so it'll be interesting to see how the newcomer compares in memory-heavy titles and at higher resolutions. The RX 5600 XT from last generation used a larger 192-bit interface, so AMD must be quite confident in IC performance. Elsewhere, the RX 6600 XT uses only 160W of power, putting it between the RX 5600 XT (150W) and RX 5700 (180W). That's 70W less than the RX 6700 XT, which is itself only 70W below the flagship RX 6900 XT, so it'll be fascinating to see how RDNA2 operates in a much tighter power envelope.
The PowerColor Red Devil card we're looking at is wide, with a 2.5-slot design. This allows for a thick (~5cm) heatsink and shroud that should allow the RX 6600 XT plenty of thermal headroom to hit high clockspeeds. At around 25cm long, it should fit into most cases that can accommodate a 2.5-slot card, while its auxiliary six-pin and eight-pin power inputs should also be considered when mulling compatibility. Given the 160W power target - and the fact that AMD's 'artistic product rendering' on the RX 6600 XT specs page shows an eight-pin input alone - we expect that cards with only a single auxiliary power input will be offered as well for systems with low-wattage power supplies. The aesthetic is completed by red lighting panels and a red-backlit horned motif on the back of the card - the perfect GPU for playing Doom Eternal.
Like other RX 6000-series cards, we're looking at a standard complement of one HDMI 2.1 port and three DisplayPort 1.4 ports; the inclusion of HDMI 2.1 over HDMI 2.0 means that there's now finally a mainstream AMD card that can make full use of 4K 120Hz TVs - not that the RX 6600 XT is going to be hitting that frame-rate in many titles. All four ports can fit into a single slot, so the remaining half of the I/O bracket can be fully dedicated to airflow with some devilish cutouts.
| AMD GPU Specs | CUs | Game Clock | VRAM | Mem Interface | TDP | Price |
| --- | --- | --- | --- | --- | --- | --- |
| RX 6900 XT | 80 | 2015MHz | 16GB GDDR6 | 256-bit + 128MB IC | 300W | $999 |
| RX 6800 XT | 72 | 2015MHz | 16GB GDDR6 | 256-bit + 128MB IC | 300W | $649 |
| RX 6800 | 60 | 1815MHz | 16GB GDDR6 | 256-bit + 128MB IC | 250W | $579 |
| RX 6700 XT | 40 | 2424MHz | 12GB GDDR6 | 192-bit + 96MB IC | 230W | $479 |
| RX 6600 XT | 32 | 2359MHz | 8GB GDDR6 | 128-bit + 32MB IC | 160W | $379 |
| RX 5700 XT | 40 | 1755MHz | 8GB GDDR6 | 256-bit | 225W | $399 |
| RX 5700 | 36 | 1625MHz | 8GB GDDR6 | 256-bit | 180W | $349 |
| RX 5600 XT | 36 | 1375MHz | 6GB GDDR6 | 192-bit | 150W | $279 |
| RX 5500 XT | 22 | 1717MHz | 8GB GDDR6 | 128-bit | 130W | $199 |
Our test rig has remained unchanged from our RTX 3070 Ti review back in June, but here's a quick run-down. We use a Core i9 10900K system as this provided the best out-and-out gaming performance when current-gen GPUs launched back in 2020, backed with an Asus Maximus 13 Hero Z590 motherboard, dual-channel G.Skill Trident-Z Royal DDR4-3600 CL16 memory and a 2TB Samsung 970 Evo Plus NVMe drive from Box. To keep our CPU performance constant, we've locked it to 5GHz on all cores and kept it cool with a 240mm Eisbaer Aurora liquid cooler.
Now that you're familiar with the premise, the hardware and our testing apparatus, let's get onto the results!
AMD Radeon RX 6600 XT analysis