Intel Core i9 10900K and Core i5 10600K review: hot to trot
Intel's new desktop CPUs tested on Z490 motherboards.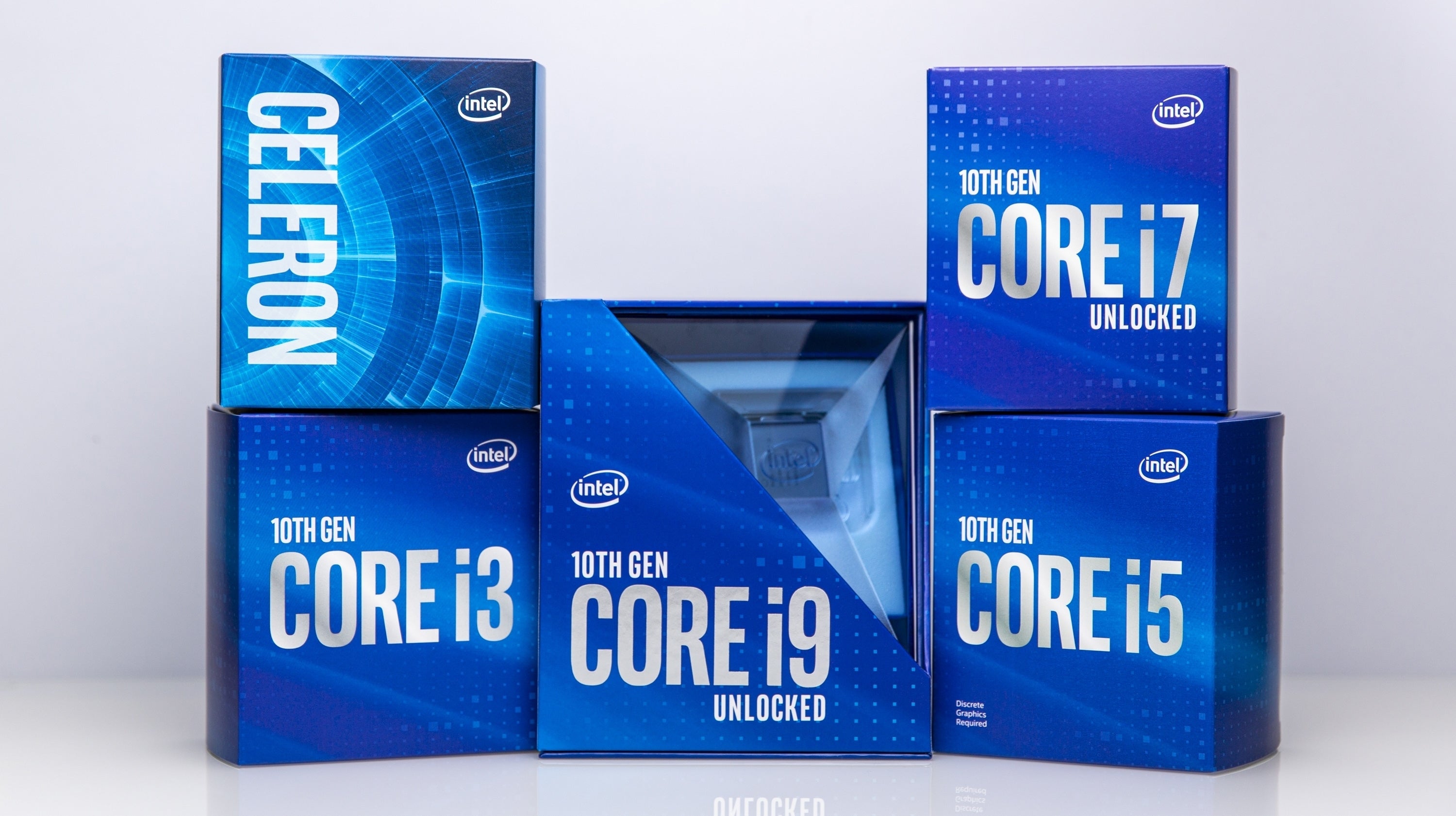 After two long years, Intel's 10th-generation Comet Lake processors have arrived. These are the first desktop CPUs that Team Blue has released since AMD's immensely popular third-gen Ryzen chips launched in 2019 - and it's clear to see that Intel isn't taking this unprecedented threat lightly. There are spec bumps and new features across the entire Core lineup, plus a new Z490 motherboard platform, making this one of the most interesting Intel launches in recent memory.
The top chip, the Core i9 10900K, has moved from eight to ten cores, while every model from the Core i3 up now supports hyper-threading, something that was previously only afforded to the highest tier CPUs in the past three Core generations. Base and turbo frequencies have also risen substantially, with the flagship Core i9 10900K topping out at a massive two-core turbo boost speed of 5.3GHz - assuming certain power and temperature targets are met. There are other fascinating changes here as well that aren't so visible on a spec sheet, such as silicon thinning to boost heat dissipation on unlocked 'K' processors and a more feature-rich overclocking suite that includes per-core hyper-threading controls.
It's a solid package that should translate into solid gen-on-gen performance improvements, but how much faster are these new 14nm processors - and how do they compare with AMD's sterling collection of 7nm Zen 2 CPUs? And for system builders mooting an upgrade, do the performance gains here justify the adoption of a 400-series motherboard with a brand new LGA1200 socket - but no PCIe 4.0 support?
To answer this question, we've been testing Comet Lake on the new Z490 platform for the past week. Intel has chosen to offer samples of just two 10th-gen processors initially: the mid-range Core i5 10600K (£275/$275) and the enthusiast-grade Core i9 10900K (£530/$530). These two chips should offer a good look at where the tenth generation is right now, compared to both AMD's latest and Intel's own earlier offerings, although we hope to test the Core i7 10700K (a dead ringer for the last-gen Core i9 9900K flagship, but at £410/$410) and Core i3 10100 (a £120/$120 competitor to the Ryzen 3300X) in due course.
For now though, let's make hay while the sun shines. We'll start with a look at content creation workloads, where we expect the higher core and thread counts (for the Core i9 and Core i5, respectively) to provide a noticeable boost in multi-threaded applications like video rendering, but AMD's Ryzen processors to offer a stern challenge. Then, we'll get to indulge our real passion - testing gaming performance - with a comprehensive review of some of the most punishing areas we've found in modern and classic PC games. AMD was able to demonstrate big frame-rate improvements with their third-gen Ryzen chips, so we're expecting a big counter-attack from Intel if they want to hang onto their reputation as the best choice for pure gaming.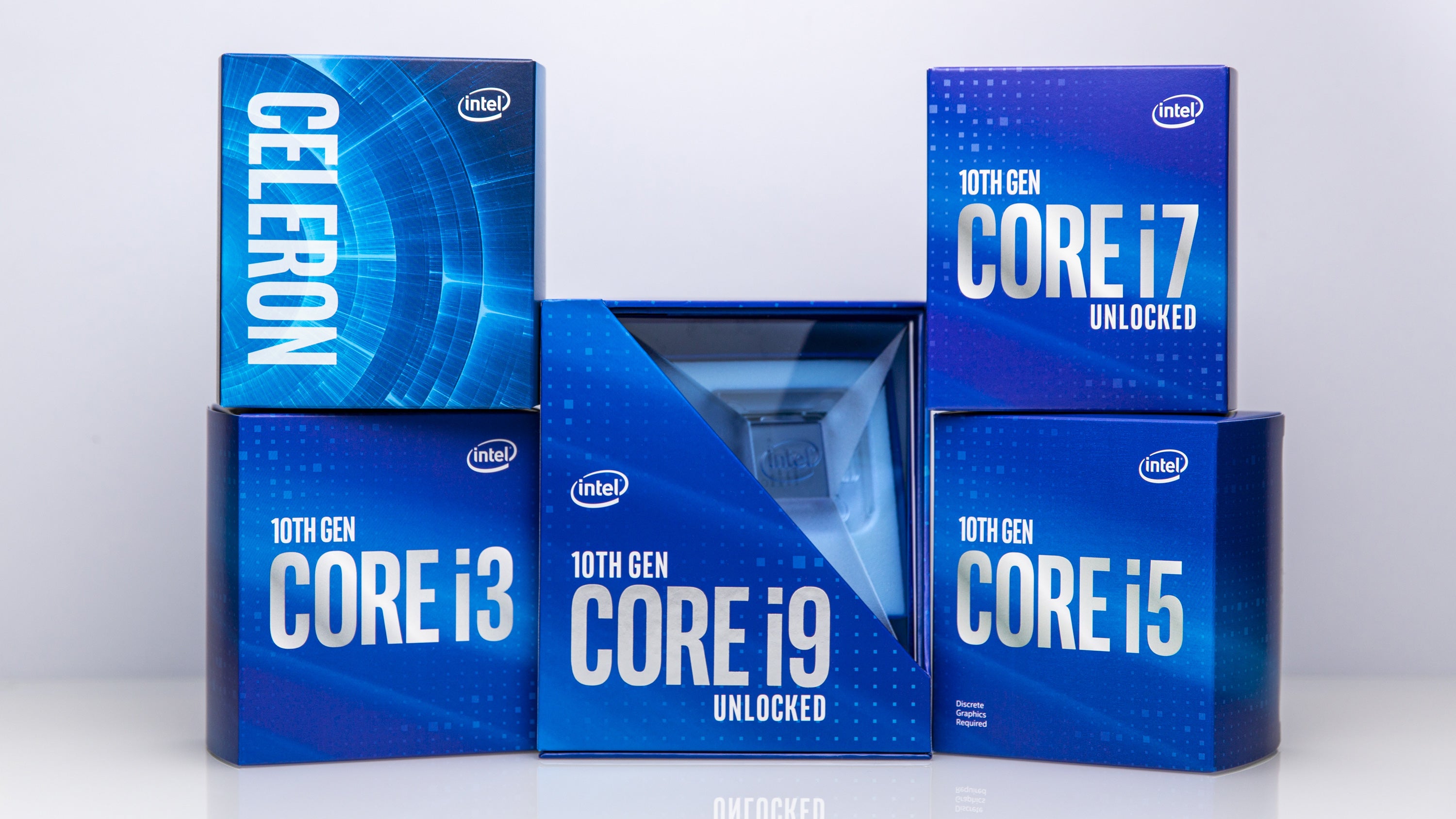 | Processor | Cores/Threads | Base Clock | Single/All Core Turbo | TDP | Cost |
| --- | --- | --- | --- | --- | --- |
| Core i9-10900K* | 10/20 | 3.7GHz | 5.3GHz/4.9GHz | 125W | $488 |
| Core i9-10900*† | 10/20 | 2.8GHz | 5.2GHz/4.6GHz | 65W | $439 |
| Core i7-10700K* | 8/16 | 3.8GHz | 5.1GHz/4.7GHz | 125W | $374 |
| Core i7-10700*† | 8/16 | 2.9GHz | 4.8GHz/4.6GHz | 65W | $323 |
| Core i5-10600K* | 6/12 | 4.1GHz | 4.8GHz/4.5GHz | 125W | $262 |
| Core i5-10600† | 6/12 | 3.3GHz | 4.8GHz/4.4GHz | 65W | $213 |
| Core i5-10500† | 6/12 | 3.1GHz | 4.5GHz/4.2GHz | 65W | $192 |
| Core i5-10400*† | 6/12 | 2.9GHz | 4.3GHz/4.0GHz | 65W | $182 |
| Core i3-10320 | 4/8 | 3.8GHz | 4.6GHz/4.4GHz | 65W | $154 |
| Core i3-10300† | 4/8 | 3.7GHz | 4.4GHz/4.2GHz | 65W | $143 |
| Core i3-10100† | 4/8 | 3.6GHz | 4.3GHz/4.1GHz | 65W | $122 |
Note: Asterisks(*) denote processors which have a corresponding 'F' version, which comes without integrated graphics but costs slightly less - eg the 10900KF. Daggers (†) indicate processors with corresponding 'T' versions, which operate at a highly reduced 35W TDP and lower clockspeeds, for use in all-in-one desktops - e.g. the 10900T. As usual, the 'K' suffix denotes an unlocked and overclockable CPU.
Before we get into the results, let's briefly set the scene. We tested each processor on our standard Windows 10 installation, with the most recent security patches and chipset drivers installed to fast NVMe storage (specifically the XPG Spectrix S40G, our pick for best NVMe SSD with RGB).
On the Intel side of things, we tested the 10th-gen chips on two Z490 motherboards: the high-end MSI MPG Gaming Carbon Wifi and the ultra-premium Asus ROG Maximus 12 Extreme. Our ninth-gen CPUs were also well treated, on an Asus ROG Maximus 11 Extreme. Meanwhile, our AMD benchmarking was performed on the high-end Asus ROG Crosshair 7 X470 motherboard, with additional tests on the mainstream MSI MPG X570 Gaming Plus and the enthusiast-class Asus ROG Crosshair 8.
The Intel chips were cooled by a Gamer Storm Castle 240mm AiO, with the excellent (and bundled!) AMD Wraith Prism used for our Ryzen testing. Our test rig was completed with 3600MHz C16 RAM, specifically an effervescent set of G.Skill Trident Z Royal, backed with an 850W Gamer Storm power supply and an open-air test bench in a cool ambient environment.
OK, enough scene-setting. Let's talk about content creation performance. After all, the new 400-series chipsets include a few creator-friendly features such as higher-bandwidth LAN ports and super-quick WiFi 6, but ultimately it's raw processing power that can make the difference between leaving work early and another late night in the office exporting your latest creation to YouTube.
To test how suitable these chips are for creators, we ran each through two simple but illuminating tests: rendering a 3D scene in Cinema 4D, ably simulated with Cinebench R20, and encoding one of our Patreon video files in both h.264 and h.265 (HEVC) with Handbrake.
In the Cinebench test, the Core i9 10900K's 5.3GHz clock speed - via Thermal Velocity Boost - allows it to achieve the highest single-threaded result we've ever recorded: 545. That's a five per cent lead over even the overclocked Core i9 9900KS, which managed 521; on the AMD side of things the closest competitor is the 3900X and 3950X at 514, which the Core i9 10900K defeats by six per cent. Of course, very few content creation workloads are single-threaded, so let's look at the multi-threaded results - and here AMD show their strength, with just 6337 for the new 10-core Intel flagship compared to the 12-core 3900X at 7032 (11 per cent faster) and the 16-core 3950X at 9249 (46 per cent faster).
The Core i5 10600K is perhaps more interesting, with double the number of threads and faster clock speeds than its last-gen predecessor. That translates into a sizeable uptick in Cinebench, with a 10 per cent boost to single-threaded results and a 38 per cent advantage in the multi-threaded workload. That makes this year's Core i5 a much better bet for content creation tasks that can really soak that many threads - and suggests we could see big improvements to frame-rates in modern game engines too.
| | CB R20 1T | CB R20 MT | HB h.264 | HB HEVC | HEVC Power Use |
| --- | --- | --- | --- | --- | --- |
| Ryzen 9 3950X | 514 | 9249 | 64.73fps | 25.59fps | 296W |
| Ryzen 9 3900X | 514 | 7032 | 51.80fps | 20.29fps | 228W |
| Ryzen 7 3700X | 494 | 4730 | 35.05fps | 14.67fps | 152W |
| Ryzen 5 3600X | 490 | 3705 | 27.54fps | 11.81fps | 149W |
| Ryzen 3 3300X | 503 | 2577 | 18.89fps | 8.25fps | 120W |
| Ryzen 3 3100 | 449 | 2328 | 17.32fps | 7.44fps | 118W |
| Ryzen 7 2700X | 408 | 3865 | 27.31fps | 10.04fps | 224W |
| Ryzen 5 2600 | 399 | 2810 | 20.39fps | 7.09fps | 130W |
| Core i9 10900K | 545 | 6337 | 45.55fps | 19.43fps | 268W |
| Core i5 10600K | 493 | 3587 | 26.40fps | 11.84fps | 177W |
| Core i9 9900K | 520 | 5090 | 37.87fps | 16.22fps | 266W |
| Core i7 9700K | 486 | 3759 | 28.77fps | 13.12fps | 171W |
| Core i5 9600K | 450 | 2603 | 20.70fps | 9.46fps | 132W |
The Handbrake test produces more interesting results, as we transcode an MP4 video to h.264 and h.265 (HEVC) using the Production Standard preset and CRF 18 quality setting.
The 10900K impresses here, managing a 45.55fps result in the h.264 test - just a few frames per second shy of the 51.8fps achieved by the 3900X. Things look even rosier when we look at the HEVC encode results, which rely on AVX instructions - still an area of relative weakness for AMD, even given the new adoption of AVX-256 instructions in third-gen Ryzen designs. Here, the 10900K nearly equalises with the similarly-priced 3900X, despite having two fewer cores and four fewer threads, speaking to the superior power of a single Intel core. That near-win is of course quickly dampened by the existence of the 3950X, which justifies its existence at the top of AMD's product stack with a thrashing of the Core i9 10900K to the tune of 42 per cent in g.264 and 32 per cent in h.265.
Meanwhile in the mid-range, the Core i5 10600K again performs respectably with a 25 to 28 per cent gen-on-gen leap in encoding performance in our testing. That puts the 10th-gen Core i5 in the same league as the $249 Ryzen 5 3600X, a decent result although the AMD chip is now available well below its launch price in some regions, including the UK.
We also measured power usage at the wall during the HEVC encode for each of the systems we tested. Here Intel performs respectably but AMD still leads, with the Core i9 10900K drawing 268W - 18 per cent more than the 3900X (228W) but about 10 per cent less than the 3950X (296W). It's a similar story for the 10600K, which at 177W is slightly less efficient than the 149W 3600X.
So Intel's tenth-gen chips are significantly more competitive in content creation tasks than the company's ninth-gen offerings, but AMD still holds onto the performance-per-dollar crown - and that's not mentioning other aspects that could sway creatives to the red team, like cheaper access to high-speed RAM and support for high-speed PCIe 4.0 drives.
So what about gaming? Even with AMD's innovations, third-gen Ryzen was unable to prise the mantle of 'fastest gaming CPU' from the 9900K - and now the 10900K is here. To see how Intel's new flagship performs - and how the 10600K holds up the mid-range fight - we tested each chip in the most challenging game scenes we could find at 1080p, 1440p and 2160p.
To ensure we're CPU bottle-necked as much as possible, we paired each test rig with the fastest consumer GPU, the RTX 2080 Ti. While this combination ensures that even subtle differences in processor performance are teased into visibility, we'd expect similar gulfs in performance even from more modest GPUs at 1080p. To give you some context, an RTX 2080 Ti at 4K (as tested here) is broadly similar in performance terms to a GTX 1660 running at 1080p. Higher resolutions, like 1440p and 4K, should be more dependent on GPU horsepower - especially in the challenging games we've chosen - but differences from processor to processor can still manifest so it's important to include a full spread of results so you get a clear picture. Likewise, we encourage you to read other 10900K and 10600K reviews, as we can only test a tiny fraction of the gameplay scenarios you could encounter - so see what other outlets have come up with to gain a more comprehensive understanding of how these processors perform.
With all that said and done, let's get into some game testing - beginning with some modern marvels of (game) engineering that can bring even a flagship to its knees.
Intel Core i9 10900K and Core i5 10600K analysis
Will you support the Digital Foundry team?
Digital Foundry specialises in technical analysis of gaming hardware and software, using state-of-the-art capture systems and bespoke software to show you how well games and hardware run, visualising precisely what they're capable of. In order to show you what 4K gaming actually looks like we needed to build our own platform to supply high quality 4K video for offline viewing. So we did.
Our videos are multi-gigabyte files and we've chosen a high quality provider to ensure fast downloads. However, that bandwidth isn't free and so we charge a small monthly subscription fee of £4.50. We think it's a small price to pay for unlimited access to top-tier quality encodes of our content. Thank you.
Support Digital Foundry