Intel's plans for gamers in focus: Tiger Lake and Xe graphics are coming soon
Plus: an enthusiast-class GPU with ray tracing due in 2021.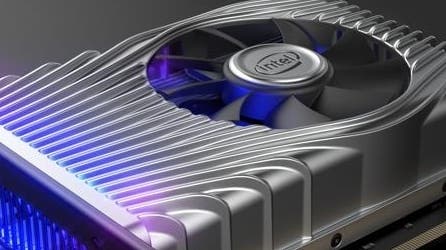 In its 2020 Architecture Day, Intel today lays out plans for a vast array of products from the laptop to the server farm, with an ambitious graphics line-up that sees the firm delivering a new Xe architecture that scales from the teraflop to the petaflop. There's a vast array of technology unveiled today but primarily, gamers will be interested in the firm's new impressive Tiger Lake processor and its upcoming DG1 discrete graphics card, both backed by an innovative software component. Not only that, but the firm also drops a few hints about what to expect from its first enthusiast-level gaming GPU, due in 2021.
Much of Intel's emphasis in its presentation is on Tiger Lake - a mobile-orientated SoC (system on chip) that is designed to work a 10W to 65W power window, that sees the firm deliver a brand new CPU architecture paired with a radical improvement in integrated graphics power. On the processor side, Tiger Lake sticks with Intel's preferred four-core/eight-thread CPU configuration, with the new Willow Cove architecture working in tandem with improvements in power efficiency and frequency range to deliver what Intel says is a 'better than generational leap' in processing performance. Actual numbers were somewhat thin on the ground, but the existing 10th Gen Ice Lake architecture with its Sunny Cove cores topped out at around 4.0GHz, while Intel's charts suggest that 4.6GHz and perhaps higher is achievable with Willow Cove.
This is backed by a new graphics core that Intel claims delivers a 2x improvement in performance in the same power envelope using a similar amount of silicon area. This sounds like quite a remarkable achievement, but Tiger Lake does seem capable of delivering this based on Intel's demonstrations. For starters, the 64 EUs (execution units) of Ice Lake are boosted to 96 on Tiger Lake. The EU itself has been comprehensively redesigned to be smaller and more efficient, while clock speeds scale higher.
Constraints on memory bandwidth are typically the nemesis for integrated graphics, but Tiger Lake supports DDR4-3200 as the baseline with support LPDDR4 up to 4267MHz. The SoC also future-proofs itself to a certain extent with support for next-gen memory, up to LP5-5400. All told, Tiger Lake has a maximum memory throughput of 86GB/s.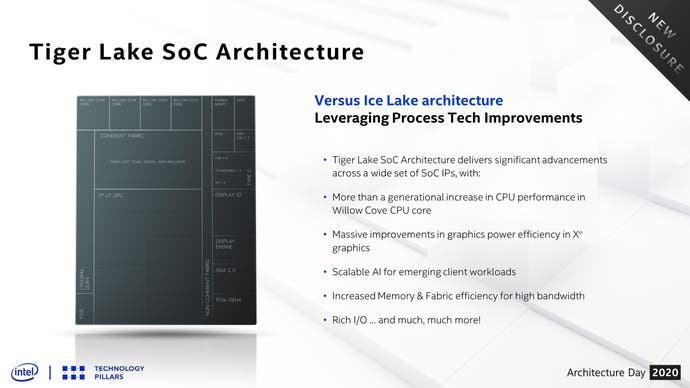 Additionally, Tiger Lake also enhances Ice Lake's AI capabilities with a separate neural network block, accelerated INT8 instruction support on the GPU and a new media engine that offers 4K/8K decode at 60 frames per second along with support for the next generation AV1 codec and full HDR10 and Dolby Vision functionality. There are improvements to I/O with new Thunderbolt 4 support, plus the welcome additional of PCI Express Gen 4 lanes on the CPU. Four displays can be connected simultaneously, capable of powering screens that refresh at a maximum of 360Hz, and of course, variable refresh rate technology is supported - something we feel should be mandatory on a decent notebook.
It's a stiff response to AMD's exceptionally impressive Ryzen 4000 line based on its 7nm Renoir APU. Similar to Ice Lake, Intel's own 10nm process is used for Tiger Lake, but the firm has revealed details of its new SuperFin transistor technology, which the firm believes gives the 10nm process the performance benefits of a further shrink. How a quad-core CPU component will stand up against Ryzen 4000's octo-core arrangement remains to be seen, but Intel does have an IPC (instructions per clock) advantage even with its five-year-old Skylake core, and Willow Cove should be significantly more potent, especially as its 'better than a generational' improvement marketing messages seem to relate to last year's Ice Lake. Certainly on the frequency side, Hexus' report on an 11th Gen HP Pavilion laptop leak suggests that the upcoming Core i7-1165G7 should boost to 4.7GHz, up from the 3.9GHz max of the Ice Lake-based Core i7-1065G7.
But it's graphics that are a key focus for Intel and there are two sides to the story here - the performance and features of the Tiger Lake core itself and then the associated software aimed specifically at gamers. Intel showed Battlefield 1 running on the new SoC, with performance at 15W equivalent to Ice Lake running at 25W. The demo was then re-run with the power ceiling figure equalised, with Tiger Lake showing a massive improvement in fluidity. Intel made the point by showing slow motion side-by-side game capture that showed clear improvements in performance - an example of the experience, if you will - but bizarrely declined to give a figure on the actual improvement to frame-rate. Once the demo is public, some ballpark idea should be possible simply by counting the frames.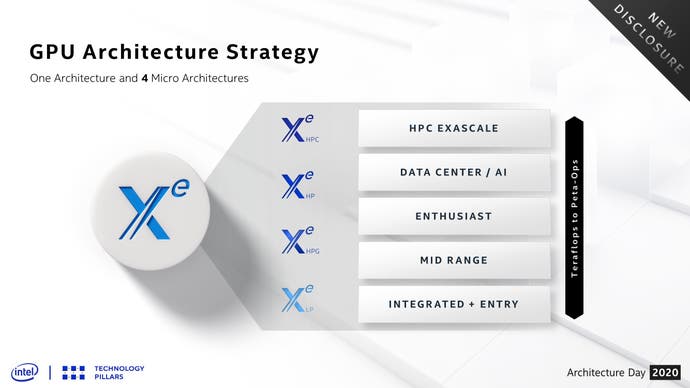 Software-wise, there are signs that Intel is looking to catch up with the competition, first of all with a renewed focus on game optimisation for its GPUs. To that end, the staple DirectX 11 driver has been rebuilt from the ground up, with lower API latency, improved local memory management and reduced GPU pipeline stalls. There are some other interesting ideas too. For example, typically, when a new title is released, gamers are obligated to download a huge 400MB+ driver update - and let's be honest, it's annoying. Intel's plan is to streamline the entire process with something it called Instant Game Tuning, which works by only downloading a title-specific support profile for the game you're actually playing.
The firm's also looking to boost integrated capture and streaming functionality with the Intel Graphics Command Centre (IGCC). As you might expect, this leverages the media core's hardware accelerated video encoding features to stream directly to Twitch and YouTube as well as providing high quality game capture. Also welcome is the introduction of PAS (perceptual adaptive sharpening) for enhanced image quality on upscaled content. This seems to work in a similar way to AMD's contrast adaptive sharpening, which aims to improve on standard upscaling by highlighting and adjusting specific detail. Intel claims superior results by focusing on perceptual detail up against AMD's contrast-based approach with the promise of no 'overshooting and ringing' artefacts. Personally, I'd be hoping for Intel to lean into its integrated AI features to deliver a DLSS-style technology. After all, Intel has its own AI functionality and DLSS is based on accelerated INT8 instructions, which are supported in Tiger Lake. In the meantime, Intel claims that PAS has no computational overhead, meaning no performance impact to games.
The gaming story looks good for Tiger Lake and it's great to get more of a deep dive into what makes the mobile processor works - but somewhat bizarrely, in terms of real life examples of how powerful the new SoC actually is, the best indication we have of gaming performance is still this tweet from Intel's Ryan Shrout, showing Battlefield 5 running at 1080p on high settings at frame-rates in excess of 30fps on a thin and light notebook, where we should expect a relatively constrained power budget.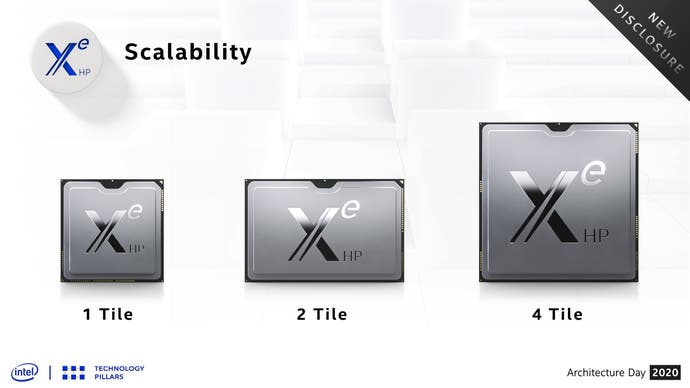 The message is loud and clear though: Tiger Lake does look capable of bringing the fight to a resurgent AMD, and it's clear that Intel is building the foundations for a strong offering to gamers. In addition to the hardware and software offerings, the company also talked about its strong relationship with game makers and how key new hardware features like variable rate shading (VRS) are making their way into titles now. There's momentum here, and it's clear to see why - Intel is making a play for the mainstream graphics card market.
To begin with, the firm is playing it safe. Intel isn't commenting on the specs for its upcoming DG1 video card, but it should be due this year and the smart money is on a standalone version of the Tiger Lake graphics core on the 10nm process, perhaps with the same 96 EUs, but running at a higher frequency and paired with much faster memory (GDDR6 would be the safe bet but Intel isn't saying). However, in the 2020 Architecture Day, Intel's Raja Koduri talked about a project codenamed Xe-HPG, a high performance product aimed for gamers. Not much is given away, except to say that the product has been in development since 2018, GDDR6 is confirmed and that hardware accelerated ray tracing is also in the mix. We should expect to see that GPU release at some point in 2021, though Koduri confirms that early samples are present in the Intel labs.
Beyond that, we do get some idea of how Intel may scale its products to deliver a stack of GPUs across the gaming space - but we need to look at its server strategy to get some inkling of how this may be executed. Intel's Xe-HP is what the firm describes as 'the industry's first multi-tiled, highly scalable, high performance architecture'. Essentially, the company is combining multiple GPUs into a single product in a similar fashion to how AMD stacks Zen chiplets together to deliver anything up to 64 CPU cores in a single processor. According to Intel, even with early drivers and low frequency silicon, Xe-HP with four tiles delivers over 40 teraflops of FP32 performance.
There's a lot of 'jam tomorrow' in today's Intel disclosures but in the here and now, it's all about the Tiger Lake SoC, a new roll-out of 11th Gen Core notebooks and the upcoming arrival of DG1. We hope to take a look at a games-orientated laptop soon, but if the new processor can indeed deliver 1080p30 on Battlefield 5 at high settings in a thermally constrained, power-limited scenario, that does look very impressive - and it does suggest a decent level of scalability for tweaking, with the Willow Cove architecture a good bet on delivering good performance with graphics settings suitably dialled back. As for the arrival of new gamer-centric Xe GPUs next year - bring them on.