AMD Ryzen 3 3100 and 3300X review: the new budget champions?
Unprecedented value at $100/$120 - with a few caveats.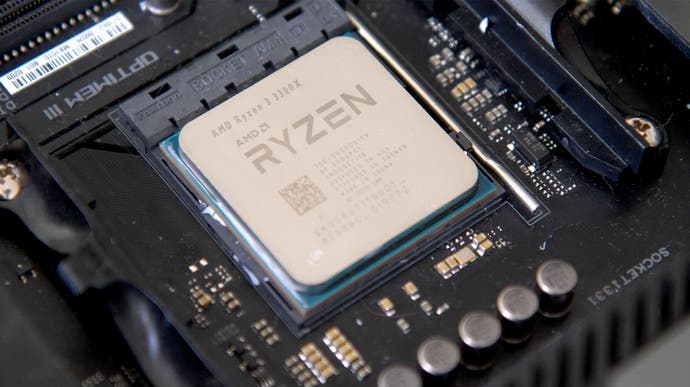 AMD's third-generation Ryzen processors have been something of a revelation in the PC hardware space, offering a winning blend of price and performance for content creation and gaming alike - but these chips haven't been available at all price points. While AMD added to its high-end options with the release of the 3950X, builders of budget systems have had to either stump up $200 for the mid-range Ryzen 5 3600 or accept the compromises of an older first or second-gen Ryzen CPU. That changes today with the release of the $100/£95 Ryzen 3 3100 and $120/£115 Ryzen 3 3300X.
These mainstream processors could become a fast favourite with system builders, and look much more capable than their predecessors thanks to a few key advancements. Firstly, both CPUs boast four Zen 2 cores, so they should offer noticeably better single-threaded performance than their Zen and Zen+ predecessors from earlier Ryzen generations. The efficiency advantages inherent in switching from a 12nm to a 7nm process also allow for higher boost frequencies, which are set at 3.9GHz on the 3100 and 4GHz flat on the 3300X. These CPUs also support SMT (simultaneous multithreading), a first for a Ryzen 3 processor. Having eight threads available should make these chips better suited for content creation roles, and could help in games built on more modern engines as well.
These changes alone should result in a big shift in performance, but there are more subtle upgrades here too. The L3 cache on the 3300X has doubled in size compared to the 2300X, for example. This means that these processors don't need to rely on data being streamed in from RAM as often, which speeds up processing and helps these chips pair better with slower-frequency RAM. Despite these advancements, TDP remains at 65W, with the included Wraith Stealth cooler obviating the need for a third-party AiO or air cooler for most use cases.
All of this looks promising, but only the crucible of real-world testing will determine whether these chips can live up to their potential in what is an intensely competitive space. Thankfully, we've had the Ryzen 3100 and 3300X in hand for the past few weeks to answer that question.
| AMD model | Cores/Threads | TDP | Base/Boost | Cache | Price |
| --- | --- | --- | --- | --- | --- |
| Ryzen 9 3950X | 16/32 | 105W | 3.5GHz/4.7GHz | 73MB | $749 |
| Ryzen 9 3900X | 12/24 | 105W | 3.8GHz/4.6GHz | 70MB | $499 |
| Ryzen 7 3800X | 8/16 | 105W | 3.9GHz/4.5GHz | 36MB | $399 |
| Ryzen 7 3700X | 8/16 | 65W | 3.6GHz/4.4GHz | 36MB | $329 |
| Ryzen 5 3600X | 6/12 | 95W | 3.8GHz/4.4GHz | 35MB | $249 |
| Ryzen 5 3600 | 6/12 | 65W | 3.6GHz/4.2GHz | 35MB | $200 |
| Ryzen 3 3300X | 4/8 | 65W | 3.8GHz/4.3GHz | 18MB | $120 |
| Ryzen 3 3100 | 4/8 | 65W | 3.6GHz/3.9GHz | 18MB | $99 |
As usual, the bulk of our performance testing will be in games, where we've selected a gauntlet of CPU-intensive titles from the past decade, but we'll also take a brief look at content creation tasks - after all, with four Zen 2 cores and eight threads we've got a level of performance that early YouTubers could only dream of.
While the Ryzen 3 3100 and 3300X are the stars of the show, we've also included results from higher-end AMD and Intel processors to provide some much-needed context. Later on in the review, we take a special look at some similarly-priced competitors including the Ryzen 5 2600, the Ryzen 5 3400G and - incredibly - Intel's Core i7 7700K, a four-core, eight-thread flagship from 2017, with something very similar about to hit the market courtesy of Intel's upcoming 10th gen Core i3 line.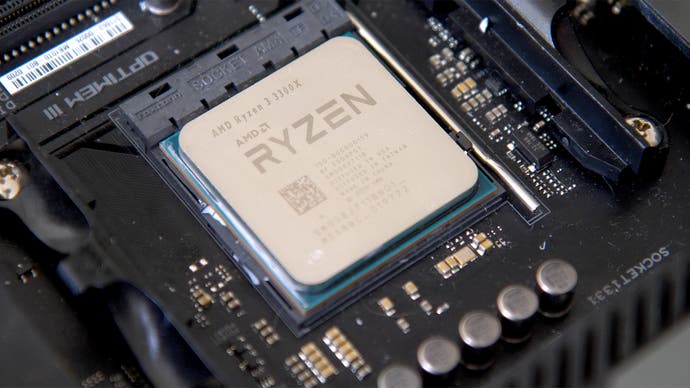 To give these chips a fair test, we used our standard Windows 10 installation (with the most recent security patches and AMD chipset drivers installed) on fast NVMe storage - specifically, the XPG Spectrix S40G (our pick for the best NVMe SSD with RGB). Our primary AMD benchmarking was performed on the Asus ROG Crosshair 7 X470 motherboard, with supplementary testing on the MSI MPG X570 Gaming Plus and Asus ROG Crosshair 8. Our Core processors were tested on an Asus ROG Maximus XI Extreme, apart from the Core i7 7700K, which necessitated a move back to the classic MSI Z170A Gaming M7.
The Ryzen processors were cooled by AMD's Wraith Prism cooler, a slightly better version of the Wraith Stealth that comes bundled with the 3100 and 3300X. On the Intel side of things, a Gaming Storm Castle 240mm AiO was used. Our setup was rounded out with G.Skill Trident Z Royal 3600MHz CL16 RAM provided by AMD, a reliable 850W Gaming Storm PSU and an open-air test bench.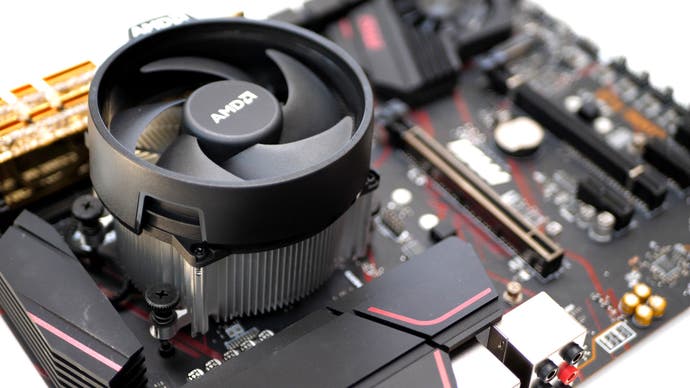 Before we get into game testing, it's worth looking at how the 3100 and 3300X compare to each other and their more expensive competitors in content creation tasks like video rendering, transcoding and more. For this, we opted to use the popular Cinebench R20 application, which replicates a rendering job in industrial-grade video software Cinema 4D.
The results here are immediately interesting. Despite costing less than every other CPU represented, the 3100 manages to tie the Core i5 9600K in single-core performance and outperform the Ryzen 2600 and 2700X by around 12 per cent. The 3300X is even more impressive, with a single-core score that exceeds the Core i7 9700K and only falls behind the Ryzen 9 3900X and Core i9 9900K. The multi-threaded results are a different story though, with the four physical cores and eight threads of the 3300X managing a little less than 2600 points. That's close to the Core i5 9600K, but the greater core counts of the rest of AMD's lineup translate into big performance wins. Still, we should be reasonable - these are $100 and $120 processors, after all.
Another common task for video producers is transcoding, which is converting a digital video file from one format into another. Handbrake is a popular open source application for doing just that, and it forms the basis of our next test. Here, a source file is encoded using the Production Standard preset and CRF 18 quality setting using two different encoders - x264 (h.264) and x265 (HEVC) - with the average frame-rate recorded and whole system power usage measured at the wall.
The results here follow the earlier Cinebench scores, with the new Ryzen chips performing respectively but only really challenging the six-core, six-thread Core i5 9600K in terms of encoding speed and losing out against their Core i7 and current-generation Ryzen 5 competition.
The comparison between the Ryzen 3 3100 and Ryzen 5 2600 is perhaps the most interesting, with the older Zen+ design recording a faster h.264 encode rate but the smaller number of Zen 2 cores in the 3100 edging a narrow victory in the HEVC test. This latter test uses the AVX instruction set, which was one area AMD called out as being a particular point of focus with Zen 2 - and you can see the results, with our $100 Ryzen 3100 beating out the (originally) $200 Ryzen 5 2600.
Note that the 3300X is only about 10 per cent faster than the 3100 while costing 20 per cent more, so the 3100 is the better bang-for-buck option for video encoding on the cheap. Finally, both new Ryzen CPUs sip power, with our complete systems drawing only around 120W at full tilt.
| | CB R20 1T | CB R20 MT | HB h.264 | HB HEVC | HEVC Power Use |
| --- | --- | --- | --- | --- | --- |
| Ryzen 9 3900X | 514 | 7032 | 51.80fps | 20.29fps | 228W |
| Ryzen 7 3700X | 494 | 4730 | 35.05fps | 14.67fps | 152W |
| Ryzen 5 3600X | 490 | 3705 | 27.54fps | 11.81fps | 149W |
| Ryzen 3 3300X | 503 | 2577 | 18.89fps | 8.25fps | 120W |
| Ryzen 3 3100 | 449 | 2328 | 17.32fps | 7.44fps | 118W |
| Ryzen 7 2700X | 408 | 3865 | 27.31fps | 10.04fps | 224W |
| Ryzen 5 2600 | 399 | 2810 | 20.39fps | 7.09fps | 130W |
| Core i9 9900K | 520 | 5090 | 37.87fps | 16.22fps | 266W |
| Core i7 9700K | 486 | 3759 | 28.77fps | 13.12fps | 171W |
| Core i5 9600K | 450 | 2603 | 20.70fps | 9.46fps | 132W |
While these processors could become excellent low-cost editing rigs, we're guessing that most buyers will be looking to play some games - and that's where we're headed next. The strong single-threaded Cinebench results suggest that the 3100 and 3300X could do well even in more naïve game engines that don't scale well to multiple threads, while the four physical cores and eight logical cores should be enough to handle more modern titles as well - but will these chips be as easy to recommend as our current value champion, the Ryzen 5 3600?
To find out, we tested each game in scenes that stressed the CPU at 1080p, 1440p and 2160p. In order to ensure that each processor was able to perform to its full potential, we paired it with the fastest consumer GPU available, the RTX 2080 Ti. While this combination ensures that even subtle differences in processor performance are teased into visibility, we'd expect similar gulfs in performance even from more modest GPUs at 1080p. To give you some insight here, an RTX 2080 Ti at 4K (as tested here) is similar in performance terms to a GTX 1660 running at 1080p. Higher resolutions, like 1440p and 4K, should be more dependent on graphics horsepower - especially in the challenging games we've chosen - but differences from processor to processor can still pop up so it's important to include these results as well.
Before we get into the meat and potatoes of our analysis, a few words of warning. However well we design and implement our CPU reviews, we can only test - as Richard Leadbetter puts it - "a tiny microscopic speck of the range of gameplay scenarios a CPU will go through." With that in mind, we'd encourage you to read and watch other reviews as well, to get a more comprehensive understanding of how well these processors perform. With that said, let's get into the results - starting with three challenging recently-released games.
AMD Ryzen 3 3100/3300X analysis