AMD announces Ryzen 4000-series 'Renoir' CPUs with integrated graphics
Say hi to the Ryzen 7 4700G, Ryzen 5 4600G and Ryzen 3 4300G.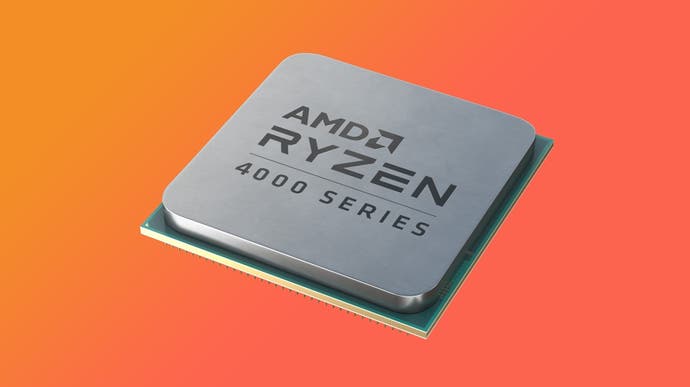 AMD completed their line-up of Zen 2 processors today with the announcement of the Ryzen 4000 G series. These are desktop chips with integrated graphics, using the same single-chip designs as the Ryzen 4000 'Renoir' mobile processors but scaled up to take advantage of the greater power budgets on desktop motherboards. Like the mobile chips, that means there's no PCIe 4.0 support here. The new lineup will debut in pre-built OEM systems first, with DIY availability coming later, and replaces the venerable Ryzen 3200G and 3400G.
The new CPUs are the Ryzen 7 4700G, Ryzen 5 4600G and Ryzen 3 4300G, all of which are rated for a 65W TDP. This is the first time that AMD has announced a Ryzen 7 APU, topping out at Ryzen 5 in the last generation. There are also 35W variants of the three new CPUs that use the GE suffix - the 4700GE, 4600GE and 4300GE - which operate at lower frequencies to achieve their tighter power targets. Here's how all six models compare in terms of the core specs:
| AMD Ryzen | Cores/ Threads | Boost Freq. | Base Freq. | Cache Size | GPU Cores | GPU Boost |
| --- | --- | --- | --- | --- | --- | --- |
| 4700G | 8/16 | 4.4GHz | 3.6GHz | 12MB | 8 | 2100MHz |
| 4600G | 6/12 | 4.2GHz | 3.7GHz | 11MB | 7 | 1900MHz |
| 4300G | 4/8 | 4.0GHz | 3.8GHz | 6MB | 6 | 1700MHz |
| 4700GE | 8/16 | 4.3GHz | 3.1GHz | 12MB | 8 | 2000MHz |
| 4600GE | 6/12 | 4.2GHz | 3.3GHz | 11MB | 7 | 1900MHz |
| 4300GE | 4/8 | 4.0GHz | 3.5GHz | 6MB | 6 | 1700MHz |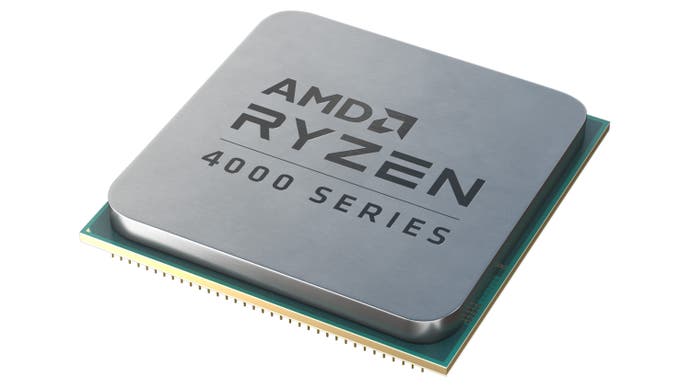 AMD hasn't offered Ryzen 4000 G chips for benchmarking yet, but they do have the usual crop of content creation and gaming results to share with today's announcement. Notably, AMD insisted that its testing employees had been unable to source 10th generation Intel Core processors, so instead it's comparing its latest with Intel's ninth-gen CPUs instead - and it's not the first time that it's used this excuse.
So: comparing the new Ryzen 4000 G chips against the Core i3 9100, Core i5 9500 and Core i7 9700, AMD's marketing materials show small but measurable advantages for the AMD chips in Cinebench R20 single-threaded, larger advantages in Cinebench R20 multi-threaded and significantly better results in 3D Mark TimeSpy, with the latter demonstrating the rather anaemic integrated graphics performance of the Intel chips. The Cinebench R20 multi-threaded results are particularly interesting, with AMD's new chips performing to within a few percent of the Intel chips a tier higher - so the Ryzen 3 4300G most closely resembles the Core i5 9500, the Ryzen 5 4600G outperforms the Core i7 9700 and the Ryzen 7 4700G is in a league of its own.

AMD also compares its new processors to the outgoing Ryzen 5 3400G, showing a 21 per cent uptick in Cinebench R20 single-threaded performance for the Ryzen 5 4600G and a 25 per cent advantage for the Ryzen 7 4700G. In the multi-threaded test, these advantages shoot up to 94 and 152 per cent, respectively. The increase in graphics performance is smaller, as in 3D Mark TimeSpy scores are lifted by a more moderate six and 19 percentage points for the 4600G and 4700G, respectively. However, this is still reasonably impressive given that the 3400G includes 11 graphics cores and 4700G uses only eight.
Like the 3400G before it, it looks like the 4000 series APUs should be a reasonably competent choice for 1080p gaming at low settings, providing playable frame-rates with the integrated graphics alone. If you have a limited budget, then it's nice to have the option to get a new system without a graphics card initially, then buy one later rather than having to get everything in one fell swoop. Compared against the Core i7 9700, the 4700G is between 99 per cent and 274 per cent faster in games like CSGO, Dota 2, Rocket League and Civilization 6. Annoyingly, no absolute fps values have been provided, although AMD has promised to provide this information and suggested frame-rates were largely in the 30-60 range.

It's a similar story for content creation, with AMD claiming performance wins with the 4700G against the 9700 in PC Mark 10 (overall content creation), Davinci Resolve 4K Score (film mastering) and KeyShot Viewer (real-time rendering). The only less impressive result was a tie in Handbrake, a video encoding program, although it's not clear from the slides and endnotes which codec was used for the test. There are further benchmark results for the Ryzen 5 4600G and Ryzen 3 4300G, all of which show impressive results, but let's leave it there for now.
We look forward to testing the new chips ourselves in time, as manufacturer-provided benchmarks always need to be taken with a grain of salt. We particularly look forward to testing these processors against the existing Ryzen 3000-series desktop chips, as it will be fascinating to see how the two lineups compare. DIY pricing and availability has not yet been detailed, so hopefully that information will be forthcoming as well.
Will you support the Digital Foundry team?
Digital Foundry specialises in technical analysis of gaming hardware and software, using state-of-the-art capture systems and bespoke software to show you how well games and hardware run, visualising precisely what they're capable of. In order to show you what 4K gaming actually looks like we needed to build our own platform to supply high quality 4K video for offline viewing. So we did.
Our videos are multi-gigabyte files and we've chosen a high quality provider to ensure fast downloads. However, that bandwidth isn't free and so we charge a small monthly subscription fee of £4.50. We think it's a small price to pay for unlimited access to top-tier quality encodes of our content. Thank you.
Support Digital Foundry