Intel announces 10th-gen Comet Lake H laptop CPUs with up to 5.3GHz turbo
All Core i7 and Core i9 chips turbo boost to 5GHz or higher.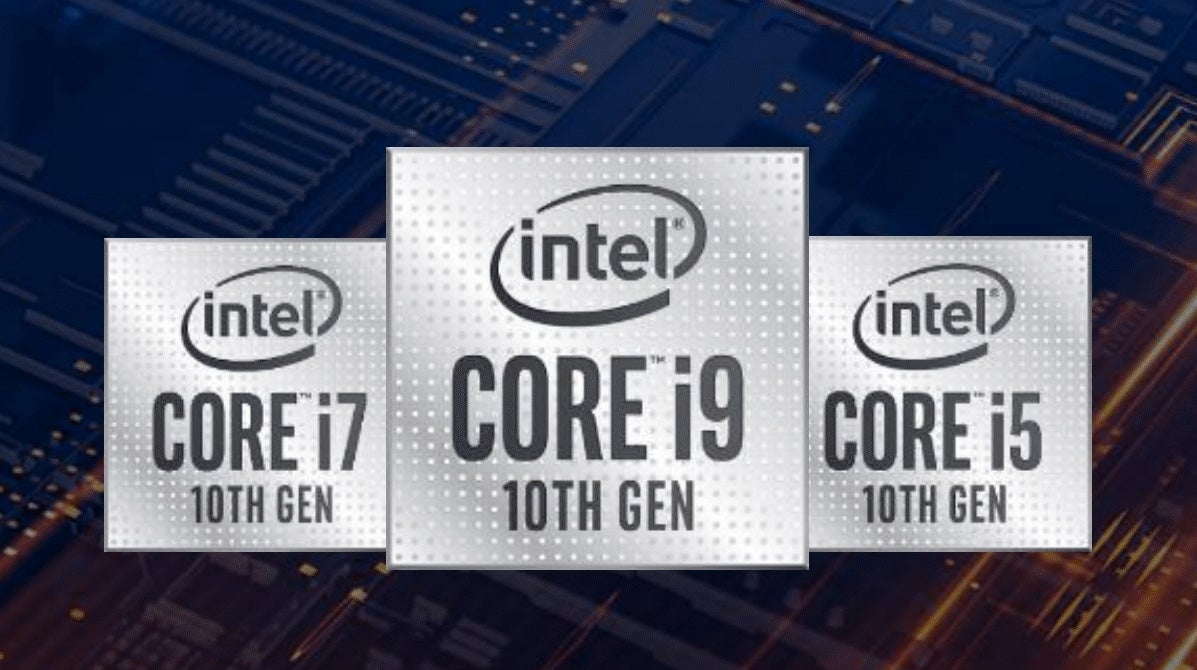 Intel unveiled its 10th-generation Comet Lake H-series mobile processors today, unlocking a new tier of high performance parts for gaming and creation-focused laptops. These are the highest-clocked CPUs we've ever seen from Intel, with the flagship eight-core, sixteen-thread Core i9-10980HK processor turboing all the way up to 5.3GHz - a 300MHz jump over the previous generation equivalent.
This frequency focus is also reflected in the rest of the new processor family too, with all three Core i7 SKUs in Comet Lake H capable of boosting to 5GHz or higher. Even the most affordable chips see a sizeable gen-on-gen clockspeed increase, with the two Core i5 models in the family hitting the same frequencies as last generation's Core i7 models. It's an interesting approach to mobile processor design, where high frequencies are normally eschewed for reasons of efficiency, but it could result in some uniquely performant gaming laptops.
Before we take a closer look at what distinguishes these 10th-generation processors from their predecessors - and there are some new features to discuss - let's take a look at the full lineup:
| Processor | Cores/Threads | Base Clock | Single Core Turbo | L3 Cache | TDP |
| --- | --- | --- | --- | --- | --- |
| Core i9-10980HK | 8/16 | 2.4GHz | 5.3GHz | 16MB | 45W |
| Core i7-10875H | 8/16 | 2.3GHz | 5.1GHz | 16MB | 45W |
| Core i7-10850H | 6/12 | 2.7GHz | 5.1GHz | 12MB | 45W |
| Core i7-10750H | 6/12 | 2.6GHz | 5.0GHz | 12MB | 45W |
| Core i5-10400H | 4/8 | 2.6GHz | 4.6GHz | 8MB | 45W |
| Core i5-10300H | 4/8 | 2.5GHz | 4.5GHz | 8MB | 45W |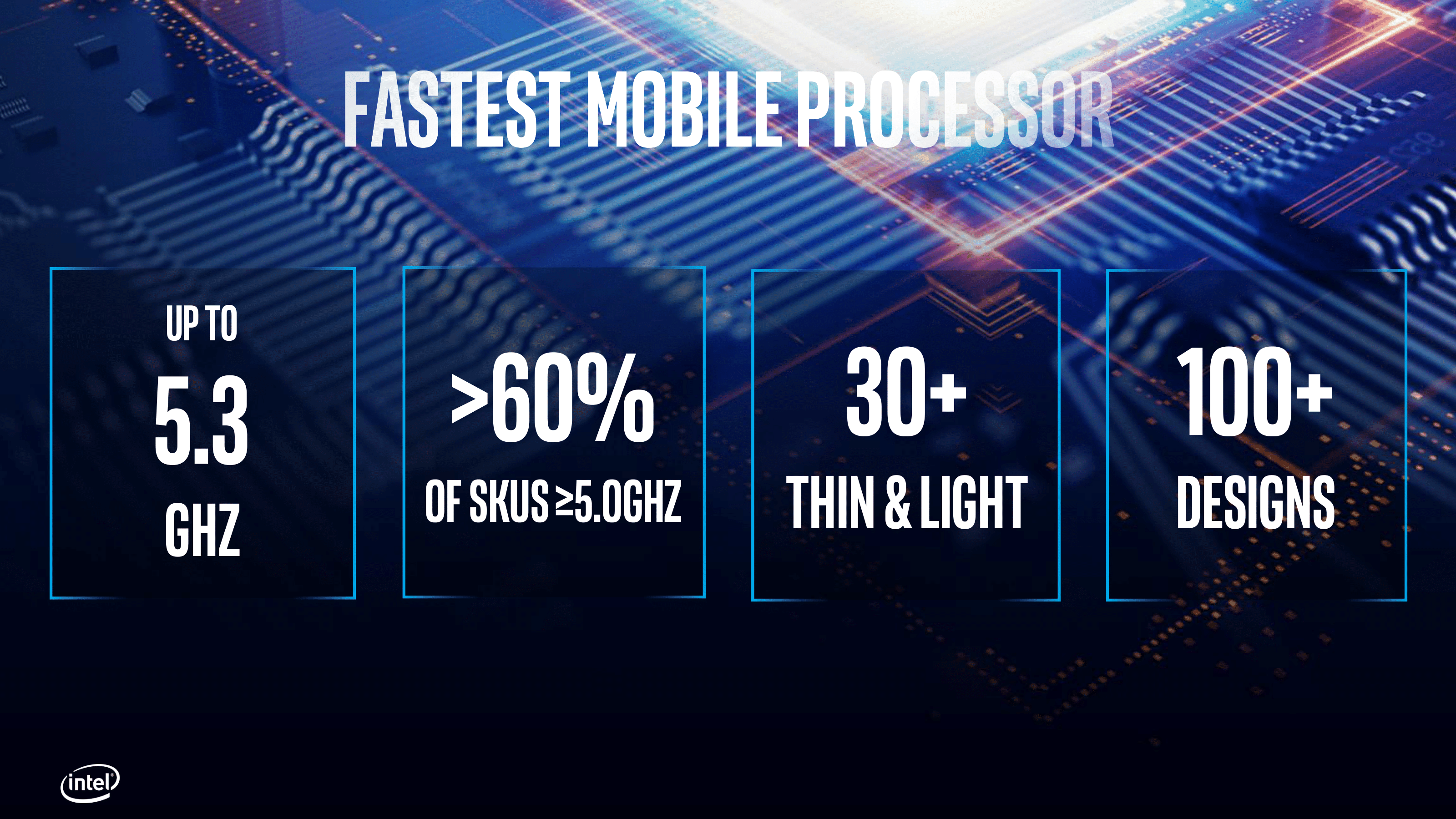 Comparing these figures to the previous 9th-gen Coffee Lake H-series processors, core counts and thread counts have remained the same... as have cache sizes and nominal TDPs. Indeed, the only major difference visible in this spec sheet is turbo frequency. So why was hitting higher frequencies such a priority for Intel with Comet Lake H?
Well, the company says that these increased clockspeeds provide the greatest performance improvement for the kinds of users that they want to support, which are gamers and content creators. This does make some sense - after all, many games remain faster on Intel, despite the overall excellence of AMD's Ryzen 3000-series processors, thanks at least in part to Intel's traditional advantage in single-threaded performance. This is especially true for esports titles, where a small number of cores running at high frequencies are a good brute-force method of achieving the extremely high frame-rates demanded by the 144Hz, 240Hz and even 300Hz panels becoming common on high-end gaming laptops.
We'll need to test these new processors ourselves before we know for sure how much extra in-game performance you can expect from one of these Comet Lake H processors, but figures provided by Intel are (perhaps unsurprisingly) optimistic. They tested a Core i9 10980HK laptop against an equivalent machine with a Core i7 7820HK, their top processor from three years ago, and saw frame-rate increases between 23 and 54 per cent despite the 10th-gen chips running in a "substantially thinner form factor". In similar tests with a Core i7 10750H versus a Core i7 7700HQ, the 10th-gen chip was between 31 per cent to 44 per cent faster. Those results came in modern titles like Red Dead Redemption 2, Total War Three Kingdoms, Assassin's Creed Odyssey and Far Cry 5, with all tests performed at 1080p. These are some of the most CPU-intensive games available, so it'll be interesting to see what the performance differential looks like across a wider swathe of games.
It is important to note that these tests were conducted with different graphics hardware in each machine, as laptop GPUs are generally non-removable. Intel tested an RTX 2080 Super versus a GTX 1080 in the flagship comparison and an RTX 2070 Super versus a GTX 1070 in the high-end comparison - hardly a fair fight when it comes to graphical horsepower, even if it does reflect a somewhat realistic upgrade scenario. That means that identifying the actual gain in performance attributable to the CPU is difficult, to say the least.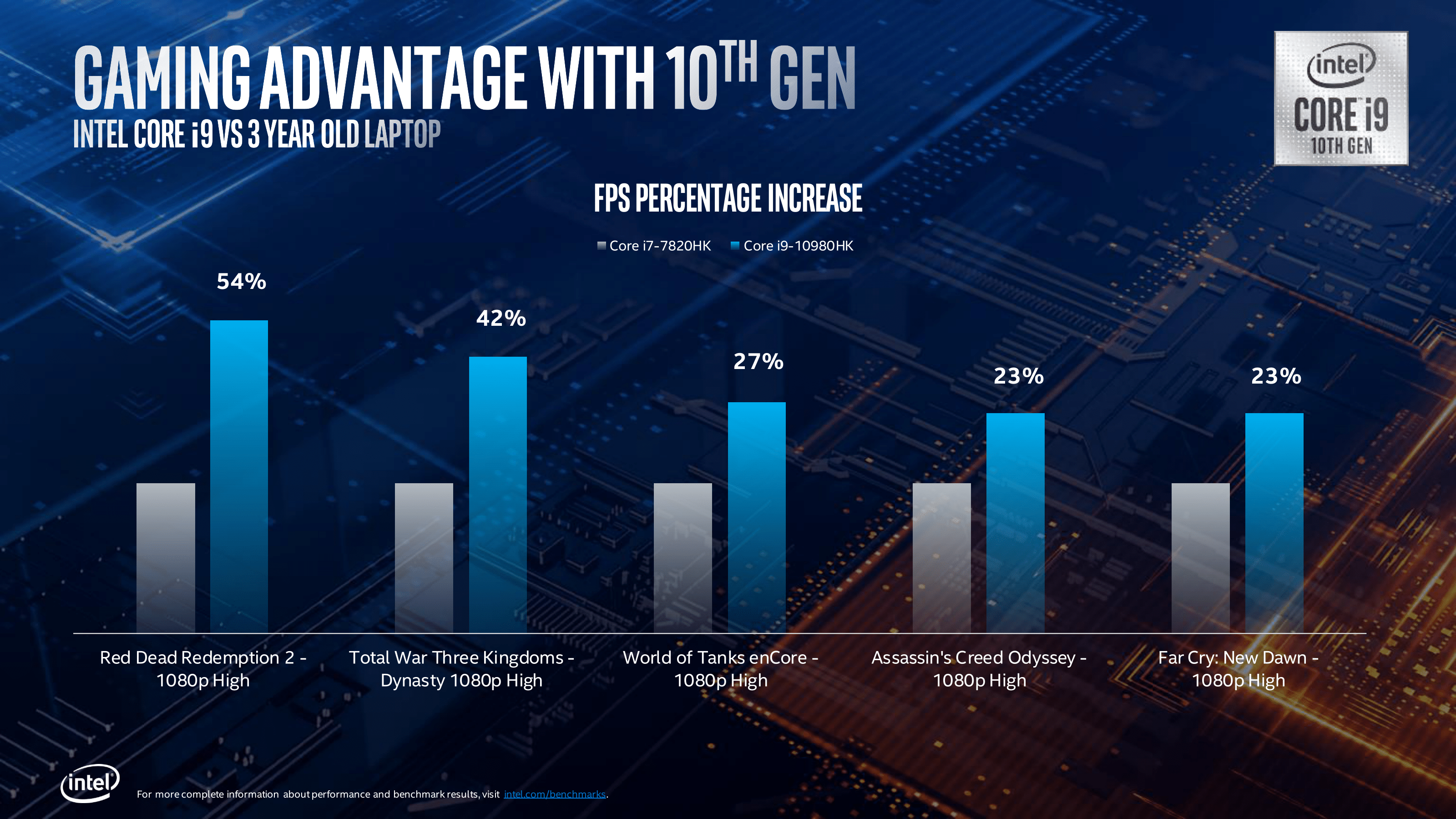 While the high frequency approach Intel has taken makes some sense given its professed aims, it also speaks to the issues the company has faced producing more advanced 10nm parts at scale. Comet Lake H is yet another 14nm chip, at a time when AMD has just released its first 7nm mobile processors in the form of the Ryzen 4000 series. Intel says that the older 14nm process is better able to deliver the high single-threaded performance they were looking for, but it's hard to know whether that was due to the strength and maturity of their 14nm process or simply a lack of viable 10nm alternatives.
Regardless, a mobile chip capable of boosting to 5.3GHz is still a pretty impressive feat. As we mentioned, that's 300MHz higher than the Core i9 9980HK that arrived last year, and it's also 300MHz faster than the desktop-class 9900K. (The 9900K does boast a much higher all-core turbo of 4.7GHz, compared to 4.4GHz on the 10980HK, to say nothing of the 5.0GHz all-core turbo of the limited edition 9900KS.)
Of course, running at 5.3GHz is likely to have a significant power cost. The 10980HK has a maximum PL2 TDP of 135W according to Intel's spec, a power level that can be sustained for up to 56 seconds. These figures can - and will - be adjusted by laptop manufacturers based on the thermal solutions they have in place and where they draw the line between heat, noise and performance, so it'll be interesting to see how overall battery life compares between these two most recent generations of H-series chips.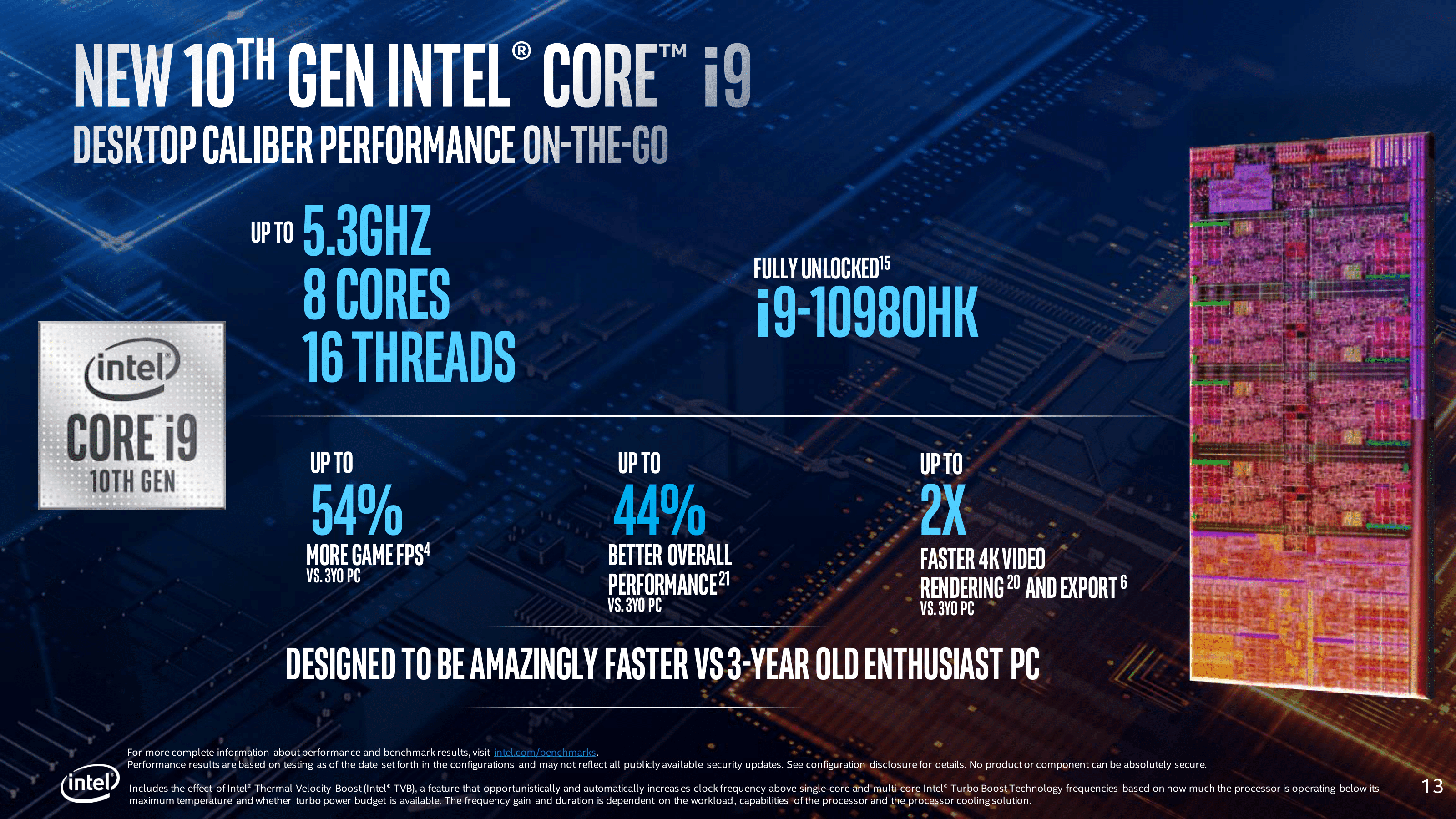 We mentioned new features earlier, and there are a few worth detailing. Comet Lake H introduces "Turbo Boost Max 3.0", which seems similar to the "preferred cores" model used by AMD Ryzen processors. This means that the system will choose the most performant cores to turbo boost, which should provide a little bit of extra sustained performance versus a more naïve system. The Intel Speed Optimizer, a one-click overclock software, is also available on systems with the unlocked Core i9 10980HK and the partially unlocked Core i7 10850H, providing a relatively conservative overclock that should see more cores reaching that single-core turbo number.
Dual-channel DDR4 memory up to 2933MHz is supported now, up from dual-channel 2666MHz on previous generation parts. Intel chips tend to be a little less dependent on fast memory than their AMD equivalents according to our testing, but access to faster RAM still provides Intel chips with a measurable performance advantage.
Finally, these 10th-gen chips also support Wi-Fi 6 Gig+, the latest wireless networking standard. This provides higher throughput, lower latency and some clever features to reduce interference - see our Ice Lake coverage for more on this!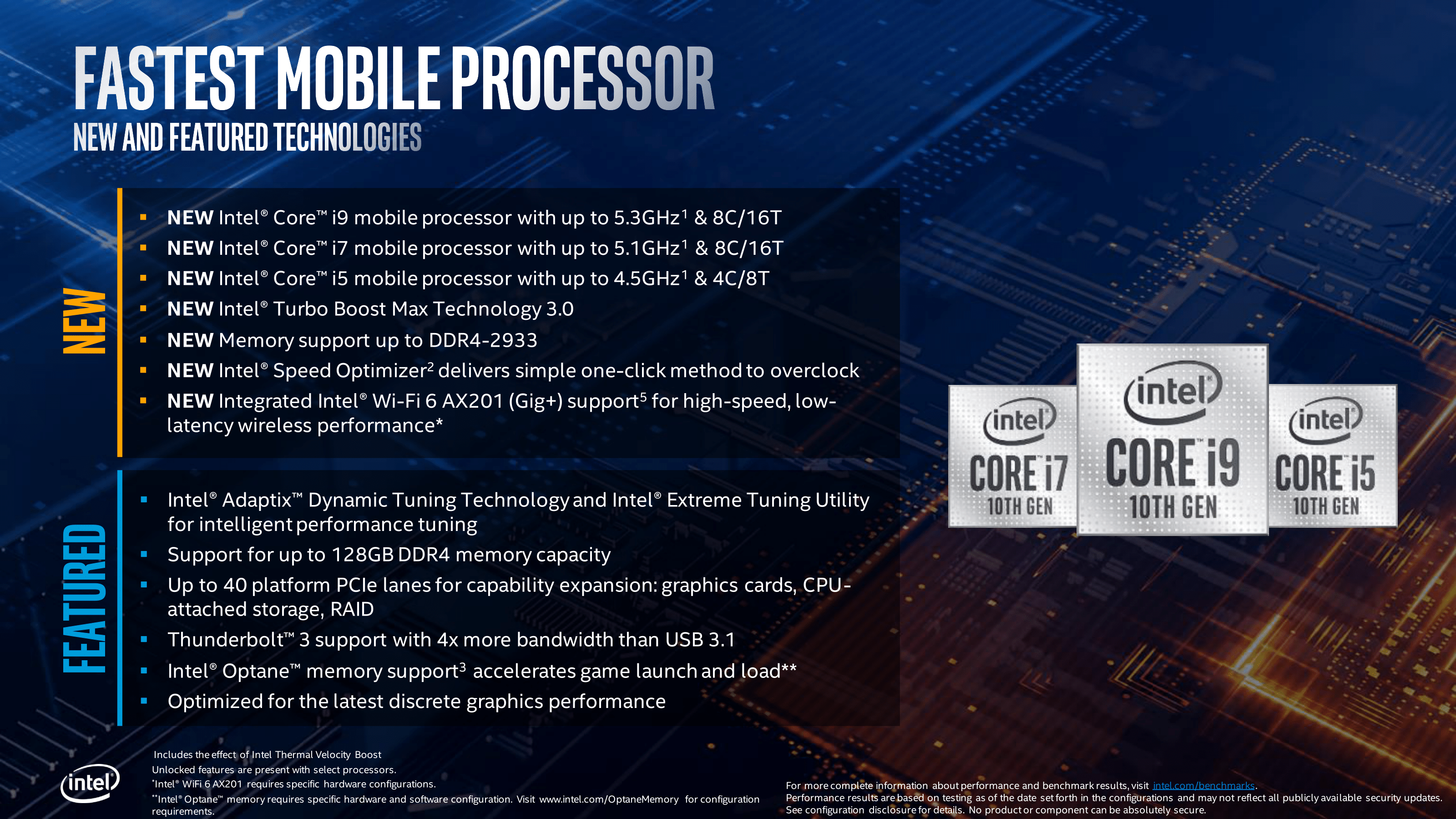 While the continuing human malware situation means that timetables are somewhat less certain than normal, the first laptops with Comet Lake H processors should start to arrive by the middle of the month, with the majority of these machines going on sale by the end of the first quarter of 2020. Intel is quoting over 100 different laptop designs with the new chips, of which more than 30 are "thin and light" machines that measure 20mm thick or less, so there should be a wide range of options available if you pick Intel's platform. We've already gone hands-on with one extremely interesting but utterly unaffordable example, the Zephyrus Duo 15 from Asus.
So that's the score: a few new features that offer more options for achieving higher performance, but the standout change here with 10th-gen Comet Lake H is higher boost frequencies across the board. It'll be fascinating to see how often these higher clock speeds will actually be seen by users, and whether Intel's latest high-performance mobile parts are able to compare favourably against AMD's Ryzen 4000-series competitors. Early indications suggest that Team Red's latest is something special, with strong performance and great power efficiency too, so has Intel done enough here? We look forward to finding out.
Will you support the Digital Foundry team?
Digital Foundry specialises in technical analysis of gaming hardware and software, using state-of-the-art capture systems and bespoke software to show you how well games and hardware run, visualising precisely what they're capable of. In order to show you what 4K gaming actually looks like we needed to build our own platform to supply high quality 4K video for offline viewing. So we did.
Our videos are multi-gigabyte files and we've chosen a high quality provider to ensure fast downloads. However, that bandwidth isn't free and so we charge a small monthly subscription fee of £4.50. We think it's a small price to pay for unlimited access to top-tier quality encodes of our content. Thank you.
Support Digital Foundry