Stress-testing the Modern Warfare beta: cross-play, performance and more
Xbox One, PS4, PC - tested individually and together.
Last week's Call of Duty Modern Warfare beta was something of a big event - a chance to road-test a significant amount of multiplayer modes, maps and content on all systems, opening up cross-play functionality for the first time. No matter what console or PC set-up you may have, COD now offers users the option of striking out from PSN, Xbox Live or battle.net, letting players battle it out in all-platforms free-for-all. This is monumentous stuff for the biggest franchise shooter of them all, and an opportunity we couldn't miss.
Firstly, we could stress-test the cross-play functionality by amassing a single squad with representation from all online systems to see how it works on a mechanical level. There are few surprises here but party set-up is remarkably straightforward: lobbies give you access to your PSN or Xbox Live friends list, along with a secondary list populated by friends who've registered an Activision account. Users can set-up parties and join parties, and it's a virtually seamless experience - cross-play can be enabled or disabled, while playlists are easily set up to filter out users with different input mechanisms, so PC keyboard/mouse users with a ginormous advantage will only appear if the user allows it - with icons on-screen clearly showing which control system each user has selected.
The good news is that aside from one Xbox user appearing offline during our tests (solved by having that user join the party rather than being invited), everything just works. The overall experience is as smooth and fluid as a single-platform online experience. We tested all consoles plus PC and it all worked out beautifully - and I can't help but feel that when next-gen finally arrives, this set-up won't be the exception, it'll be norm. And why not?
Cross-play also offered up a special Digital Foundry bonus in delivering the ability to get perfectly matched gameplay footage of all platforms in action - something we've only been able to achieve in the past on Fortnite. In the beta at least, getting this matched footage was only possible in the Cyber Attack mode: it's one life per round and if you die, you're forced to spectate until the rest of the team is finished off. All systems spectate the same player, allowing us to see how each version of the game renders the exact same action.
And it's at this point where we need to issue a series of public apologies to our random teammates. Spectating a single player means that right from the off, our DF team members spectacularly end themselves either by throwing grenades at their own feet, or else jumping off clips in the Azhir map (which prevents teammates reviving us). All the abuse we received over voice comms - we deserve it all, but we got the footage we needed. And when players rightfully deserted our team, we switched to leaving one man standing (me, basically), playing on PS4 Pro. This way, the other three users see every twitch of my analogue stick, every reload, melee and gunshot - all perfectly synced between all four systems.
We carried out two sessions of four captures, the only difference between them being the choice of base console. We kicked off with PS4, then moved to Xbox One S. Every map in Cyber Attack was mined for footage, where we found identical texture assets across systems and mosty matched visual effects works - with the most obvious difference coming down to shadow resolution. Outside of Cyber Attack mode, the grand 64-player Ground War mode revealed differences in grass distance pop-in. However, the biggest variance, predictably, comes from resolution and frame-rate, while PC offers further enhancements to effects precision (ambient occlusion, for example).
Resolution-wise, the further up the console power ladder you climb, the clearer the image. All systems use temporal reconstruction to add detail to each frame derived from prior data. There's a degree of break-up to the quality of the image in motion, but motion blur and other post-effects, disguise it pretty well in the heat of the action. In terms of overall native resolution targets, exact figures are harder to pin down owing to the way resolutions are in constant flux. Often a sequence of frames offers entirely different values.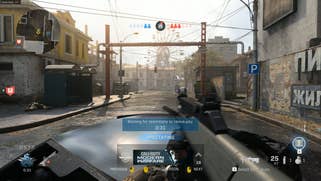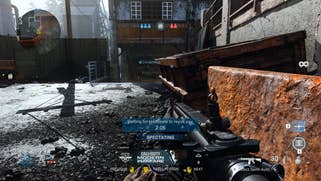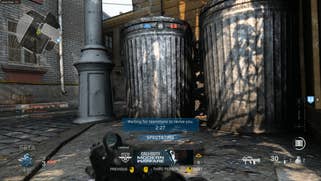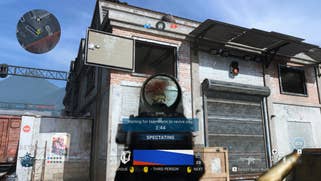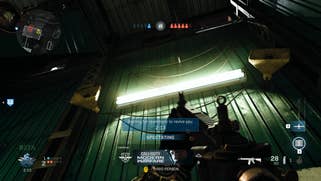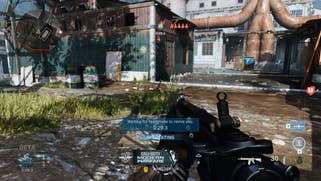 However, as a ballpark reading, base Xbox One appears to target circa 1600x900, with drops in resolution to around 800x900 at points. Looking at PS4, it's clear to see 1920x1080 is the target resolution - but again, the final buffer resolves at lower numbers. Halving the horizontal res is, again, noticed in some shots, putting it at 960x1080 - but it's hardly a given, or consistent. Without a doubt, base PS4 is clearer and much easier on the eye overall though. There are gameplay implications here - especially in terms of range visibility, especially in Ground War. There's no question about it - it's harder to see too far into the distance. Playing next to Xbox One X or PC users, it's a big disadvantage against users with long range weapons.
Infinity Ward aims for a maximum 3840x2160 resolution on both enhanced machines and uses similar methods, again implementing dynamic resolution scaling. Like the base machines, numbers adjust on the horizontal axis - down to 3328x2160 on Xbox One X, or 87 per cent of 'full' 4K. Next there's PS4 Pro, which appears to strike a lower point, at 2304x2160, or 60 per cent. Of course, we are looking at beta code here on select content, so this may well change for the final game releasing at the end of next month.
There's little doubt that Xbox One X delivers the cleanest take on Modern Warfare. PC is a step above as it has no dynamic res in play, and more GPU power to tap into, depending on your hardware set-up. Technically speaking, it's miraculous that it's mainly shadows and resolution that divide the four-way split. The difference in grass fade-in on larger maps, like Karst River Quarry, sticks out on base machines - but otherwise draw distances are like-for-like for geometry. In a sense, they really had to be. For a cross-way game to be fair and competitive for all, no player should see more than the other. In terms of the design of the map, there has to be a level playing field - but there is the sense that Xbox One S users are at a disadvantage here owing to the murky resolution.
The push for big maps is significant to Modern Warfare's ambition. Every aspect of Infinity Ward's engine has been rewritten to factor it in. From animations to sound, to the use of PBR lighting and fog, and particularly managing geometry draw. Above all the move to the large scale maps is the breakthrough. It's forced the developer's hand somewhat; the engine is designed to squeeze the most from every GPU cycle - even on the base PS4 or Xbox One - with geometry culling techniques, where the end result is remarkably close. Pro and X push far clearer visuals to support 4K TVs, but as a cross-play game, every person in a squad fundamentally gets the same core experience. PC does offer a few extras here - ambient occlusion is potentially higher grade, and certainly shadows are clearer, while pop-in is a lesser issue. But in general, it's impressive how much we see translating across all formats.
Beyond pixel counts, performance also sees significant differences across the platforms - but again, we should stress that final optimisation tends to occur at the end of the project in Infinity Ward's COD projects (compare the pre-release Infinite Warfare on PS4 Pro, with its final presentation). In the beta though, there's a clear pecking order: PlayStation 4 Pro delivers the smoothest overall experience, followed by Xbox One X, PS4 and then Xbox One S. The Microsoft consoles use adaptive v-sync, allowing for some tearing in the very top portion of the screen - something that doesn't happen on either of the Sony builds. Outside of the taxing Ground War, the action is relatively smooth for an unoptimised beta build, but the 64-player mode really pushes the consoles hard - to the point where the Xbox One S can drop below 40fps. That version is concerning: the user gets a lot less visual feedback and image quality suffers.
We should see improvements by launch but even so, the beta paints a fascinating picture, as a snapshot in time, of the performance level as things stand. There's good news for PC users to take from this, too. We tested the game running on Nvidia and AMD's next-gen mid-level GPUs - RTX 2060 Super and RX 5700 - and found that running the game maxed easily ran way beyond 60fps at 1440p resolution. In fact, both GPUs made a good fist of keeping the action above the 60 frames per second threshold even at 1800p, with only Ground War causing issues.
It's a successful showing for the beta code overall - with much to be positive about. We're playing new multiplayer modes we've never seen before in a COD title, with the levels themselves pushing more detail than anything achieved in the franchise. However, at the core, it's still very much a Call of Duty experience - just amped up to a new level in both macro and micro terms. On top of that, try as we might to push cross-play to breaking point, the game held up really well too. In short, the beta did its job - it showcased a lot of great stuff and left us hungry for more. We'll be looking at the game in more depth soon.
Will you support the Digital Foundry team?
Digital Foundry specialises in technical analysis of gaming hardware and software, using state-of-the-art capture systems and bespoke software to show you how well games and hardware run, visualising precisely what they're capable of. In order to show you what 4K gaming actually looks like we needed to build our own platform to supply high quality 4K video for offline viewing. So we did.
Our videos are multi-gigabyte files and we've chosen a high quality provider to ensure fast downloads. However, that bandwidth isn't free and so we charge a small monthly subscription fee of £4.50. We think it's a small price to pay for unlimited access to top-tier quality encodes of our content. Thank you.
Support Digital Foundry