AMD Radeon RX 5500 XT vs GTX 1650 Super review: the big 1080p face-off
Can Team Red's new Navi-based 4GB and 8GB cards outgun Nvidia's 16-series?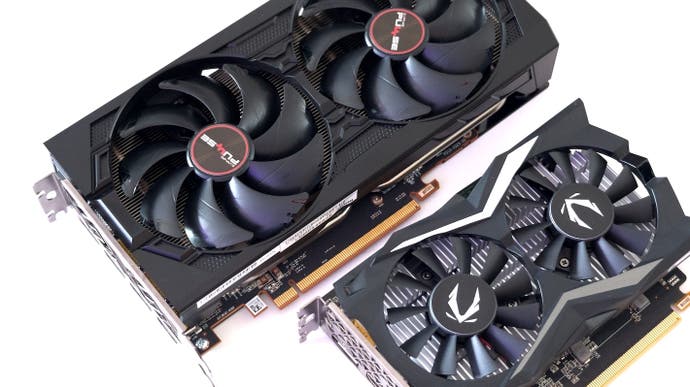 AMD's Radeon RX 570 and RX 580 have dominated performance in the lower end of the enthusiast graphics card market for a while now, so the announcement of a successor in the form of RX 5500 earlier this year drew a lot of interest. The RX 5500 has since made its debut as an option for pre-built desktops from vendors like Acer and HP but the promised standalone cards never materialised. That changes today as custom designs from a range of AMD partners debut under a new name: the Radeon RX 5500 XT.
So what differences exist between the RX 5500 and 5500 XT? Looking at the reference specifications, there's only a couple of changes - a slightly higher power target of 130W for the XT compared to 110W for the vanilla model, alongside tweaks for clock speeds. However, the custom boards produced by the likes of PowerColor, MSI and Sapphire are free to made their own modifications and both of the cards we were sent by AMD to review are overclocked models with beefy cooling solutions and higher TDPs.
Like the RX 570 and RX 580 before them, both 4GB and 8GB variants are available, priced at £159/$169 and £179/$199 respectively. AMD supplied one of each to test: our 4GB model is the Sapphire Pulse overclocked to 1815MHz, while the 8GB model is a PowerColor Red Dragon running at 1830MHz. One of the biggest questions we want to answer with this review is whether the 8GB model is worth the extra cost as the 4GB option is otherwise just as powerful as its bigger brother. Through testing a range of games at different resolutions, we can show just how important that extra VRAM is - plus where it doesn't make any difference at all.
The reference RX 5500 graphics card used by OEMs is a two-slot 18cm design with a single fan, two DisplayPort 1.4a outputs and HDMI 2.0b, but custom RX 5500 XT designs are free to deviate from this significantly - and generally do. The Sapphire Pulse 4GB model is also a two-slotter, but it's substantially longer at 24cm, providing room for two fans plus more ports: three DisplayPorts and one HDMI. Meanwhile, the PowerColor Red Dragon 8GB card is closer to 23cm with two fans and one each of the three most popular ports: DisplayPort, HDMI and DVI-D. Both of these custom designs also include a backplate, which isn't present on the reference RX 5500, and an eight-pin auxiliary power input, which is.
| | RX 5500 XT | RX 5700 | RX 5700 XT |
| --- | --- | --- | --- |
| Compute Units | 22 | 36 | 40 |
| Stream Processors | 1408 | 2304 | 2560 |
| TFLOPs | 5.2 | 7.95 | 9.75 |
| Game Clock | 1717MHz | 1625MHz | 1755MHz |
| Boost Clock | 1845MHz | 1725MHz | 1905MHz |
| Memory | 4GB/8GB GDDR6 | 8GB GDDR6 | 8GB GDDR6 |
| Memory interface | 128-bit | 256-bit | 256-bit |
| TDP | 130W | 180W | 225W |
| RRP | $169/$199 | $349 | $399 |
In terms of the competitive landscape, the RX 5500 XT faces a tough challenge. First of all, it seems to be a replacement product to the Polaris 10 line-up of GCN graphics cards from AMD but using the advantages of the 7nm production node to radically reduce the size of the die, presumably making for a cheaper, more flexible product. The Navi 14 chip used by the 5500 line is just 158mm2 in size, up against the 232mm2 found in the 14nm/12nm Polaris products. There's also a substantial reduction in TDP, the 7nm process' significant efficiency improvements bringing out a cooler, more efficient offering that can work in the smaller form factors that Polaris 10 never could.
However, in terms of raw performance, we need to go into this one with our eyes open. The RX 580 and RX 590 both feature 36 compute units based on the GCN architecture. AMD's new Navi technology is a lot more efficient, but fundamentally, it's only using 22 CUs - and while they are clocked significantly higher and radically revamped in architectural terms, that's still a big gap to close.
And then there's the Nvidia offerings to consider. The entry-level GTX 1650 was never really a contender in the 1080p gaming space - not when the Polaris-based RX 570 was the same price or cheaper and so much more capable. However, the GTX 1650 Super 4GB - its replacement - offers a relatively large boost to frame-rates, bringing it more into line with the last-gen GTX 1060 6GB - just with less VRAM. While the 1650 Super is the key competitor AMD is highlighting, the pricing of the RX 5500 XT in its 8GB iteration actually moves it closer to the more expensive GTX 1660. Nvidia's offering there has less memory, but the increase in performance over the GTX 1650 Super is significant.
But there are opportunities here for AMD: the GTX 1650 Super could be out-performed by the four gig RX 5500 XT, while the compute power is there to take the fight to the GTX 1660 too, while offering more memory with a lower price than the 1660 with the higher-end 8GB variant. However, it would be remiss of us to ignore the elephant in the room: the GTX 1660 Super. It's more expensive than AMD's launch pricing and it's still a 6GB card. But it's a fair bit faster and as important as pricing is at this end of the market, some might say that the price vs performance ratio is just as important - if not more so. With all of this in mind, let's dig into some benchmarks.
AMD Radeon RX 5500 XT vs GTX 16-Series Analysis