Radeon RX 5500 announced: Navi comes to the mainstream
But important questions remain over price and performance.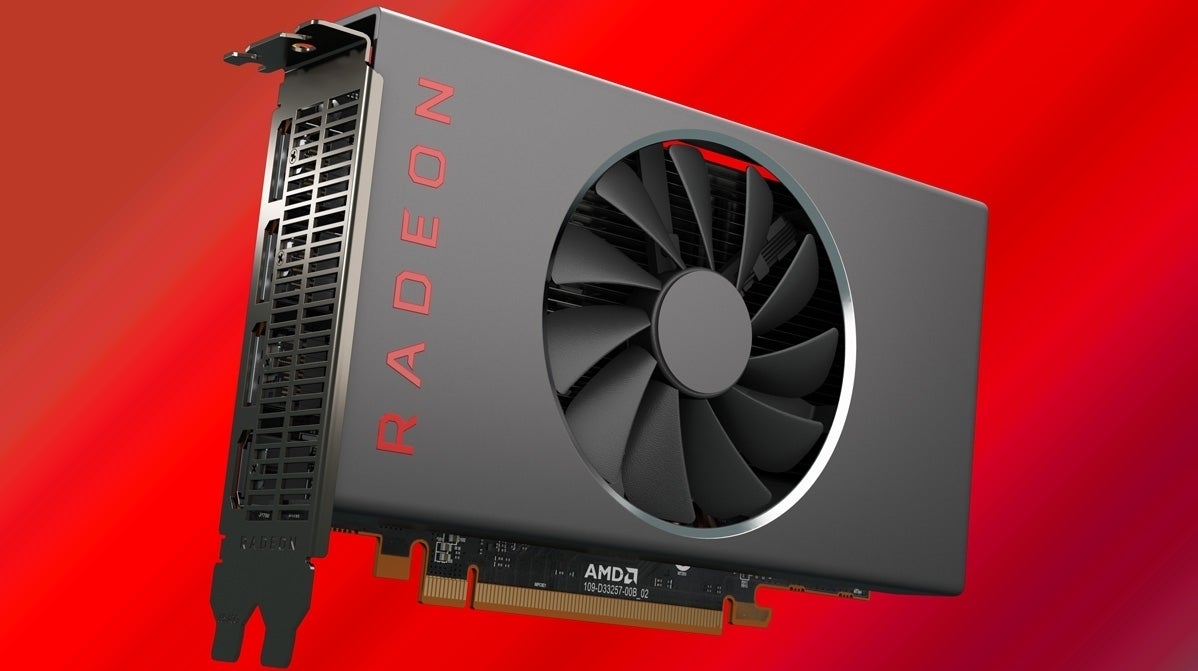 AMD announced the RX 5500 today, expanding the Navi family to a new line of mainstream graphics cards. The new series includes both desktop and mobile form factors and should offer similar performance to the RX 590, but there's still a lot we don't know about these new graphics cards on the eve of their launch.
Most critically, full pricing and availability information hasn't yet been released, making it hard to judge how much value these cards provide ahead of our full review. AMD's informational materials suggest the card is targeted to beat the (underwhelming) GTX 1650, so we expect the prices for entry-level models to start at around £140/$150. There's no reference card from AMD this time, so expect custom designs from long-time AMD partners like Asus, Sapphire and XFX.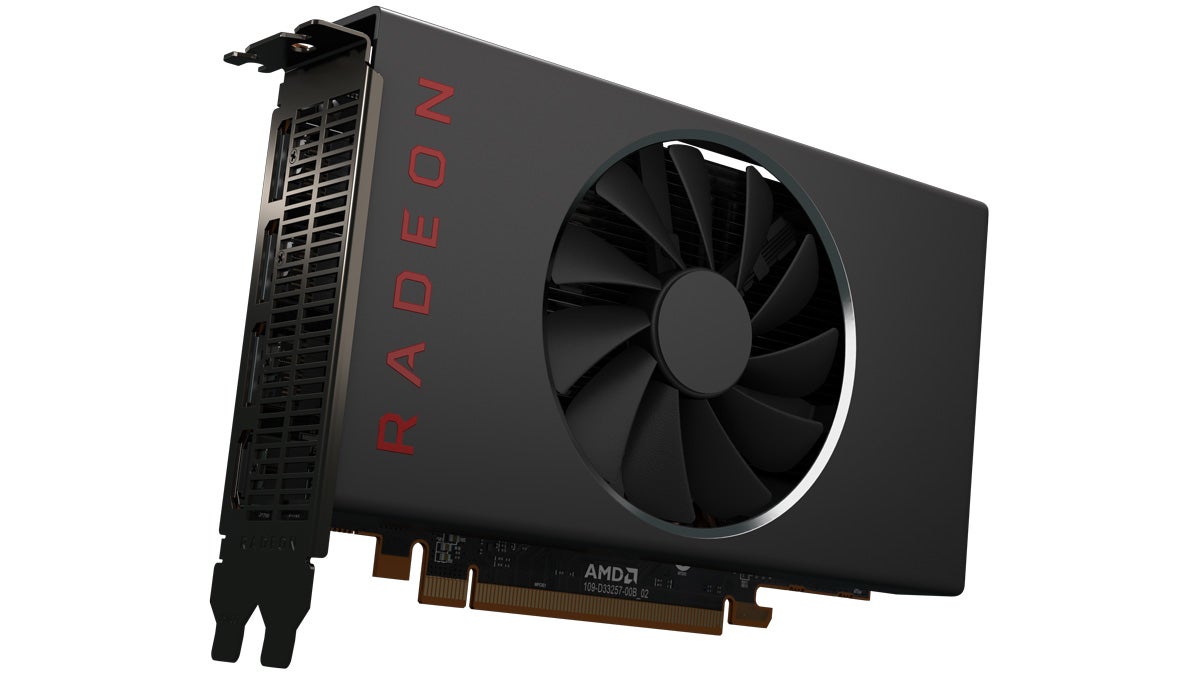 AMD has also declined to offer a firm release date for standalone graphics cards, merely stating that availability is "Q4 2019", aka some time between today and the end of the year. However, RX 5500 cards will be available in prebuilt desktops and laptops from Acer, HP and Lenovo starting from November and December.
Performance data is thin on the ground too, with AMD quoting the new chip as being 12 per cent faster than the RX 480 on average while drawing 30 per cent less power. In terms of actual performance in specific games, AMD's materials include only a few 1080p comparisons between the RX 5500, the much older RX 480 and the GTX 1650.
For example, the new card is 16 per cent faster than the RX 480 in Gears 5, 13 per cent faster in Borderlands 3 and 11 per cent faster in Ghost Recon Breakpoint. Compared to the GTX 1650, there's a much wider gulf: the RX 5500 is 31 per cent to the better in Gears, 21 per cent stronger in Borderlands and 13 per cent faster in Ghost Recon. These results are promising, particularly if the RX 5500 does retail for the same price as the GTX 1650, but we'll need to run the RX 5500 through our full gamut of game benchmarks to find out how good this card really is.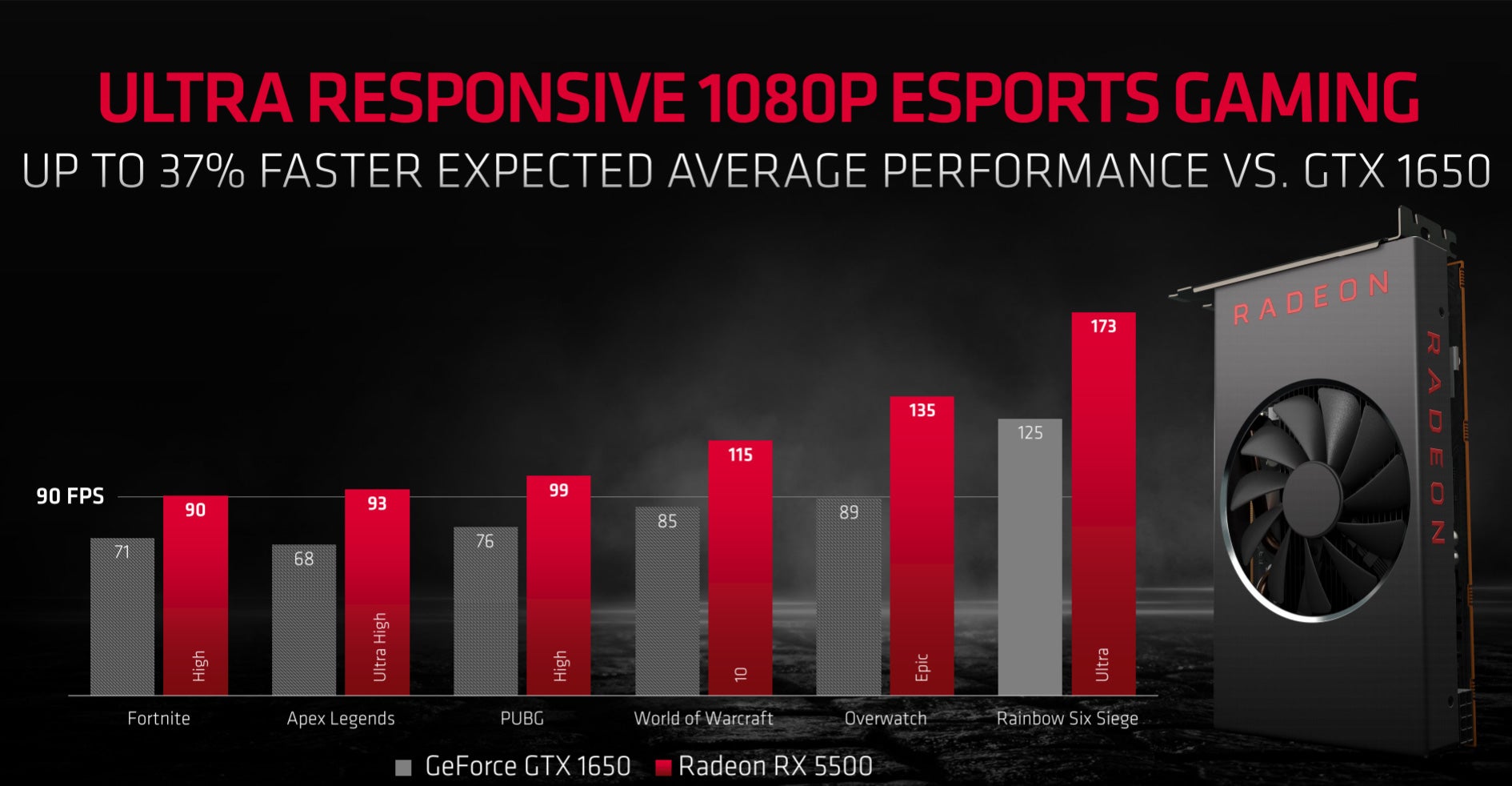 In the meantime, we do at least have a reasonable understanding of how the RX 5500 compares to the RX 5700 and RX 5700 XT in terms of the hardware specifications. Unsurprisingly, both Navi cards use the same RDNA micro-architecture and 7nm manufacturing process, but the RX 5500 comes with just over half of the compute units of the mid-range card.
The memory interface has also been "tuned" for 1080p gaming, constricting from 256-bit to 128-bit. Despite this, effective memory bandwidth for the RX 5500 remains at 14Gbps, the same as the RX 5700, and both 4GB and 8GB models are available with GDDR6 on board. The desktop version of the RX 5500 also consumes a fair amount of power, with AMD quoting a 150W TDP compared to the 180W of the RX 5700.
Connectivity is another point of interest, with the example card pictured sporting a single HDMI and three DisplayPorts. That could be a headache for owners of entry-level 1080p 144Hz monitors, which sometimes require DVI-D to function at their quoted refresh rate.
| | RX 5500M | RX 5500 | RX 5700 | RX 5700 XT |
| --- | --- | --- | --- | --- |
| Compute Units | 22 | 22 | 36 | 40 |
| Stream Processors | 1408 | 1408 | 2304 | 2560 |
| TFLOPs | 4.6 | 5.2 | 7.95 | 9.75 |
| Game Clock | 1448MHz | 1717MHz | 1625MHz | 1755MHz |
| Boost Clock | 1645MHz | 1845MHz | 1725MHz | 1905MHz |
| Memory | 4GB GDDR6 | 4GB/8GB GDDR6 | 8GB GDDR6 | 8GB GDDR6 |
| Memory interface | 128-bit | 128-bit | 256-bit | 256-bit |
| TDP | 85W | 150W | 180W | 225W |
| RRP | n/a | ??? | $349 | $399 |
The mobile version of the RX 5500 is also intriguing, with AMD quoting up to a 30 per cent performance advantage over the GTX 1650 Mobile in Battlefield 5, a title that normally favours Radeon cards. In more balanced titles, like Borderlands 3, Civilization VI and PUBG, the RX 5500M advantage ranges from eight to 20 per cent.
The first RX 5000 series laptop is the MSI Alpha 15, and it's a full AMD build with a Ryzen 3750H processor on board and 1080p 144Hz IPS display. The Alpha 15 ships at the end of this month, but no pricing has been announced as of yet. Nvidia has been dominant in the discrete mobile GPU market for years, so a strong AMD option would be a welcome change.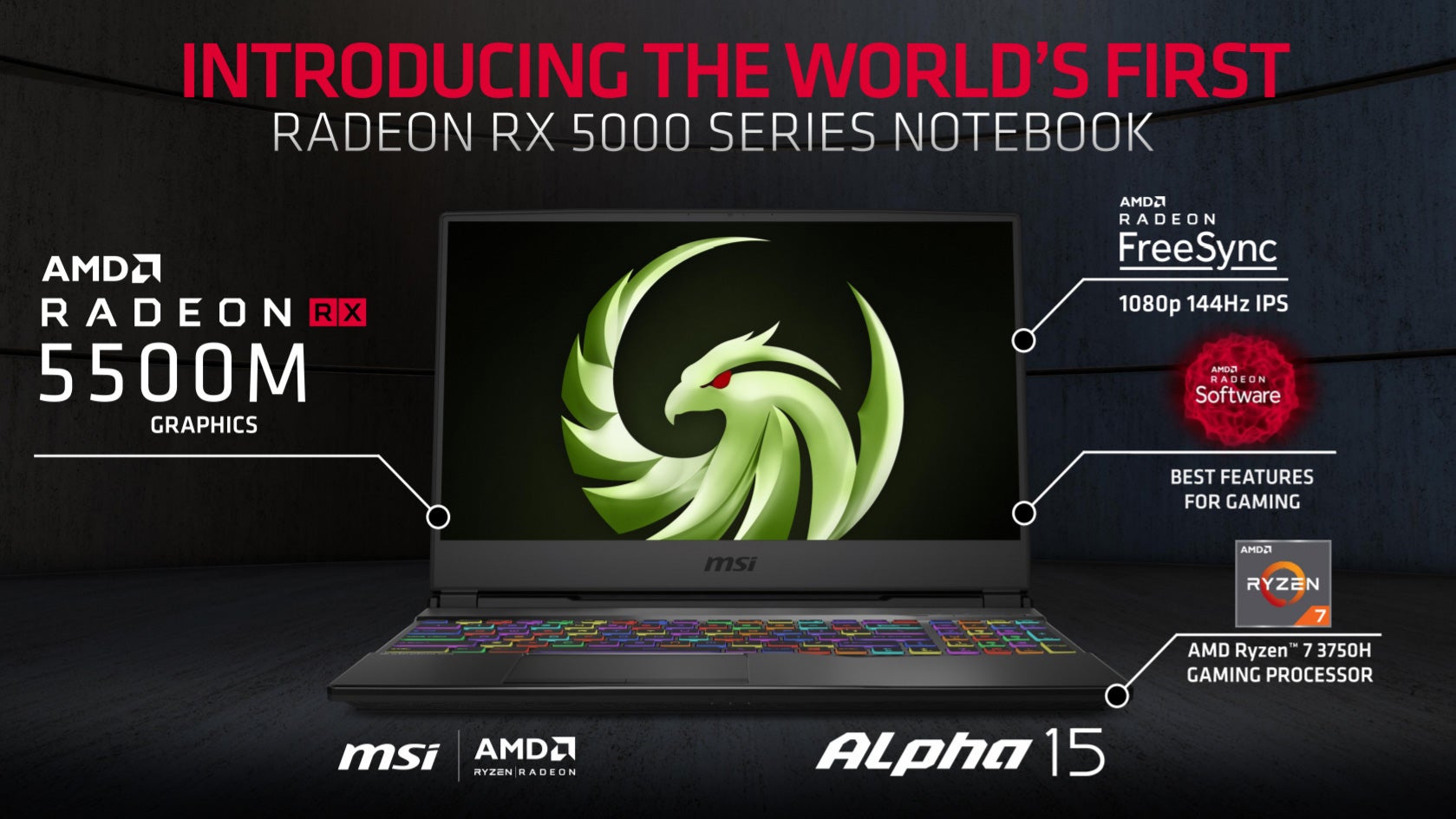 Whether you're on a full-fat desktop chip or the mobile version, AMD has included its full raft of Navi-era features like Radeon Image Sharpening and Radeon Anti-Lag. The latter could be a particularly nice inclusion for laptops, where pairings of high-end processors and entry-level graphics cards are common, as this should produce the kind of GPU-limited scenario where the Anti-Lag feature is most effective.
Finally, AMD has announced that its Raise The Game promotion will include the RX 5500 series. The promotion offers either Ghost Recon Breakpoint or Borderlands 3 for free with purchases of systems with RX 5500 or RX 5500M graphics cards; standalone graphics cards aren't included.
We will update with pricing and availability information as it becomes available, with performance testing and a full review to follow once we have a sample in hand. If there are any questions you'd like us to answer in that piece, let us know in the comments below and we may consider your suggestion.
Will you support the Digital Foundry team?
Digital Foundry specialises in technical analysis of gaming hardware and software, using state-of-the-art capture systems and bespoke software to show you how well games and hardware run, visualising precisely what they're capable of. In order to show you what 4K gaming actually looks like we needed to build our own platform to supply high quality 4K video for offline viewing. So we did.
Our videos are multi-gigabyte files and we've chosen a high quality provider to ensure fast downloads. However, that bandwidth isn't free and so we charge a small monthly subscription fee of £4.50. We think it's a small price to pay for unlimited access to top-tier quality encodes of our content. Thank you.
Support Digital Foundry