Nvidia GeForce RTX 2060 Super benchmarks: slower than RX 5700 XT
...although it comes with DLSS, RTX and VRS support.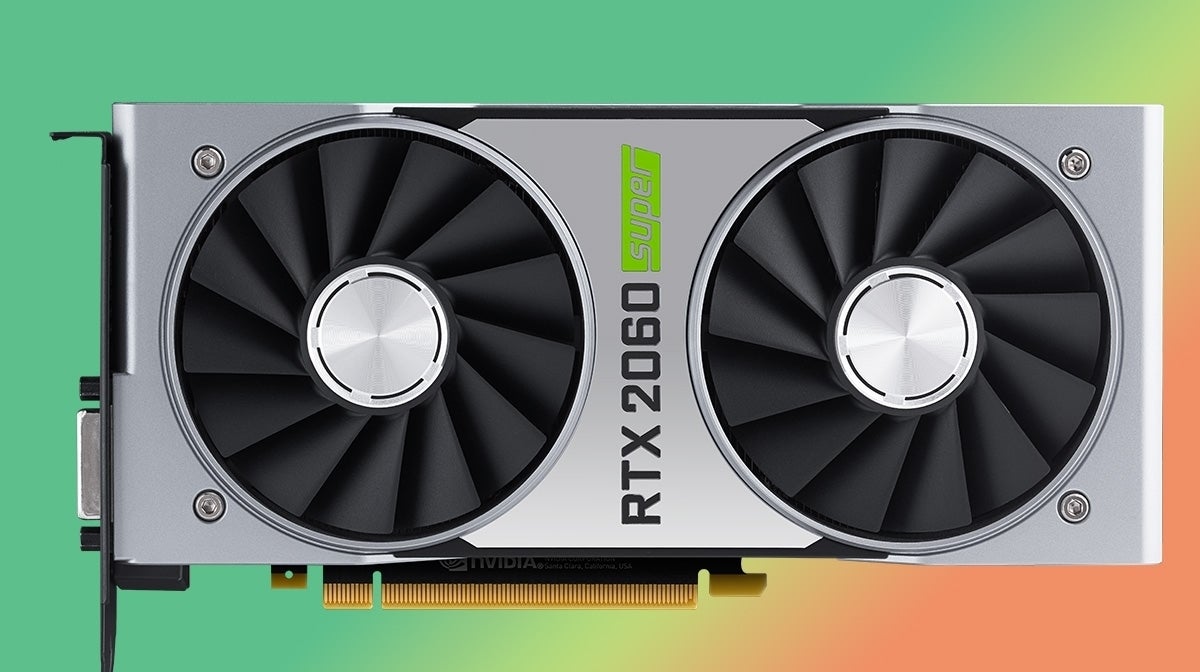 After years of releasing 'Ti' cards as mid-gen refreshes and top-of-the-line flagships, Nvidia changed tack in late summer 2019 with the release of the RTX 2060 Super and 2070 Super. Though the heroic naming scheme takes a bit of getting used to, these cards serve the same purpose they always have: stopping rival AMD from winning a certain price/performance bracket with a slightly faster take on an existing GeForce GPU at a winning price.
For the RTX 2060 Super, that means delivering better value than the recently released AMD Radeon RX 5700 XT - potentially a tall order, given that card's last-minute pre-launch price cut. In a perfect world for Team Green, the 2060 Super will handle all recent games at 1080p and 1440p, while also making good use of the features that Nvidia has pinned its reputation on for this generation: hardware-accelerated ray tracing (RTX) and deep learning super sampling (DLSS). In this article, we'll show you exactly how well the RTX 2060 Super lives up to that promise in more than a dozen of biggest recent games at 1080p, 1440p and 4K.
It'll be interesting to see how the new Nvidia card compares to its closest AMD counterparts, the RX 5700 and RX 5700 XT. These new Radeon cards use an advanced 7nm process to provide better performance while generating less heat and sapping less power than their predecessors, giving them a potential leg up over the competition too. These are the cards that the 2060 Super and the 2070 Super were deployed to beat, so we'll be testing to see whether it's Team Green or Team Red that comes out on top at the end of the day.
| | RTX 2060 | 2060 Super | RTX 2070 | 2070 Super | RTX 2080 |
| --- | --- | --- | --- | --- | --- |
| CUDA cores | 1920 | 2176 | 2304 | 2560 | 2944 |
| Giga Rays/sec | 5 | 6 | 6 | 7 | 8 |
| VRAM | 6GB GDDR6 | 8GB GDDR6 | 8GB GDDR6 | 8GB GDDR6 | 8GB GDDR6 |
| Memory Bus | 192-bit | 256-bit | 256-bit | 256-bit | 256-bit |
| Bandwidth | 336GB/s | 448GB/s | 448GB/s | 448GB/s | 448GB/s |
| Boost Clock | 1680MHz | 1650MHz | 1620MHz | 1770MHz | 1710MHz |
| Processor | TU106 | TU106 | TU106 | TU104 | TU104 |
| TDP | 160W | 175W | 175W | 215W | 215W |
Now, let's talk prices and positioning. Interestingly, the 2060 Super effectively replaces the old RTX 2060 Founders Edition at $399/£379, with the original 2060 remaining in production and getting a price drop to $349/£339. How much of a performance differential exists between the new and old cards is what we'll get into shortly, but with a $50/£40 gap between the RRPs of these two cards we'd hope for at least a 15 per cent leap in average frame-rates.
To achieve this, the original 2060's pared-down 192-bit memory bus in the original RTX 2060 has been returned to full 256-bit strength for the 2060 Super, unlocking a corresponding bandwidth increase to 448GB/s that equals the RTX 2070 and RTX 2070 Super. The number of CUDA cores has also gone up, from 1920 to 2176, while VRAM capacity has moved from 6GB to 8GB of GDDR6. You can see the full spec sheet for Nvidia's RTX cards above.
The RTX 2060 is available in both reference (Founders Edition) and custom flavours - we tested the former, but the latter normally offer a better value proposition thanks to their beefier cooling solutions. In the US, custom 2060 Super cards begin at $399, while in the UK these are supposed to be around £379 - although recently you'd expect to pay nearer £399 for most models. Here's how the pricing stacks up for Nvidia and AMD:
AMD Radeon
Nvidia GeForce
Suggested Pricing
Radeon RX 5700
RTX 2060 FE
$349/£339/€369
Radeon RX 5700 XT
RTX 2060 Super
$399/£379/€419
RTX 2070 FE (discontinued)
RTX 2070 Super
$499/£475/€559
Radeon 7
RTX 2080 FE (discontinued)
RTX 2080 Super
$699/£669/€739
RTX 2080 Ti FE
$1199/£1099/€1259
If you're new here, it's worth breaking down the Digital Foundry system before we dive into the benchmark results. Instead of relying on dusty bar charts or baked-in video metrics, we've developed a new benchmark system that provides just the data you're interested in. For each game, you'll see a YouTube video of our test scene. Next to it, there are controls for deciding which data you want to see - to wit, which cards and which resolutions. Hit play, and the real-time metrics will appear below the video (as long as you're using a desktop browser, that is). There's also a dynamic bar chart below, which allows you to hover your mouse to compare average frame-rates for each data point, plus see measures of best-case and worst-case performance throughout the scene. You can click on the chart to change between frame-rate values and percentages too. With that intro out of the way, let's get started!
Assassin's Creed Odyssey
Our first title is Assassin's Creed Odyssey, the most intensive AC title by a decent margin. Despite AMD credits showing up on the intro screens, Radeon cards don't perform particularly well here - the 2060 Super is able to tie the 5700 XT at 1080p and draws ahead by three per cent at 1440p. Neither card produces an excellent experience at 4K, at barely over 30fps, but the Nvidia card does get the overall win once again. Returning to the 1440p results, there's an 11 per cent lead for the 2060 Super over the original 2060, while the 2070 leads the 2060 Super by a narrower margin - just four per cent.
AC Odyssey: Ultra High, TAA
Assassin's Creed Unity
AMD cards have historically struggled with the depth of field effects in Assassin's Creed Unity, with the RX 5700 series making the first time that we haven't seen massive drops in our test scene on Radeon hardware. The 5700 XT even outperforms the 2060 Super here, leading by three per cent consistently from 1080p to 4K. Regardless, the 2060 Super holds onto its historic advantage when you look at the worst one per cent times, with the Nvidia card retaining around a 15 per cent lead despite its lower average. At 1440p, where we think most people will be using this card, the 2060 Super holds a 14 per cent lead over the 2060 but remains three per cent behind the outgoing RTX 2070.
Assassin's Creed Unity: Ultra High, FXAA
Battlefield 1
Battlefield 1 is next, and this DirectX 12 test is where we expect to see the RTX 2060 get thoroughly outperformed by its AMD competitor - after all, AMD's DX12 driver normally is much more competitive than its DX11 counterpart. Indeed, the RX 5700 XT leads the equally-priced 2060 Super by a good margin - eight per cent at 1080p, 12 per cent at 1440p and 15 per cent at 4K! Looking at just the Nvidia side of things, the 2060 Super holds a 14 per cent lead over the 2060 and actually outperforms the RTX 2070 by a small margin too.
Battlefield 1: Ultra, TAA
Crysis 3
We return to the jungle once again to test the RTX 2060 Super, and it's smooth sailing for Nvidia's latest over the first Turing cards. We see a big boost here, with the 2060 Super effectively typing the stock 2070, but the RX 5700 XT proves the overall victor at all three resolutions we tested by just a few percentage points. None of the cards we tested can quite manage 60fps average at 4K - this is the magic of Crysis, after all - but at lower resolutions, the 2060 Super is eminently playable with enough grunt to max out a 144Hz monitor at 1080p and still make reasonable use a 1440p 144Hz model too.
Crysis 3: Very High, SMAA T2X
Far Cry 5
The calming tones of the Far Cry 5 benchmark bring one of the biggest leads we've seen so far for AMD over Nvidia, with the title's use of rapid-packed math allowing the 5700 XT to sustain over 100fps average at 1080p - 14 per cent faster than the RTX 2060 Super and 28 per cent faster than the OG 2060. We identified a 15 per cent increase in performance as a likely target for Nvidia in moving from the 2060 to 2060 Super, and that's almost exactly what we see here.
Ghost Recon Wildlands
Ghost Recon Wildlands has the honour of being the most challenging test in our traditional suite, thanks to its ridiculous ultra preset that meant not even the RTX 2060 could average over 60fps at 1080p. The RTX 2060 Super does better, at 64fps average, but this is a drop of just seven per cent - and we can see the worst one per cent frame-rate has actually gone down substantially in a repeatable stutter. It's perhaps unsurprising that the 5700 XT comes out ahead of its competition here, with a solid 12 per cent lead at 1440p.
Ghost Recon Wildlands: Ultra, TAA
Rise of the Tomb Raider
The first of two Tomb Raider titles in our test suite, Rise of the Tomb Raider's built-in benchmark is actually a poor predictor of actual in-game performance. However, it is an interesting metric by which to compare graphics cards, making it just fine for our purposes. The game runs substantially better on the RX 5700 series than on Nvidia's RTX 2060 cards, with the 5700 leading the original 2060 by eight per cent and the 5700 XT winning over the 2060 Super by 11 per cent at 1080p. The gen-on-gen improvement between the two 2060 cards is just 11 per cent at 1080p and 13 per cent at 1440p.
Rise of the Tomb Raider: Very High, SMAA
Shadow of the Tomb Raider
Shadow offers a more realistic workload than Rise, as well as a much longer run time. The results are unchanged though - the RX 5700 leads the 2060 by 12 per cent and the 5700 XT beats the 2060 Super by 10 per cent. Looking at the leap between the 2060 and 2060 Super, it's a 13 per cent leap at 1080p, growing to 19 per cent at 1440p and 4K - not bad!
Shadow of the Tomb Raider: Highest, TAA
The Witcher 3
The Witcher 3 normally runs a little better on Nvidia hardware, so with the overall lead for the 5700 series over the two RTX 2060 cards it makes sense to assume a relatively close race here. At 1080p, the 5700 XT leads by just three per cent, raising to five per cent at higher resolutions - likely because AMD's driver is a little more CPU-intensive, which is felt more keenly at 1080p where the CPU is more likely to be a bottleneck. It's a nine per cent leap, gen on gen, for the 2060 Super over the 2060.
Witcher 3: Ultra, Post-AA, No Hairworks
Strange Brigade
Strange Brigade is a DX12 title that runs great on AMD hardware, which is perhaps why this game has been promoted so heavily by Team Red over the past year or so. The game indeed shows the RX 5700 series cards taking a heavy lead over their GeForce counterparts, with the 5700 XT outdoing the 2060 Super by a solid 11 per cent margin at 1080p and a little bit less at higher resolutions. The difference between the 2060 models is the biggest we've measured yet, at 16 per cent at 1440p.
Strange Brigade: Ultra, DX12
Metro Exodus
Onto another recent DirectX 12 game now, it's Metro Exodus. Our test scene comes from the opening of the Volga level, making it quite repeatable while still being a good in-engine test of both CPU and GPU. The RX 5700 cards perform terribly at 1080p, with the RTX 2060 Super leading the RX 5700 XT by a good 18 per cent, but things flip at 1440p with the Radeon card holding a seven per cent lead. At 4K it's back to the start, as the 2060 Super leads the 5700 XT by 25 per cent - strange.
Metro Exodus, Ultra, DX12
Battlefield 5
The final test is Battlefield 5. We first opted to test this opening scene to examine RTX and DLSS performance, but it also does well to stress GPUs with these features turned off. The 5700 XT leads the 2060 Super by a convincing 15 per cent here, with the RTX 2060 Super only leading its predecessor by around 10 per cent. If you've been keeping score, you'll agree that the RX 5700 XT is overall the better buy then, with more wins than losses, and Nvidia fall a little ways short of guaranteeing a 15 per cent uplift from going for the more expensive RTX 2060 Super over the stock 2060 at £40/$50 less.
Battlefield 5, Ultra, DX12