Get a GTX 1080 Ti at $699, plus more laptop and PC accessory deals
Sorry, European readers: these deals are for Americans only.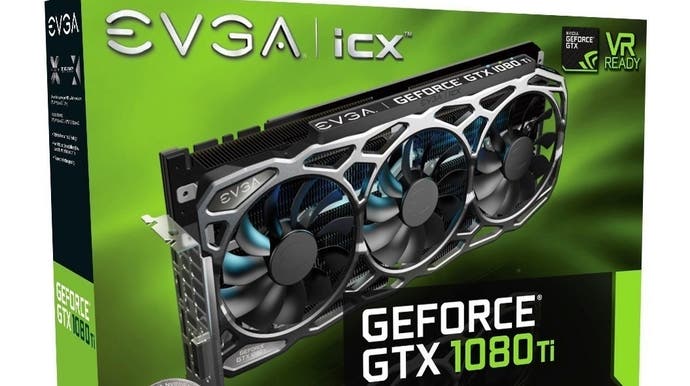 Amazon.com's Gold Box deals for Monday include a handful of excellent discounts on PC gaming hardware. There are discounted GTX 1070 Ti and GTX 1080 Ti graphics cards, cheap Micro SD cards, cut-price gaming laptops and more. You can find all of the deals here and here, or check out the hand-picked highlights below.
As usual, these deals are available on the Amazon USA marketplace only while supplies last and expire at midnight Pacific Time. We're on the lookout for UK and EU deals too, but Amazon.com simply offer these deals more often!
Discounted Nvidia 10-series graphics cards
First up we have a trio of last-generation Nvidia graphics cards, with an EVGA GTX 1080 Ti FTW3, MSI GTX 1080 Ti Duke and a MSI GTX 1070 Ti Armor. Each is a 'renewed' card, meaning it 'works and looks like new' and comes with a 90-day warranty. As these cards aren't being made any more and stock on new models has run dry, this is a rare shot of finding these cards with a warranty (albeit a short one) and at a competitive price. It is worth remembering that AMD graphics cards are coming out in early July and new Nvidia cards are also rumoured, so retailers will be keen to shift their older-generation cards at a good price.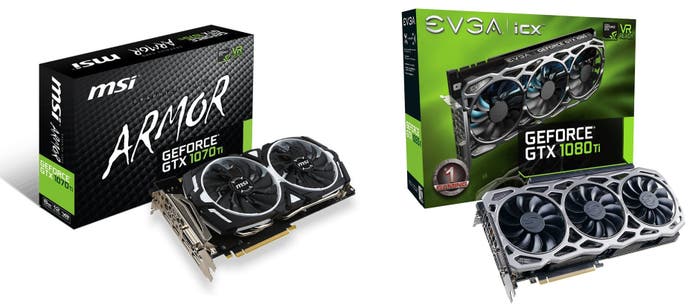 The GTX 1080 Ti cards come in at $700 and $750, about the same as you could find a new RTX 2080 for while offering largely similar performance and more RAM (11GB vs 8GB). The GTX 1070 Ti is also competitive at $360, offering performance better than the Vega 56 and very similar to the RTX 2060 at the same price; it also has a higher RAM count (8GB vs 6GB). EVGA and MSI are also among the most trusted names in the business, and all three of the models listed are mid-range to high-end options with beefy coolers that should allow for a good level of overclocking.
Micro SD cards, laptops and PC accessories

Amazon's second PC-focused sale includes gaming and office laptops, flash storage and mouse pads. For us, the biggest highlight is this 200GB SanDisk Micro SD card for $24. That works out as 12¢ per gigabyte, which is the cheapest this popular card has ever been on Amazon. This is a great value choice for expanding the storage of your Switch, as faster cards don't see much of a performance improvement on the Nintendo handheld.
A SanDisk Extreme Micro SD card capable of 160MB/s reads and 90MB/s writes is also on sale. These cards come with a USB adapter and cost $23 for a 64GB model and $30 for a 128GB model. These cards are ideal for transferring large files, like HD videos or RAW photos.
Another good shout is this 3TB hard drive for the Xbox One. You simply plug it in via USB and follow the on-screen directions to vastly increase the amount of storage available on your Xbox for installing games and apps. The drive has been reduced to $83 from $118, a 30 per cent reduction. You could probably buy your own hard drive and USB 3.0 enclosure for a bit cheaper, but this is a great solution that works out of the box.
Our pick for the best cheap mouse pad for PC gaming has been discounted too. The SteelSeries QcK cloth pad has been reduced from $15 to $10. If you prefer a hard pad, the Razer Sphex V2 has fallen from $15 to $11.

Finally, laptops. The Alienware M15 with a 144Hz screen, Core i7-8750H processor, 512GB NVMe SSD and RTX 2060 graphics card has been reduced from $1900 to $1515, nearly $200 lower than it's ever been. If you're looking for a high performance gaming laptop at an excellent price, this is a great shout.
Dell's XPS 9570 is also on sale, with a Core i7-8750H and GTX 1050 Ti unit hitting $1096, down from $1300. More Dell Inspiron laptops are also available in various configurations at hefty discounts. These are less capable in PC gaming, but should still be great workhorses. An ASUS Chromebook Flip is also in the mix at $279.
That's all for now. Stay tuned for more deals as we find 'em.