AMD reveals full Ryzen Threadripper launch line-up
Eight, 12 and 16-core CPUs coming soon.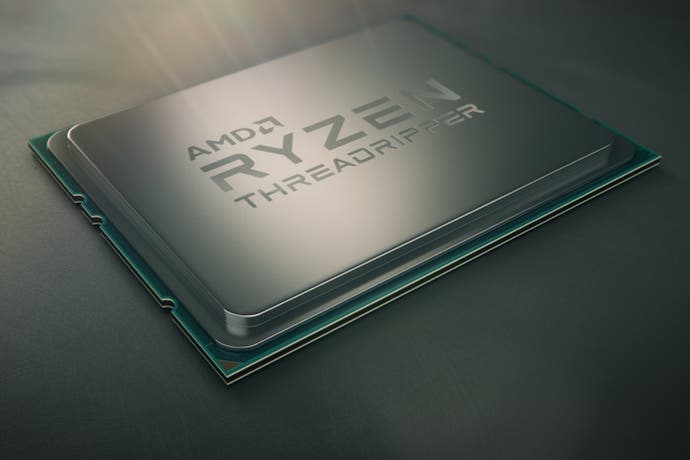 AMD has revealed more details on Threadripper, its challenger to Intel's new Skylake-X line of top-end enthusiast CPUs. While Intel's current offerings currently top out with the powerful ten-core Core i9 7900X, AMD is offering the 16-core Ryzen 1950X for the same $999 price, saying that it provides anything up to a 38 per cent increase in performance on heavily-threaded workloads.
For those whose pockets aren't quite so deep, AMD has alternatives, starting with the Ryzen 1920X, a cut-down version of the flagship product, based on a 12-core design and shipping for $799. AMD announced both the 1920X and 1950X a few weeks back, but has since added the eight-core Ryzen 1900X to the line-up, priced at $549. Ryzen 1950X and 1920X ship on August 10th, while the 1900X arrives later on August 31st.
Single-core throughput isn't quite on par with Intel's offerings, and the suggestion is that the relationship between Intel and AMD in terms of gaming performance will be similar to Core i7 quad and Ryzen 7, but for high-end enthusiasts, content creators and extreme multi-tasking, Threadripper looks set to offer a serious challenge. AMD certainly believes it has a winner on its hands, and points to the $700 drop in price between generations on Intel's ten-core products to illustrate the net positive effect it has had on the high-end enthusiast market, even before Threadripper has come to market.
The make-up of the product line is fascinating. Threadripper uses a new X399 chipset, with motherboards featuring a massive 4094-pin socket, with the new CPUs needing to be screwed into position with a supplied torque wrench (check out MSI's video to see how this works) before the CPU cooler is attached. Similar to Intel's enthusiast line, memory bandwidth doubles thanks to the implementation of quad-channel DDR4 support, while all Threadripper processors support a maximum of 64 lanes of PCI Express bandwidth. In comparison, Intel's i7 7800X and i7 7820X only feature 28 lanes, while the top-end i9 7900X features 44. The extra lanes are useful for running multiple GPUs at full bandwidth, while also supporting high-end capture cards, high bandwidth networking and NVMe SSD storage simultaneously. AMD promises no 'dark' ports, PCI Express slots or memory channels with its high-end platform.
Threadripper's outsize motherboard socket means that existing coolers aren't likely to fit - new air cooler solutions from Artic, Noctua and Coolermaster are coming but the majority of all-in-one closed loop water coolers should fit thanks to the inclusion of a special mount supplied with each Threadripper processor.
| | Ryzen 1950X | Ryzen 1920X | Ryzen 1900X |
| --- | --- | --- | --- |
| Cores/Threads | 16/32 | 12/24 | 8/16 |
| Base Clocks | 3.4GHz | 3.5GHz | 3.8GHz |
| Boost Clocks | 4.0GHz | 4.0GHz | 4.0GHz |
| PCI Express Lanes | 64 | 64 | 64 |
| DDR4 Support | Quad-Channel | Quad-Channel | Quad-Channel |
There has been some controversy about the hardware make-up of Threadripper after a Ryzen 1950X chip sample was 'delidded', seemingly revealing four of the 'Zeppellin' dies used in existing Ryzen processors, connected together using AMD's Infinity Fabric - a set-up derived from its new Epyc server line. On the face of it, this sounds excessively wasteful - however, AMD has confirmed that Threadripper is using just two 'real' chips, the other two being simply mechanical placeholders to balance the package. This is in contrast to Intel, whose own many-core processors are built on a single processor die. The extent to which this may impact performance can only really be ascertained at the review stage, but the Epyc server line has attracted positive reviews and we would expect Threadripper to work in much the same way, even with half the cores available.
We hope to take a look at Threadripper soon, but one thing for gamers to keep in mind is that AMD already offers a range of many-core CPU solutions at much lower price-points. The Ryzen 7 1700 is our favourite, offering eight cores, 16 threads and a good chance that you can overclock it to match the top-end performance of the top-tier Ryzen 7 1800X - all for around £300/$330. For core gamers, the six-core Ryzen 5 1600 and 1600X cut prices still further but offer the vast majority of the gaming performance. Bearing in mind that scalability between Ryzen 5 and Ryzen 7 is limited, pure gaming applications for Threadripper could be similarly incremental.
AMD itself seems to acknowledge this, suggesting that Threadripper is best suited for gamers looking to run two or more GPUs in a single system with maximum bandwidth, with the platform having particular use for streamers and video content producers - users who need their PCs to run several tasks simultaneously, while they game. Threadripper's prodigious CPU power should allow for high-quality, high-resolution video encoding to run simultaneously with gameplay with no slowdown or stutter. Beyond that, the product is aimed towards power users like game developers, engineers and 3D content developers - people who need access to lots of storage, massive amounts of memory and as much multi-threaded performance as possible.
Ryzen's impact on the CPU market can't really be understated - the existence of Threadripper has seen Intel already drop prices significantly in the high-end enthusiast space, and there have been announcements of 12, 14, 16 and 18-core CPUs for the current X299 chipset - products it's unlikely we would have seen had AMD not entered the market. Meanwhile, closer to the entry level, AMD's Ryzen 3 and Ryzen 5 line have also seen price-cuts on Intel's unlocked and overpriced Core i3-7350K, while Intel is hotly tipped to be bringing six-core i5s and i7s to the mainstream market later this year with its new 'Coffee Lake' processors. In all, AMD's return to the CPU market is proving to be just as disruptive as we'd hoped and we look forward to putting Threadripper through its paces.
We learned about Ryzen Threadripper at a media briefing for press and analysts in Los Angeles. AMD paid for travel and accommodation.