Ex-Assassin's Creed and Dead Space devs reveal co-op puzzler Tiny Brains
UPDATE: Debut trailer released.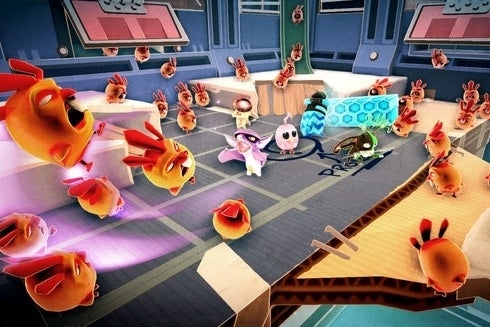 Update: The debut trailer for Tiny Brains has been released. Check it out below.
Original story: Developers on the Assassin's Creed, Dead Space and Army of Two franchises have splintered off from Ubisoft and EA to form their own studio Spearhead Games. Their first game will be a 3D co-op action puzzler called Tiny Brains in which up to four players control super-powered lab animals.
The four critters must work together to best the tests of a mad scientist. "With Tiny Brains, our ambition is to create a super fun and truly cooperative game. So far we are very excited with the results," said Spearhead co-founder and producer Simon Darveau, who previously worked as design director on Assassin's Creed 3.
The Montreal-based studio is otherwise comprised of Assassin's Creed 2 and Dead Space 3 designer Malik Boukhira and former Army of Two development director Atul Mehra.
Tiny Brains will be playable for the first time at PAX East later this month and while official platforms are still being sorted, a Spearhead rep assured us that "it is not a mobile title" and the studio is "looking at more traditional platforms like PC and console to deliver the best co-op experience."