Destiny 1.0.2 patch changes how Engrams work
UPDATE: The update is now live.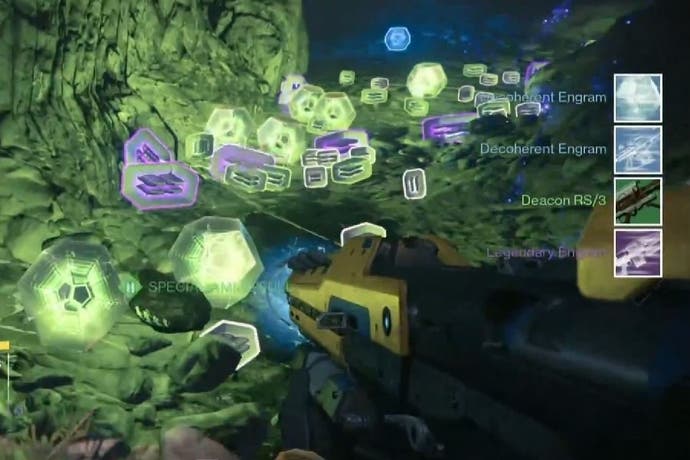 UPDATE: 01/10/2014 6.32pm Destiny's 1.0.2 patch is now up and in effect, Bungie has confirmed to Eurogamer. Did you remember to get those Legendary Engrams looked at?
ORIGINAL STORY: 27/09/2014 1.40am Destiny is a strange, ever-evolving thing with its Loot Cave attraction getting nerfed and its Rocketyard Room springing up. Next week it will be slightly different as Bungie will be releasing its 1.0.2 patch that changes the way loot drops work.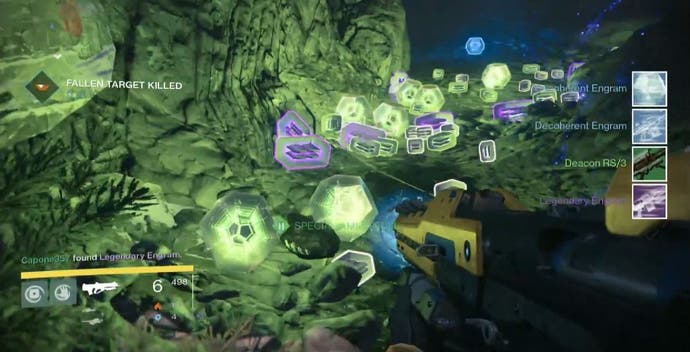 Currently Legendary Engrams (i.e. loot that requires decoding) will often result in only Rare items, which is kind of a bummer. After the 1.0.2 patch, "Legendary Engrams will always produce Legendary or better quality items, including Materials or Exotics," Bungie noted on its blog.
Rare Engrams will also always produce Rare or better quality loot, and they'll even have an increased chance of resulting in Legendary items.
However, the criteria for what's considered Legendary has diminished somewhat. After the patch, Ascendant materials will be categorised as Legendary "to closer associate them with the gear they are used to upgrade." Make of that what you will.
Furthermore, Daily Heroics, Weekly Heroics, and Vanguard: Tiger Playlist activities will produce better rewards with Rare and Legendary Engrams added to their bounty.
Also, Legendary Engrams in your inventory will be demoted to Rare ones once the patch goes live, so Bungie suggests you get these decoded while you can. "But let's be honest - even if you don't, we all know they were blues already," the developer said.