Desolate combat-focussed "cinematic platformer" Unto The End is out in December
On Xbox One, PS4, PC, Switch, and Game Pass.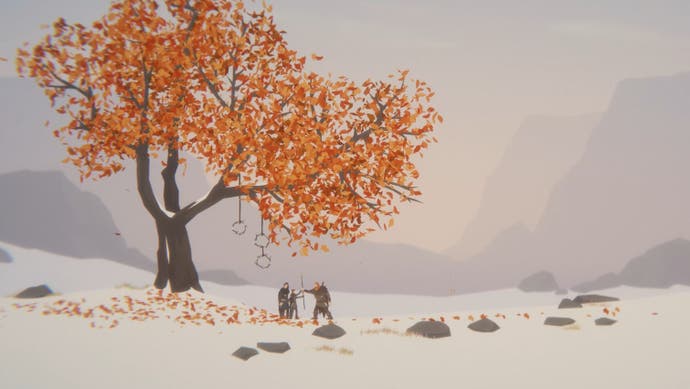 Unto The End, developer 2 Ton Studios' striking, combat-focussed "cinematic platformer", will be coming to PlayStation 4, PC, Xbox One, Game Pass, and Stadia on 9th December. A Switch release will arrive a little later, on 17th December.
Unto The End casts players as an extravagantly bearded warrior on a desperate struggle to return to his family - a journey that takes him from cavernous underground ruins to stark mountain peaks, and pits him against deadly traps and "intelligent, worthy opponents, all with their own motivations and place in the world".
2 Ton Studios notes the protagonist's abilities are all available from the outset, meaning the challenge comes through mastery of those skills, and through improvisation and observation during sword and ranged combat.
Imogen Beckhelling (now of Rock, Paper, Shotgun fame), was impressed by Unto The End when she explored its desolate landscape for Eurogamer back in 2019, noting there are more avenues for progression than it might initially seem, despite the temptation to run at everything with your weapon drawn. One early enemy, for instance, will only attack if he perceives you to be a threat, instead kneeling and offering a gift if you sheath your sword.
"You wouldn't know it at the time," explained Imogen, "but the decision you just made means you won't get mauled by his two big brothers a little further on...[These decisions] aren't exactly complex, but they fit the game really well - you're not playing as a soldier or a fighter, simply a man who has a sword and is looking for his family."
2 Ton Studios' development duo reveals a little more about dealing with enemies, including the ability to placate foes through trading, in its latest trailer above; and if your interest is piqued as a result, you can experience Unto The End's journey yourself from 9th December on Steam, GOG, Xbox One, GamePass, PS4, and Stadia. Switch owners can set out from 17th December.