Cult team-based strategy platformer Killer Queen Black out on Switch and PC in October
And there's cross-play!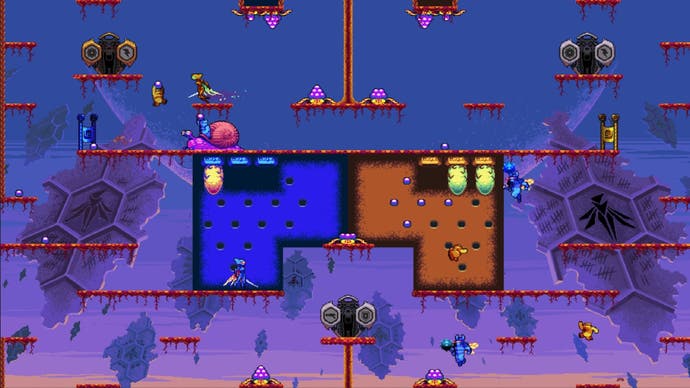 Liquid Bit and BumbleBear's team-based strategy platformer - and update of cult arcade hit - Killer Queen Black is making its way to Switch and PC on 11th October.
Killer Queen Black started life as an indie arcade game, simply called Killer Queen, debuting at New York University's fourth annual "No Quarter" exhibition in 2013. From that point on, the limited-release arcade cabinet began to develop something of a cult following, and Jeffrey Matulef took a look at the game and its enthusiastic community for Eurogamer in 2015.
Here's how Jeffrey explained the fascinating, somewhat inscrutable experience at the time: "Up to five players square off against an opposing team on a 2D terrain. Like Quidditch before it, there are multiple ways to win Killer Queen. The simplest is to collect a slew of berries and bring them back to your base. The second is to ride a slowly moving snail towards your goal. The entire point of this is to subtly creep to winning status while your opponents are lost in the commotion. And the third win condition is to slay your enemy's queen three times.
"This is easier said than done. You see, each team has four grunts and one queen. The queen has wings allowing her to flutter about like the avatars in Joust. The grunts, however, merely run around on the ground and need to level up before they have any offensive capabilities. This requires them bringing berries to gates tagged by your team's queen."
When Killer Queen Black arrives on Switch and PC, its most obvious alterations will be a reduced player count, falling from the arcade game's ten to eight, and a brand new art-style. However, the home version will retain the core strategy platforming of its predecessor - playable across six different battlefields with five distinct weapons: Sword, Morning Star, Laser, Lance, and Stinger - and will feature a welcome tutorial, and three game modes.
There's Quick Match, Ranked, and Custom Match play, as well as numerous multiplayer options. Single-player and team-based online play is supported, as is four-player couch online co-op. Additionally, online will be split into Unranked, Ranked, and Custom Match modes.
Killer Queen's home version will also see players battling to take on the honoured mantle of Black team. At any one time, there's a single Black team playing in the world - adorned in special, glowing outfits - and other teams will encounter these dreaded combatants as they rise up the ranks. Should a new team manage to dethrone their fearsome opponents, they'll become the new Black team and on it goes.
What's more, eyes will be on the Black team at all times, with their matches constantly streamed for spectators to enjoy, and perhaps learn a few tips from.
Killer Queen Black will feature cross-play and chat between Switch and PC when it launches on 11th October, and that will expand to support Xbox One when it arrives on Microsoft's platform at a later, currently undisclosed date. It'll cost $19.99 USD on the Switch eShop, Steam, the Humble Store, and the official Discord server (Discord Nitro subscribers can get it for free at launch), and a Switch physical release is due on 25th October.