Creative director of original SOCOM games returns with H-Hour for PC
UPDATE: Kickstarter funded.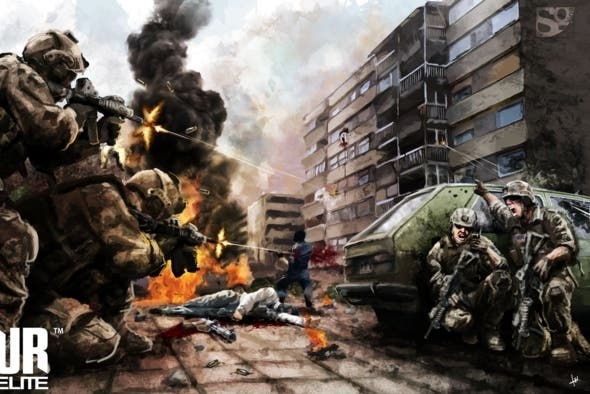 UPDATE: The $200,000 H-Hour: World's Elite Kickstarter has been funded.
At the time of publication $209,570 had been raised with four days of the crowd-funding drive remaining.
"We made it!" David Sears, the creative director of the original SOCOM games, wrote in an update.
"Of course it's not over yet. We can still reach for the stretch goals and every dollar pledged will be used to make a better game. So please keep spreading the word!"
The tactical shooter is due out on PC and PlayStation 4.
ORIGINAL STORY: The creative director of the original SOCOM games has returned to the tactical, team-based shooter genre with H-Hour: World's Elite for PC.
David Sears, of SOF Studios, was creative director of the SOCOM series on PlayStation 2 while at Zipper Interactive, and he's launched a Kickstarter for H-Hour, which he describes as the spiritual successor to SOCOM.
Sears is after $200,000, and has raised half the target with 12 days to go. If the $200,000 funding target is met Sears will create a playable demo designed to attract venture capital funding to make the entire game, but if $1.5 million is raised through Kickstarter Sears will complete the PC version, and if $2 million is raised a next-gen console version will be made. "PS4 looks like it's going to be popular," Sears said.
H-Hour is not an HD version of SOCOM 2, Sears wrote. The initial release is a core multiplayer experience on PC with six maps, four new gameplay modes and support for clans.
"We're not here to simply deliver the past in a prettier package," Sears said. "We're building the spiritual successor to the early SOCOM games from the ground up. H-Hour: World's Elite is immediate, realistic, multiplayer-oriented and team-based. It is an experience directly inspired by the SOCOM series because those games were the starting point. H-Hour is several miles down the road that we travelled with SOCOM, the kind of shooter that SOCOM would have become if I had continued to helm the series beyond the second release."
H-Hour is described as a hybrid third-person and first-person shooter. In third-person you'll see our character, as you'd expect. In first-person you only have a reticule, and the game adjusts the field of view so you feel "in the s***". And there's a naturally enhanced zoomed in perspective that provides a "twitch play edge".
In March 2012 Sony announced it had closed Zipper Interactive after it had completed PS Vita game Unit 13. The last SOCOM game the studio made was SOCOM 4: U.S. Navy SEALs for PlayStation 3, which launched in April 2011. The SOCOM franchise has remained dormant ever since.