Co-op shooter rogue-like Risk of Rain 2 surprise-launches in Steam early access
And you get a second copy free if you hurry.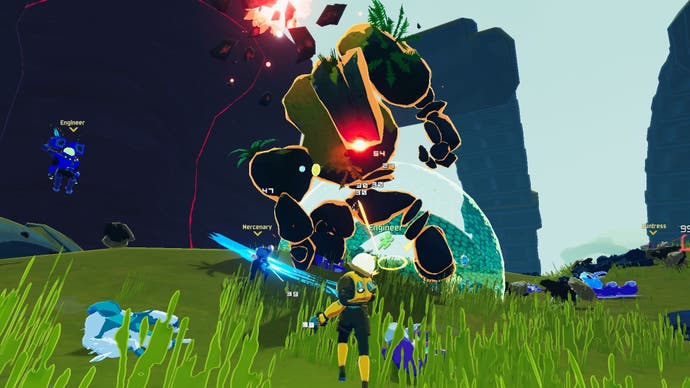 Developer Hopoo Games has surprise-launched its co-operative rogue-like shooter sequel Risk of Rain 2 on Steam early access, and it's available for purchase now.
The original Risk of Rain, a gloriously mad side-on action-platformer, launched in 2013 and was enormously well-received. Its nifty trick was that, having slapped players down upon an alien planet and armed them to the teeth, enemies grew rapidly more bountiful (and tough) as time ticked onward. As such, it quickly devolved into a giddyingly frantic, cacophonous dance of rapid levelling and item acquisition in order to survive. Eurogamer liked it to the tune of 8 back in the day.
Risk of Rain 2 follows the same basic format but makes some major changes along the way. Most notably, it ditches the first game's 2D perspective, and rather gloomy minimalist pixel aesthetic, for some vibrantly hued and fully-3D escapades. It's playable either solo or in teams of up to four, and features randomised stages, items, enemies, and bosses.
According to Hopoo, Risk of Rain 2's core game loop and multiplayer suite is already "fully implemented", and the initial early access version is said to include 75 items, six playable classes, and six bosses. That's expected to increase to ten characters, ten stages, 12 bosses, and over 100 items by the time that Version 1.0 rolls around in roughly a year. It's also worth noting that Hopoo will be increasing the price from £14.99 once early access ends.
As a pleasant bonus for those willing to hop onboard the Risk of Rain 2 Steam early access train immediately, anyone that purchases the game prior to March 30th at 7pm in the UK (12pm PT) will receive a free, second copy to gift to a friend.