Co-op coming-of-age adventure Knights and Bikes is heading to Switch next month
Titled goose game.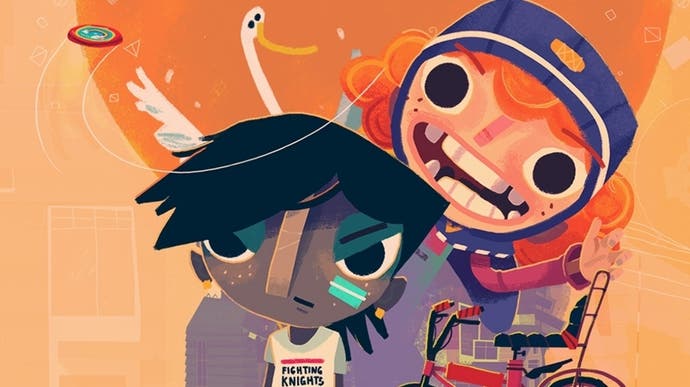 Knights and Bikes, developer Foam Sword's "bike-riding, friendship-building, frisbee-throwing, goose-petting, high-fiving, treasure-hunting, coming-of-age adventure", is donning helmet and peddling onto Switch next month, on 6th February.
Knights and Bikes, which is published by Psychonauts studio Double Fine, was well-received when it launched on PlayStation 4 and PC last August. And now Switch owners have the opportunity to saddle up, playing as friends Demelza and Nessa (either alone or with a co-op buddy) as they explore their ancient island home with pet goose Captain Honkers in tow.
What follows is a story-driven adventure encompassing bike-riding, exploration, treasure-hunting, environmental puzzling, enjoyably chaotic combat, and more - often taking advantage of each friend's unique abilities, which can be combined for even greater success.
Developer Foam Sword consists of Moo Yu and Rex Crowle - both former members of Media Molecule - and there's certainly a touch of LittleBigPlanet and Tearaway's heartfelt whimsy in the studio's debut. "Watching the two girls deal with setbacks along their journey is just as uplifting as witnessing childhood joy," said Eurogamer contributor Malindy Hetfeld in her Recommended review, "I've no doubt that Crowle and Yu still remember very well what it's like to be a child, both in the good and occasionally difficult ways, and I'm glad they reminded me."
Knights and Bikes will cost £19.79 when it comes to Switch on 6th February, but there's a pre-order discount, putting the price at £17.81, until then.