Cards Against Humanity dev Kickstarts western card game Slap .45
"A Wild West slap duel for three to seven players."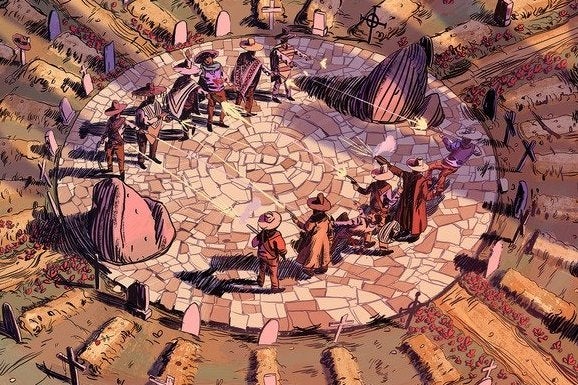 Cards Against Humanity co-developer Max Temkin and his cohorts at Gnarwhal Studios have launched a Kickstarter for an upcoming western-themed card game entitled Slap .45.
Described as "a Wild West slap duel for three to seven players," Slap .45 assigns each player a gang and upon each turn all players must react to the community card in play and either attempt to shoot an opponent or retreat to a base by slapping it. It's a little more complicated than that as there are different cards with different properties - like one that gives gold to whoever you're pointing at - so it's best not to get too trigger happy. You can read the exact rules in the dev's first Kickstarter update.
Gnarwhal is looking for $18,850 to print 1000 copies of Slap .45, and it's already acquired $10,660 of that in its first day, with 29 days to go before its 17th September deadline.
As such, Slap .45 is practically sure to go into production. Back it now for $35 - the only tier, oddly enough - and you'll receive a copy of Slap .45 upon its estimated April 2015 release. Note: shipping outside of the US is an additional $15.
Gnarwhal Studios was formed in 2005 where its first game, Humans vs. Zombies, was once called the number one threat to America by Stephen Colbert.