Capcom to bring SSFIV to Eurogamer reader's house
Play it a month before release.
If Street Fighter IV alone wasn't enough of a return to Capcom's roots, how about Super Street Fighter IV? The name alone is a delicious throwback to an age before Gold and Ultimate and Prestige Editions.
The content, meanwhile, appears to be a step beyond Gold and Ultimate and Prestige Editions. Less than a sequel but more than an expansion, SSFIV represents Capcom's understanding that in a genre as specific as beat-'em-ups, balancing tweaks are things of crucial significance, and people don't want to wait another 24 months just so the team can throw in more polygons as well.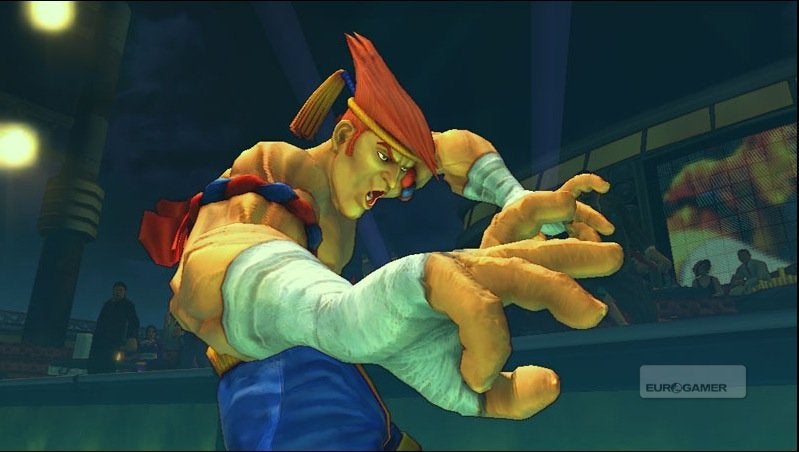 Of course, SSFIV is more than mere system tweaks. It's also host to 10 new additional combatants, several of whom have been painstakingly extracted and enhanced from their roles in other fighting series under Capcom's control, and some of whom are brand new.
For these reasons and more, SSFIV is a serious proposition, and we're seriously excited about its 30th April release in Europe, as you will know if you've read today's exhaustive hands-on preview covering the additional fighters.
We also know that you want to play it, and so for that reason we've teamed with Capcom to offer one of our readers a unique chance to do so before the game's launch. If you answer the question below correctly and are first out of the hat, Capcom will literally come round your house a month before the game's release and bring a portable Super Street Fighter IV gaming setup for you to play with.
Yes, if you win we will put you in touch with Capcom directly and allow you to make the arrangements. They will rock up on 3rd April at a time of your choosing. Even better, once you've had your fun you will be sent a copy of SSFIV on the format of your choice for when the game is released.
Because of the need to drive to you, this competition is only open to people in England, Wales and Scotland, or other bits of the UK that you can drive to from Capcom's London base. However, if you're from further afield and just want a copy of the game, go ahead and enter anyway and we'll work something out.
Good luck!
Which of the following is a new character in Super Street Fighter IV?
Prizes will not be exchanged for cash or other goods - if you don't want the prize, don't enter.
All entries must reach us by Friday, 26th March at which point the winners will be picked and notified.
No employees of Eurogamer or Capcom may enter.
This competition is open to UK residents only.
The judge's decision is final.