Capcom opens restaurant, shows off absurd menu
Phoenix Wright onion rings? Resident Evil brain cake?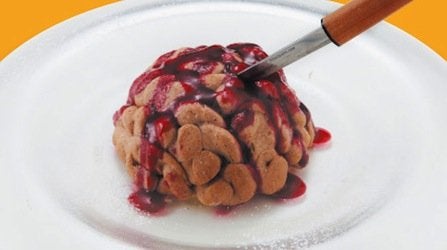 As our nation's news media seems so intent on reminding us, these are ruthless, unforgiving economic times we're living in. As such, businesses need to stay nimble and be willing to diversify in order to keep their heads above water.
Case in point? Noted video game publisher Capcom, which today opened its very first restaurant. Everyone needs a plan B, right?
As announced on the Capcom Unity blog, next time you're wandering through Tokyo's busy Shinjuku district and feel a touch peckish, why not stop in at Capcom Bar, which welcomed its first customers today.
The new eatery serves up all manner of Capcom-themed fare, including a mouth-watering brain-shaped Resident Evil dessert, Phoenix Wright onion rings or a distinctly revolting-looking mock Monster Hunter drumstick.
Those watching their figure might like to opt for a dish of Resi herbs or 'Tofu Mode' - a slab of fermented bean curd offering a sly nod to Resident Evil 2's famed secret character.
Take a look at the official site for a full rundown of the menu and cocktail list, or peruse the gallery below for highlights.
The venue also offers demo kiosks so you can check out the latest Capcom titles while you fill your boots.