Call of Duty: Black Ops 2 announced
Set in 21st century Cold War. First images.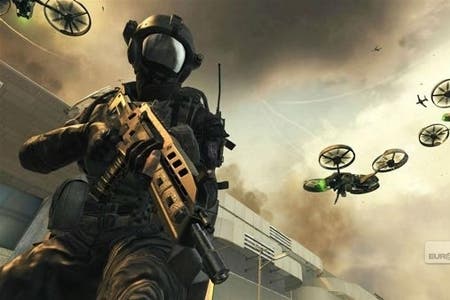 Activision has announced Call of Duty: Black Ops 2 for release on PC, PlayStation 3 and Xbox 360 on 13th November.
The pre-order description on the official Call of Duty website reveals basic story details. Black Ops 2 is set in the near future, during a 21st century Cold War "where technology and weapons have converged to create a new generation of warfare".
The debut trailer is currently linked to but set to private on YouTube. Leaked images show the game's quadrotor, teased in videos released previously. There's box art too.
No mention is made of Wii or Nintendo 3DS version of the game, although Activision does not typically announce its new Call of Duty games for these platforms alongside the main reveal. Nintendo may have asked Activision to keep a lid on any proposed Wii U version until the E3 trade show in June 2012, where Nintendo plans to fully unveil its Wii successor. A Call of Duty game is confirmed to be in development for PS Vita, although the studio behind it is yet to be revealed.