Have a look at the unfinished Call of Duty set in the Roman Empire
Roman holiday.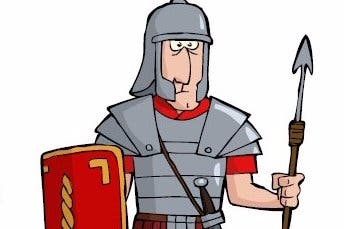 And there's me thinking Battlefield 1 was spinning the clock back with its take on World War One. A never-released spin on Call of Duty that took Activision's first-person military shooter to the Roman Empire has been unveiled, with a detailed video showing us what could have been in developer Vicarious Vision's spin-off.
Dating back to around 2009, GameRadar's video shows a very different take on the series. Bolstered by the success of the first Modern Warfare and World at War, Activision was on the look out for alternative approaches to its lucrative series - and New York-based studio Vicarious Visions delivered with Roman Wars.
Set during the Gallic Wars, the game was to take Julius Caesar's first-hand accounts of the conflict, Commentarii de Bello Gallico, and would take in different perspectives from across the battlefield. A mood board - a selection of images and scenes developers crib from other sources to set a tone for their own games - featured the cinematic adaptation of 300 as well as Ridley Scott's Gladiator, while the gameplay itself took inspiration from Assassin's Creed, Zeno Clash and Condemned.
Those latter two sources speak to the combat of the game, which melded first and third-person viewpoints.
Activision was said to be interested in the pitch, but found it too radical - ultimately opting for Sledgehammer's Advanced Warfare, which would eventually release in 2014. The pitch was later sent Ubisoft's way - hence the Ubisoft logo appearing in the build showcased in the video - but it was ultimately declined. Vicarious Visions has hardly been short of work since, lending its hand to the Skylanders series and currently working on the Crash Bandicoot remaster that's slated for release on PlayStation 4 in 2017.
We're hardly short on games set during the Roman Empire, either, from Creative Assembly's strategic take on the era to Capcom's Shadow of Rome. And there's always Ryse, too - which Roman Wars bears certain similarities to in its own rough-edged way.