BT is including a free Google Stadia with its fibre broadband deals
As part of a new partnership to "promote cloud gaming".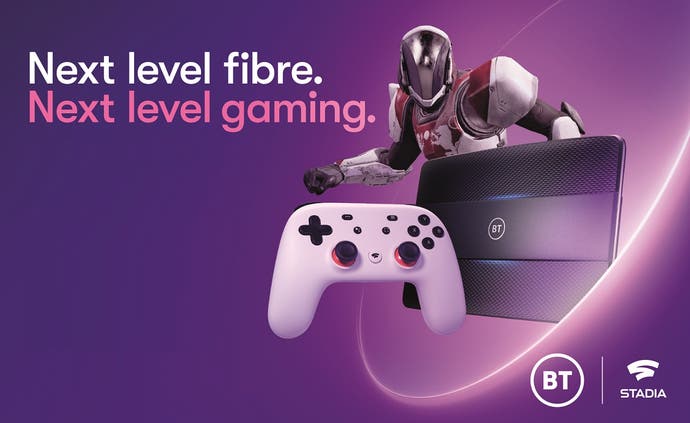 BT is throwing in a free Google Stadia with a number of its broadband deals as part of a new partnership between the pair to promote cloud gaming.
The freebie is currently available until 30th January on the Superfast Fibre 2, Ultrafast Fibre 100 and Ultrafast Fibre 250 packages, which start at £39.99 per month. After a seemingly random pause, these free Google Stadia gaming plans will then return on 7th February.
"The partnership will see BT and Google deliver cloud gaming via this new-generation platform to more UK consumers as well as see the two companies work together on initiatives designed to build awareness, access and availability of it in the UK," says BT in the announcement.
As for what you actually get, a Stadia Premiere Edition includes a Stadia controller, Chromecast Ultra and three months access to Stadia Pro. This doesn't give you access to a vast library like Xbox Game Pass but is more similar to PS Plus.
It's been a bit of a rough launch for Stadia. Over the last few months, there has been all manner of issues. Firstly, Google has been accused of breaking promises over game performance. It's had to offer refunds to customers who purchased games that were then made available with a Stadia Pro subscription. And then there was the time Stadia seemed to forget that it shouldn't need to download games. Not a great start, Google.
Nevertheless, the tech giant has since announced that more than 10 timed-exclusives will come to Stadia by July. Plus, more than 120 games will be coming to the service throughout 2020.
Whether this partnership with BT improves the uptake of Stadia remains to be seen. It's an OK freebie if you're after a new broadband contract but, equally, a free version of Google Stadia is set to launch later this year. Will you just wait for that to try it instead?
While you're here, why not give us a follow over at Jelly Deals, where we'll be bringing you all the best offers on games, tech and more from across the web. Right now, you can find the best price for Xbox Game Pass Ultimate, all the cheapest PS Plus offers and our picks for the best Nintendo Switch SD cards.