BloodRayne 1 and 2 remasters heading to PC later this month
Will be free to owners of existing releases.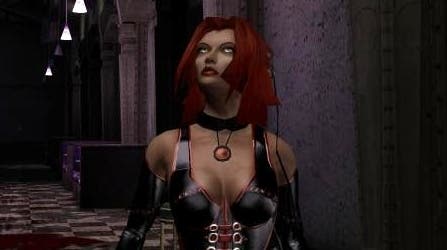 If you've been excitedly anticipating the previously revealed remasters of developer Terminal Reality's so-so (but still, seemingly, fondly remembered) BloodRayne series, you're in luck; enhanced editions of BloodRayne 1 and 2 will be making their way to PC on 20th November.
The original BloodRayne launched back in 2002, introducing the world to half-vampire (and clothing deficient) femme fatale Rayne, as she embarked on a campy, globe-trotting adventure - very much in the third-person shooter mould - to obliterate supernatural forces. And also nazis.
A similarly styled sequel followed in 2004, and the series was revived in 2011, albeit this time as a side-scrolling action platformer, known as BloodRayne Betrayal. Uwe Boll also turned the games into a trilogy of "movies", but the less said about those the better.
It's the first two BloodRayne games (which earned a Eurogamer 6/10 and 5/10 respectively) that have been given the remaster treatment courtesy of original developer Terminal Reality, and both will offer a range of enhancements. Lighting, shadows, reflections, water, fog, and textures will be improved, for instance, and there are upscaled cinematic videos, plus support for gamepads. All of that will be playable at resolutions up to 4K, with up to 4x anti-aliasing.
Notably, anyone that owns the original Steam and GOG versions of BloodRayne 1 and 2 will be automatically upgraded to their respective remasters - titled BloodRayne: Terminal Cut and BloodRayne 2: Terminal Cut - for free when they go on sale on 20th November.