Huge PS4 sales boost Sony profits
But what's the big picture?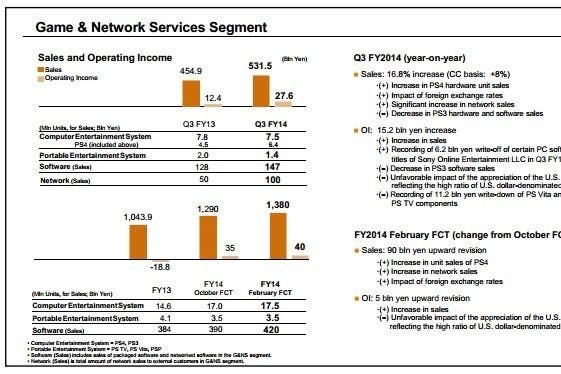 Big PlayStation 4 sales helped Sony to a significant profit for the Christmas quarter.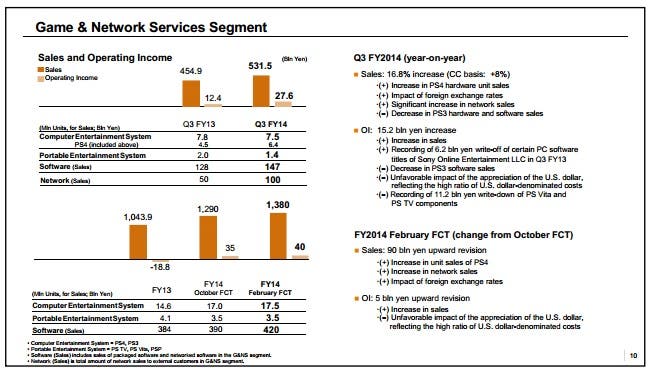 The gargantuan Japanese company saw an 89bn yen (£500m) profit for the third quarter ending 31st December 2014. That's up from a 26.4bn yen (£148m) profit during the same period last year.
The Game and Network Services division, which runs PlayStation, saw an operating income of 27.6bn yen (£155m) for the quarter. That figure was fuelled by an impressive 6.4m PlayStation 4 units shipped to shops and a whopping 147m game sales. The same period last year, 4.5m PS4s and 128m games were sold, and the Game and Network Services division saw a 12.4bn yen (£69m) operating income.
Sales increased 16.8 per cent year-on-year to 531.5bn yen (£3bn). Sony put this down to an increase in PS4 sales, that old chestnut "favourable impact of foreign exchange rates", and a "significant" increase in network services revenue, which is all those PlayStation Plus accounts and PSN game sales bringing in the cash.
However, PlayStation 3 and PS3 game sales decreased, as you'd expect (1.1m PS3s were sold in the quarter). And Sony took an 11.2bn yen (£62m) write-down of PS Vita and PS TV components. Sony doesn't break out PS Vita sales, but Portable Entertainment Systems, which includes PSP and PS Vita, were 1.4m for the quarter, which reinforces Vita's ongoing struggle. In any case, Sony said the write-down had more to do with lower PS TV sales than expected.
Latest official figures show Sony has sold 18.5m PS4s to consumers globally.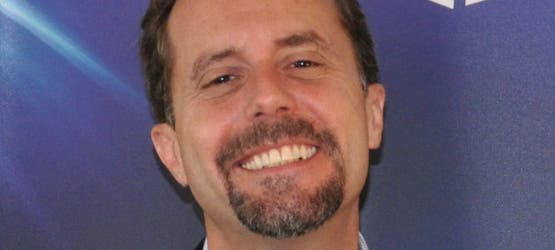 So, things are going wonderfully-well at PlayStation, which will no-doubt please Sony Computer Entertainment chief Andrew House. But what's the bigger picture?
Sony boss Kaz Hirai will be happy that Sony posted a profit for the quarter. We've already mentioned sales were up 6.1 per cent to 2.55 trillion yen, and that PlayStation played a big part in that, but the "favourable impact of foreign exchange rates" helped, as did a "significant" increase in the Mobile Communications division, reflecting a somewhat surprising increase in sales of Sony's smartphones.
Dragging the company down was Sony's costly exit from the PC business, as well as a "significant" decrease in sales in the Sony Pictures division. Blame The Interview. Or North Korea. Or whatever.
The full financial year ending 31st March 2015 looks even better for PlayStation. The Game and Network Services division expects an operating income of 40bn yen, or £225m, 17.5m PS4 and PS3 console sales combined, and a cool 420m game sales.
But Sony as a whole expects an operating income of 20bn yen, or £112m, for the full financial year. And digging deeper, Sony expects to post a net loss of 170bn yen (£955m), on account of the poor performance of its smartphone and movie businesses.
So, Kaz still has a huge amount of work to do.