Be a skateboarding bird in the adorable Skatebird on Switch next year
Also coming to Xbox One and PC.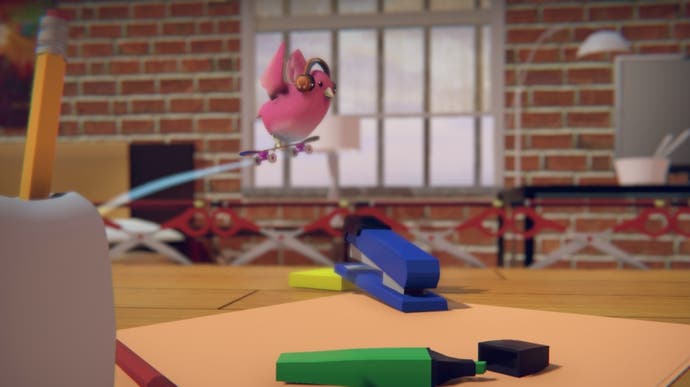 Ever wondered what would happen if you combined an adorable bird, a tiny bird-sized skateboard, and the much-loved thrills of Tony Hawk's Pro Skater? Well, you'd get Skatebird - a game of feathery kick-flips and ornithological ollies that's coming to Xbox One, PC, and now Switch some time next year.
In Skatebird, players take on the role of a lonely little bird whose human friend is, thanks to their rubbish job, never home to play. "You're gonna fix all that with the power of being a chill little skateboarding bird," explains developer Glass Bottom Games.
Fixing that involves skating your very best skate around your homemade skatepark to attract a bird following, unlock new bird-sized courses, and somehow fix your human friend's life.
According to Skatebird's Steam page, it all plays out using "simple controls familiar to any pro skating tiny hawk", and there are new birds to unlock, new bird outfits to wear, secret music mixtapes to find, and a "low-fi birb-hop soundtrack" serving as accompaniment.
Skatebird first emerged on Kickstarter back in June and, after a successful campaign, was revealed to be coming to PC and Xbox One next year, with the game featuring as a Day 1 addition to Game Pass. During today's Nintendo Indie World Showcase, Glass Bottom revealed that Skatebird will also be grinding onto Switch in "late 2020".