Battlefield 5's eight multiplayer maps available at launch detailed
You'll need a good geographics card.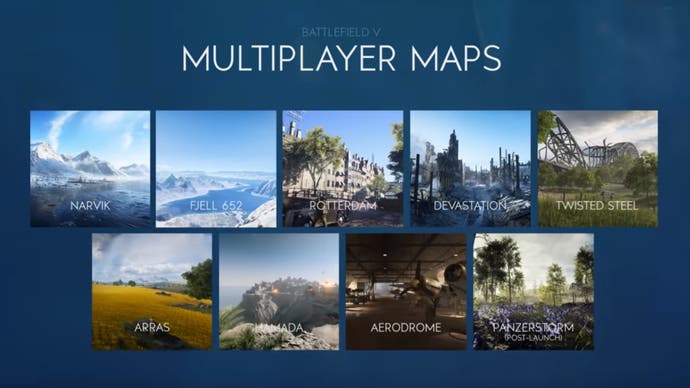 We've already seen a couple of Battlefield 5's maps via the recent beta, but today we finally got our first look at the full selection which will be available at launch.
In a short video, DICE revealed new details about nine maps, eight of which will be available at launch. Along with Rotterdam and Narvik, we also got an extended look at some of the other locations, which are looking pretty good (if I do so say myself).
Although many of the maps feel quite similar to Battlefield 1, are few in the mix are notably different. Fjell 652, for instance, is set at the top of a Nordic mountain. It will feature "extreme" dynamic weather and players will have to capture ski areas. Sounds like a pretty intense aprés-ski party. Twisted Steel - a map set in France - has the largest structure ever featured in a Battlefield game: a bridge which looks like it could function as a funnel to create intense battles.
Perhaps the most interesting of all is Devastation - a map which is also set in Rotterdam, but later in the war after the catastrophic bombings. Pretty harrowing stuff, which I imagine will make for a great setting should it be used in one of the war stories.
Beyond the maps available at launch, the video also shows a short clip of Panzerstorm - the first post-launch map available in the initial chapter of Tides of War.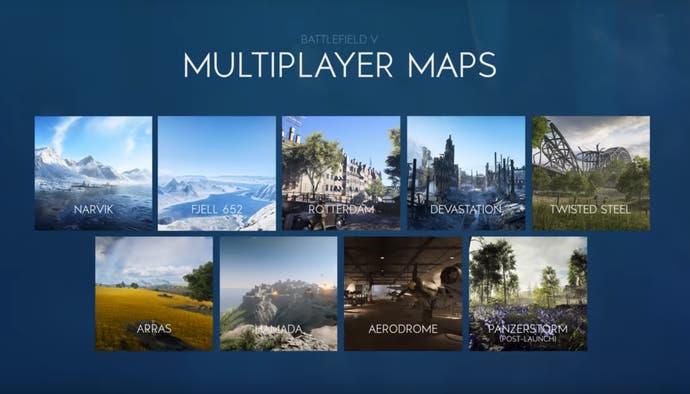 A few days ago, DICE also outlined its plans for Battlefield 5's currency and progression system, which it stressed will be cosmetics-only and not "pay to win". This seems to have gone down well with fans, and with the maps in the trailer looking pretty impressive, it seems things are on the up for Battlefield's image. The question is whether DICE can keep this up until Battlefield 5 launches on - er, several different days in November.