Atari to refocus on online games, gambling and LGBT audience
Company reveals its "corporate comeback strategy".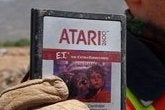 Ageing games company Atari is seeking to redefine itself as an "interactive entertainment production company" with a new focus on online games, gambling and wearable devices.
It will also seek to engage audiences with LGBT-themed content, "social casinos" and exclusive YouTube videos.
"Atari is more than a game publishing company; it's an iconic brand that has established a passionate and timeless culture," company boss Fred Chesnais explained. "What the company has accomplished over the years is no small feat, but there is more to come.
"We are leading a rebuilding exercise in a highly volatile industry, so at the same time we are also aware of the challenges that lay ahead."
Few details were given beyond the broad sectors laid out above, save for the fact that Atari's interest in wearable devices was somehow tied into its hardware licensing business, which also includes gamified hardware.
The company also pointed to its game releases for the year so far, including the iOS relaunch of "beloved franchise" Rollercoaster Tycoon - a reimagining that it's safe to say Eurogamer did not enjoy.
As for its LGBT-themed push, the company is also known to be working Pridefest, a Rollercoaster Tycoon-type sim game which lets you create your own LGBT parade.
Atari is currently attempting to rebound after filing for bankruptcy last year, when it reduced its workforce to less than a dozen employees.