First Impressions: FIFA 2003
Will EA's latest leave the competition with football pie all over their faces?
FIFA has always been one of EA's cash cows, ever since the 16-bit days of the Mega Drive (Genesis for our US readers) and Super Nintendo. But last year's effort was almost universally derided, for frankly being a bit poo. Konami's Pro Evolution Soccer, and even Sony's This Is Football stole big chunks of FIFA's market share, and for the first time ever EA found itself usurped in the all-important footy market.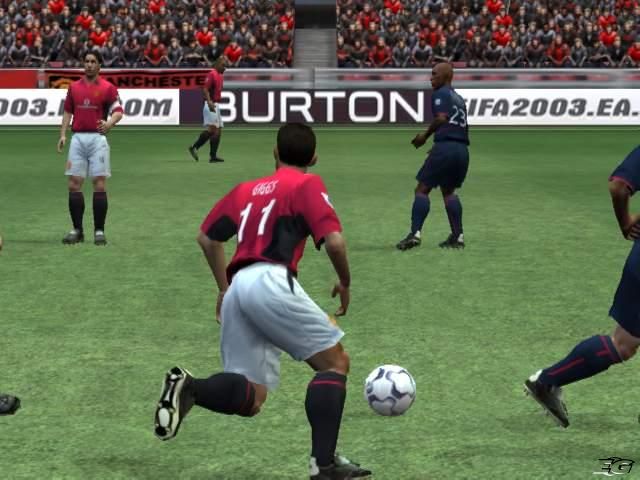 Never one to rest on its 12 million Euro marketing budget, EA insists that this year's edition will wrestle back the crown from its competitors. And Eurogamer was one of the chosen few to get hold of a PS2 review copy a few days ago, and was eager to find out whether the bold claims could fit the pre-match hype.
A definitive review will appear in the week leading up to its November 1st release date, but we thought we'd give you a first impression taster of what to expect.
The first thing that strikes you is how much better the visuals are this time around. The facial detail is truly spot on for the first time, and you immediately recognise the likes of Thierry Henry, David Beckham and Zinedine Zidane - in fact all of the famous names look stunningly close to their real life counterparts.
The stadiums and crowd look better than ever, and the all round presentation is up to the usual impeccable EA standard. It's hard to find fault with any part of the front end or in game detail - if only Konami would lavish this kind of polish on its football games.
"But what does it play like?", I hear you bellow. Having only had a dozen or so two player games it's probably way too early to judge FIFA 2003 at this stage, but the game is without doubt a world away from last year's travesty. Nearly every game played was settled by the odd goal in three, and scoring was much more of a challenge than the previous pinball sessions of old. The through ball system makes it feel much more like Pro Evolution, and the tackling is much more of a challenge than the ridiculous 'slide, slide, slide' mechanic that every FIFA used in the past.
But like we said. It's way too early to give an accurate summary of FIFA 2003's successes or failures. Suffice to say it's an encouraging improvement on previous incarnations, both in terms of visuals and gameplay. Be sure to check out the full in depth review in the days leading up to its release.