id - "Let them eat Quake"
id opens up licensing of Quake series engines for up and coming developers
The licensing terms for the engines that have powered id Software's Quake series of games have largely been the realm of conjecture and hear-say until now, with rumours maintaining that getting hold of their latest generation of technology involved handing over a suitcase full of used ten dollar bills to the tune of $500,000, only to receive a largely unsupported code dump and little else. Now id have lifted the lid on this previously neglected part of their business with a new "id technology licensing program" that takes in all three generations of their Quake engine. According to the new page, which appeared on id's corporate website last night, the company is continuing its policy of arranging "a limited number of technology licenses with top-shelf developers who have the ability to produce hit titles", but at the same time they are opening up previous versions of the Quake engine to developers further down the pecking order.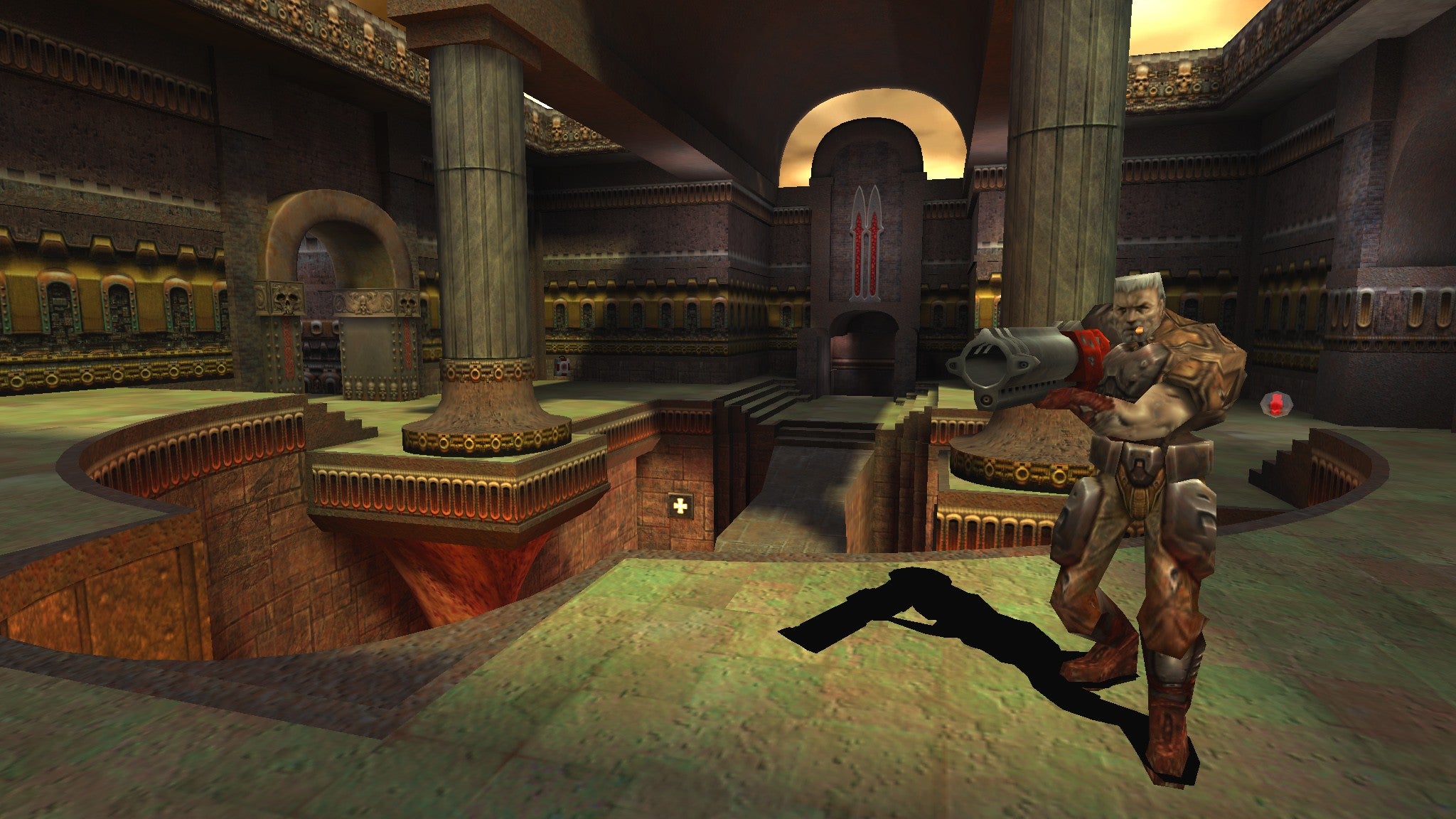 For a while now the original Quake engine has been available for free under the GPL ("General Public License") open source scheme, but a new deal means that you can pay id a one-off $10,000 fee to use the engine without having to release the source code to your own project, freeing you from the usual GPL terms. Meanwhile for a flat $125,000 fee you can get your hands on the more advanced Quake II engine, which features such luxuries as support for coloured lighting and "environment box" style skies. In both cases no royalty payments are necessary once your game is released, and the source code for any console ports which id owns (such as Quake II for the N64) are included.
The jewel in id's crown though is the Quake III Arena engine, which will set you back a cool $300,000 and is only available to a "small number of exceptionally high quality licensees" for PC and Dreamcast. Additionally you will have to fork out 8% of the wholesale price of your title for every copy you sell once the game is released, which could amount to a couple of dollars per unit. With two Quake 3 engined games already released ("FAKK2" and "Elite Force") and at least three more ("Alice", "The World Is Not Enough" and "Return To Castle Wolfenstein") in the works, this adds up to an impressive $1,500,000 for id Software even before the per unit royalties kick in. Not quite as much as they're estimated to have made from selling their own Quake 3 game, but certainly enough to cover the next down-payment on John Carmack's latest sports car...
And with all that money coming in, id seem to be taking engine licensing more seriously now. Previously support has been reported to be lacklustre at best, but now Quake 3 licensees are guaranteed a full day with John Carmack to grill him on the intricacies of his engine, as well as sessions with id level designers and artists to discuss other aspects of game development such as the shader system and level design. The company has also recently set up a "technical mailing list" which all licensees are invited to subscribe to, allowing them to find out about any issues or updated code from id, and to take part in discussions with other developers using the engine.
Even if you don't have $300,000 burning a hole in your pocket, the licensing program webpage is certainly an interesting insight into id's new approach to engine licensing, whether you are a gamer or a developer...