Apple unveils its new iPad
UPDATE: UK prices confirmed.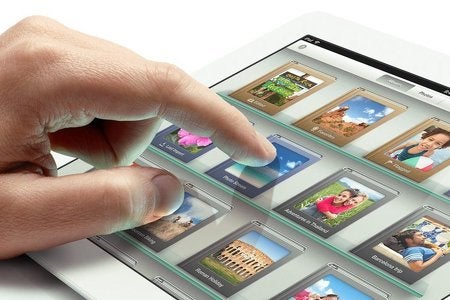 UPDATE: Apple has confirmed the new iPad prices for the UK.
Wi-Fi:
£399 16GB
£479 32GB
£559 64GB
Wi-Fi + 4G:
£499 16GB
£579 32GB
£659 64GB
The iPad 2 is now: Wi-Fi £329 16GB; Wi-Fi + 3G £429 16GB.
ORIGINAL STORY: Apple has announced its new iPad.
It has a new retina display that outputs in a 2048 x 1536 resolution with 3.1 million pixels. That's over one million more pixels than your 1080p display running at 1920 x 1080.
The new iPad has 264 pixels per inch, enough to call it a retina display, Apple said. It is expected to be held at 15 inches. It has 40 per cent better colour saturation.
As for horsepower, the new iPad has an A5X processor with quad core graphics. It's twice as fast as the Tegra 3 and offers four times the performance, Apple said.
All stock apps have been updated and optimised. Existing apps will be scaled up and text will automatically be rendered in higher resolution.
New features include an iSight camera. The new iPad has a 5 megapixel backside illuminated sensor on the back, with a 5 element lens, IR filter and ISP built into the A5X. Expect auto-exposure and auto-focus.
Then there's 1080p video recording, new to iPad.
Another new feature: voice dictation, powered by a microphone. There's a new key on the bottom of the device to trigger it. Voice dictation supports US English, British English, Australian, French, German and Japanese.
Also added is 4G LTE. Some specs: 3.1Mbps HSPA+ and DC-HSDPA at 42Mbps; LTE runs at 73Mbps. Apple suggested there will be separate devices for different networks in the US, but all will be 3G ready. Depending on your network, the iPad can now be a personal hotspot.
As for battery life, Apple promised 10 hours basic, nine hours on 4G. The device itself is 9.4mm thin, weighing 1.4lbs.
And finally, pricing: the 16GB is $499; the 32GB is $599; the 64GB is $699.
The 4G is $629, $729 and $829.
It launches on 16th March the UK, US, Canada, France, Germany, Switzerland, Japan, Australia, Singapore and Hong Kong. Pre-orders start today.
To coincide with the launch of the new iPad, Apple announced a price drop for the iPad 2. The 16GB Wi-Fi model is now $100 cheaper at $399.
Apple sold an eye-watering 15.4 million iPads in the last quarter alone.
Over 200,000 apps have been custom built for iPad.