Apple announces the iPad Air
New MacBooks out now, Mac Pro due in December.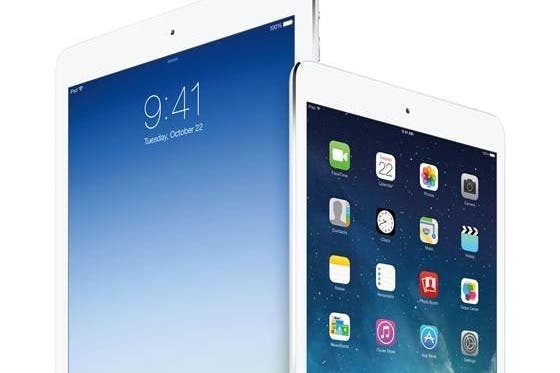 Apple has just announced its latest tablet, the iPad Air, at its press conference today. Due on 1st November, the iPad Air will feature MIMO technology that will allow it to load apps twice as fast as previous models and double the Wi-fi transfer rate. Compared to the very first iPad, it will be eight times faster and the graphical performance will be a whopping 72 times swifter.
The new tablet gets its name due to its insanely light weight as the whole thing comes in at about a pound. It's 7.5mm thick with a 43 per cent smaller bezel, though the screen remains a 9.7-inch Retina Display with a resolution of 2048 x 1536 pixels.
The iPad Air is slated to cost £399 /$499 for the 16GB model, £479 / $599 for 32GB, £559 / $699 for 64GB, and £639 / $799 for the 128GB model,
A cellular version will launch at £499 / $629 for the 16GB model, £579 /$729 for 32GB model, £659 / $829 for 64GB, and £739 / $929 for the 128GB model.
Apple is also releasing a new version of the iPad Mini with a new retina display for eight times the graphics processing speed of its forbear. Due later in November, it will be available in silver, white and onyx.
On the MacBook side of things, a couple of new models were revealed, both shipping today. The 13-inch model is priced at $1299 and hosts a 2.4 GHz Core i5 Haswell processor with 4GB RAM and a 128GB SSD. Allegedly its 90 per cent faster than last gen, weighs 3.46 pounds, is 0.71 inches thin, and has a nine-hour battery life.
The 15-inch model is $2000 and features a 2.0 GHz quad-core i7 with 8GB of DRAM, 256GB SSD, and an Intel Pro GPU.
Additionally, a new Mac Pro was announced for this December. Stating at $2,999, it will come with a 3.7GHz quad-core Xeon processor, 12GB of RAM, dual FirePro D300 graphics, 2GB VRAM each, and a 256GB SSD.